We've made it to the final round of our Lovely Leos from the 2017 P&G Championships in Anaheim, California!
After week-long polls and tens of thousands of votes, these four leos have made it into the final round. Vote at the bottom of the article to help us crown the loveliest leo!
1. Juniors Day 1: Olivia Dunne, ENA Paramus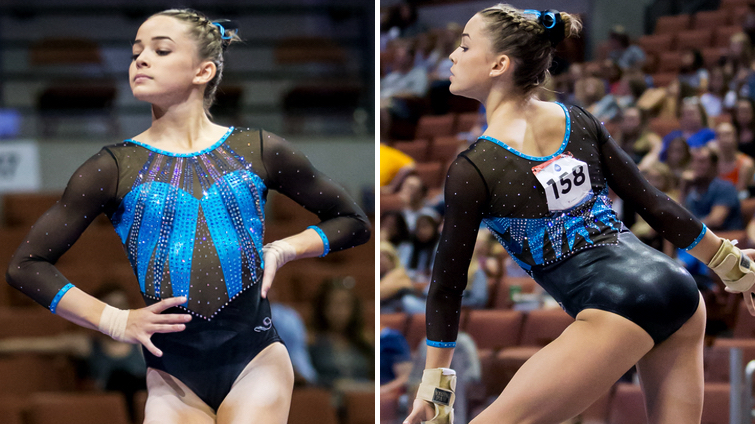 Olivia Dunne won our Lovely Leos poll from the 2017 U.S. Classic, and she displayed two more stunning leos at Championships. This elegant and sophisticated piece from day one had a perfect combination of colors, materials, and sparkles. The highlight of this leo is the unique design on the front that uses a sweetheart line along with streams of rhinestones, all laid over a mesh material with even more rhinestones.
View the final results from the part 1 poll.
2. Seniors Day 1: Riley McCusker, MG Elite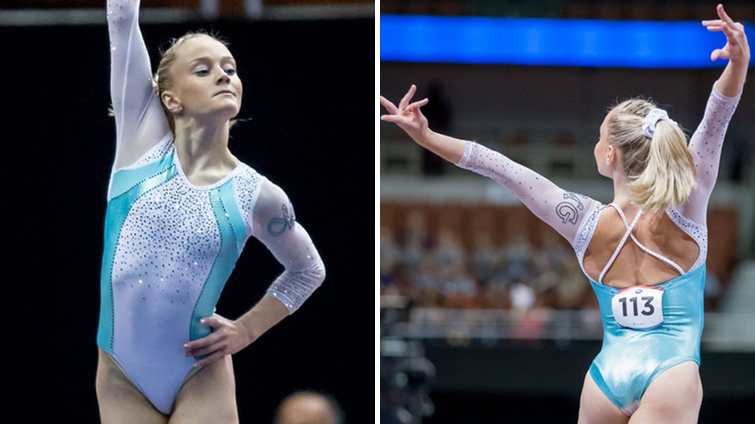 Both of Riley McCusker's leos made it into the final round! Her day one leo used solid lines on the front which gives off a sporty feel while still maintaining an elegant and delicate look with the light colors, mesh arms, and dazzling display of crystals. The leo proudly displayed "MG" on the shoulder in matching rhinestones, tying the colors together even more. The strappy back was a final detail that really helped push this leo to the top.
View the final results from the part 2 poll.

3. Juniors Day 2: Emma Malabuyo, Texas Dreams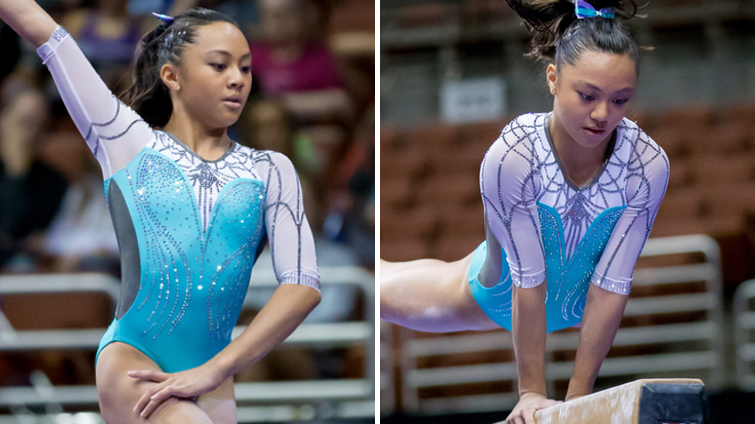 Similar to McCusker's day one leo, Emma Malabuyo's day two leo combined an elegant and polished look with a sporty feel, using white and light blue. The base of the leo with the grey side cutouts is solid and bold, but is balanced out with the exquisite spider-like design on the top, along with the gorgeous crystal patterns over the blue. This leo has multiple intricate elements that are gorgeous on their own, but also look great when combined as a whole.
View the final results from the part 3 poll.

4. Seniors Day 2: Riley McCusker, MG Elite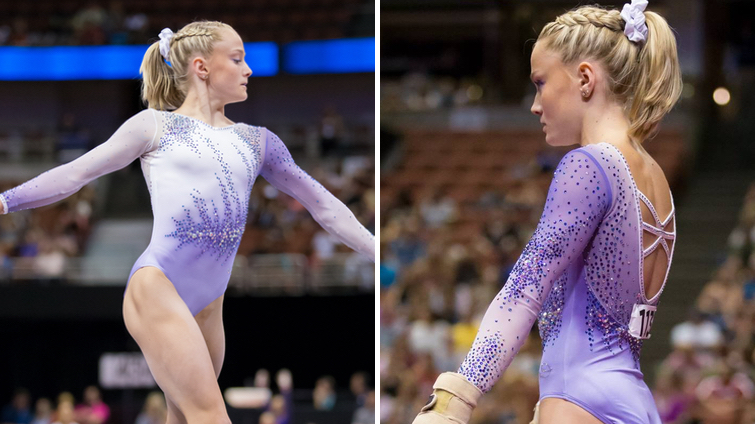 McCusker's day two leo was stylish and luxurious. We've gotten used to seeing her in white with one other color -- pink at Classics, blue on day one, and purple on day two -- and these color combos really work to create an elegant look. The base of the leo uses an ombre look, blending the purple into the white, then is embellished with incredibly detailed rhinestones. The many different sizes of the crystals create even more depth to the leo and she again uses a strappy back for the perfect, final touch.
View the final results from the part 4 poll.
Vote below for your ONE favorite!
Poll closes September 7 at midnight CT. Tip: you can vote once per hour.
[polldaddy]=9820617