Mihai Brestyan On Leading Gymnastics Australia And Aly Raisman's Comeback
Mihai Brestyan On Leading Gymnastics Australia And Aly Raisman's Comeback
Esteemed coach and motivator Mihai Brestyan was part of the 2017 USA Gymnastics Hall of Fame class and was inducted in Anaheim at the P&G Championships. Brestyan takes us inside his world these days, which includes leading Gymnastics Australia to big impr
Aug 30, 2017
by Rebecca Johnson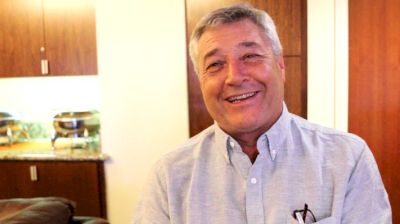 Esteemed coach and motivator Mihai Brestyan was part of the
2017 USA Gymnastics Hall of Fame class
and was inducted in Anaheim at the P&G Championships. Brestyan takes us inside his world these days, which includes
leading Gymnastics Australia
to big improvements while owning and managing Brestyan's Gymnastics in Massachusetts.
On being inducted into the hall of fame:
Brestyan: You know, hall of fame, for me, was all the time a dream. You want to be in part of the history of gymnastics, and for me it just shows recognition and a respect for the entire community because their committee, it's representing the community of gymnastics. And being chosen on that, it's, for me, just respect and recognition for everything I did during the years. You know, I'm 17, 20 years in America and that's what this means for me.
On most prized moments over the years:
We're working hard. We're all working hard. We're all trying to do the best we can. I was fortunate to have two very, very doted and talented gymnasts -- respectful, disciplined, hard-working girls -- and this was very helpful for me. And around me a lot of people -- they are very supportive. You know, from the national team staff to my family and everything around that, just supporting our hard work.
On being Australia's national team coach:
You know, I take a challenge. USA Gymnastics -- they choose their own way. I choose my way. And I try to help somebody else, what they are living in a ... you know, lower level. We try to improve everything. It will be hard work . . . I hope that people listen and I hope we'll be back in a couple years . . . we'll be back in the top of the list.
On the main changes to Australia's program:
Yeah, we need a lot of changes in a very short period of time because the people, they want to do it, and this is very helpful for me. When the entire system want to change, then it's easier to change. We try to motivate everything and give them more power, more credibility to the coaches, and then maybe we can attract more and more coaches, more and more gymnasts into the system, to bring the entire country in one direction.
On what it's like traveling back and forth to Australia:
You know, the flying never bothered me because I am used to it -- in the last forty years this was my life, flying all over the places. And they're helping me, flying in good conditions, and I am there every month and a half . . . month, month and a half . . . being one week there or 10 days and then everything else, I am home. We collaborate with the internet, through all this time. You know, we have camps, very intensive camps, and I try through the camps, through the information I give to them, to make them change a little bit of the mentality and the culture of the hard-working gymnastics.
On specific improvements he's seen:
Yes, I can already see it, being way more organized during the national team camps. They have the desire to change, but it's a pleasure to see when the people are pushing to make a change, and it takes time. Gymnastics is not an easy sport and you cannot make suddenly overnight a kid 13 years old to make it 16, to be ready for the world championship. But we need to deal with what we have, with the challenges we have on the field and we try to patch the best we can do it.
On balancing owning Brestyan's Gymnastics as well:
You know, it's a challenge, being owner and head coach in your own gym. You know, when everybody's expecting for you to be home. I do my best and my wife is helping me, my staff is a very good staff. They are all willing to work and to support. And overnight, I communicate with Australia Gymnastics because they are on a different time. It's a little bit hard because sometimes it's 3:00 in the night you need to answer very quick to the email, important emails, or to the questions with the videos to give them information back and forth. But it's a challenge and I like that.
On Aly's comeback for Tokyo 2020:
You know, my advice for her right now, enjoy your life. You worked so hard for eight years. You come back, what is the double hard they're working. You know, you succeed. Right now, enjoy, and then you take the decision later. I am happy she is thinking to come back and I will support that, but right now she will be able to enjoy her life, because the life . . . it's long for her, and it should be very nice one.
Related:
Mihai Brestyan Leaves USA, Named Australia's WAG National Coach
INTERVIEW: Mihai Brestyan Is Bringing U.S. System To Australia
Shawn Johnson East On HOF Induction, New TV Shows, And Being An NFL Wife