Shawn Johnson East On HOF Induction, New TV Shows, And Being An NFL Wife
Shawn Johnson East On HOF Induction, New TV Shows, And Being An NFL Wife
We caught up with Shawn Johnson East in Anaheim to chat about her Hall of Fame Induction and what life looks like for her and her husband Andrew these days.
Aug 29, 2017
by Rebecca Johnson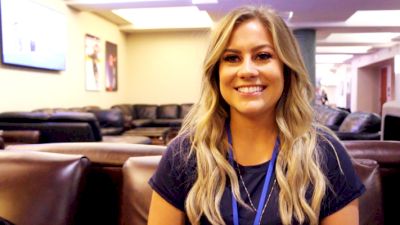 We caught up with Shawn Johnson East in Anaheim to chat about her hall of fame induction, new hobbies, and what life looks like for her and her husband Andrew these days.
On being inducted into the USA Gymnastics Hall of Fame:
Shawn: Being inducted into the hall of fame is a humbling and incredible honor. I don't know what to think of it because I can't even believe that I made it to the elite level let alone make it to the Olympics let alone being inducted into the hall of fame. It's just a dream come true. It gives me chills.
On career highlights:
I just look back on everything that I went through as like a kid and as a teenager and what my family went through. I learned so much from my teammates and my friends and my coaches. And I feel like back then it was all about like the medal and the performance and the scores. And looking back now it's more about the memories, and the life lessons that I learn. It's just being able to be inducted into the Hall of Fame is kind of that stamp of approval and seal that I've gone through it. And I don't know it's surreal. It's a pinch-me moment.
On life lessons from gymnastics:
One of my favorites -- like most important -- I feel like is back then when we were competing as teammates, we were all good friends but it was always this almost superficial like, "I don't know how to be your teammate and your friend."
I feel like after competition we kind of separated for a while. We couldn't really put competition aside. And now looking back and having matured and gotten older and people are having kids and getting married, we're like
inseparable
best friends. And it's because of those moments I went through that like we can put competition aside and learn how to just respect each other as competitors and friends. I don't know. I've made my life long best friends from everything that I've went through and I love it.
On what she's up to these days:
I seem to be pretty busy these days, which I don't know how but my husband is currently playing for the Raiders in Oakland. So we're traveling all over for that. I filmed one show for CNBC called Adventure Capitalists this past spring. It will air this October. I've also just finished filming a new show that I can't talk about for MTV that will air in January. And then I'm working on a big production that I can't talk about yet until on TV.
On her YouTube channel:
My husband and I kind of
got into the YouTube world
just because we wanted to show people who we actually were. I feel like with these TV shows and books and even social media, you can kind of put on a facade of what you want people to think you are and we got tired of it. We got tired of people meeting us and saying, "Oh, I know this about you." And we really just want to show what every day life is like and what it's like living in this world. And it's just stupid videos but we really enjoy it.
On being vulnerable and real on YouTube:
Being that raw and real on cameras is definitely humbling, and it took a lot of time to get used to. I'm still getting used to not having make up on and looking like a hot disaster. But I love it. I love to show people that we aren't perfect. And like "this" is all fake. And just at the end of the day I go home and sit on a coach and eat ice cream and popcorn and just I'm a sloth. So I want people to know that it's relatable and we don't live a perfect life.
On being the wife of an NFL player:
Being an NFL wife is stressful because we bounce around so often. I feel like NFL is a lot like gymnastics where you're just constantly trying out for a new team and trying out for a position. And it's all about luck and it's all about just the stars aligning. And so we've bounced around from Kansas City to Seattle to LA to Oakland and I've been that cheerleader for him and I think that it's helped having gone through gymnastics to understand what he is going through. And I'm just supportive. He loves it. He's still working for it but we'll see.
On what's coming up next:
I'm working on a lot of different things. I'm working on the whole digital side of YouTube and more kind of branding myself into that world. I'm working on TV shows, motivational speaking, potentially another book. I work in the fitness world. I'm a certified trainer and kind of going down a new path with that as well. So a bunch of different things.
On balancing everything:
It's crazy learning to balance everything. I think gymnastics taught me a lot of life lessons on how to balance a million different things. But being in the real world, it's overwhelming. I wish I could just go back to gymnastics. I'm constantly trying to look for that new thing and that next thing, the next goal. But I enjoy it. It keeps me on my toes.
On watching the P&Gs competition:
It's weird being back here. I always get nervous when I come to P&G Championships because I feel like I'm competing again. But I love it. I love coming and being a part of this world again. I miss it so much. I want to be more involved in this world somehow. But I love coming and screaming my head off for them. They worked so hard to be here.
On living location:
We don't really have any plans right now just because my husband is still bouncing all over the place. We currently live in Nashville when he's not training but we're looking to move to LA, maybe back to Iowa, maybe to Indiana where he is from. We're not sure yet. So, all over the place.
We're looking forward to seeing what the future holds!