Update On Development Of Parkour As New FIG Discipline
Update On Development Of Parkour As New FIG Discipline
The development process of Parkour as new FIG discipline successfully passed two key stages with the organization of a first FIG Obstacle Course Cup in Montpellier (FRA) and the discussions held in order to implement the roadmap unanimously approved by th
Jun 9, 2017
by Rebecca Johnson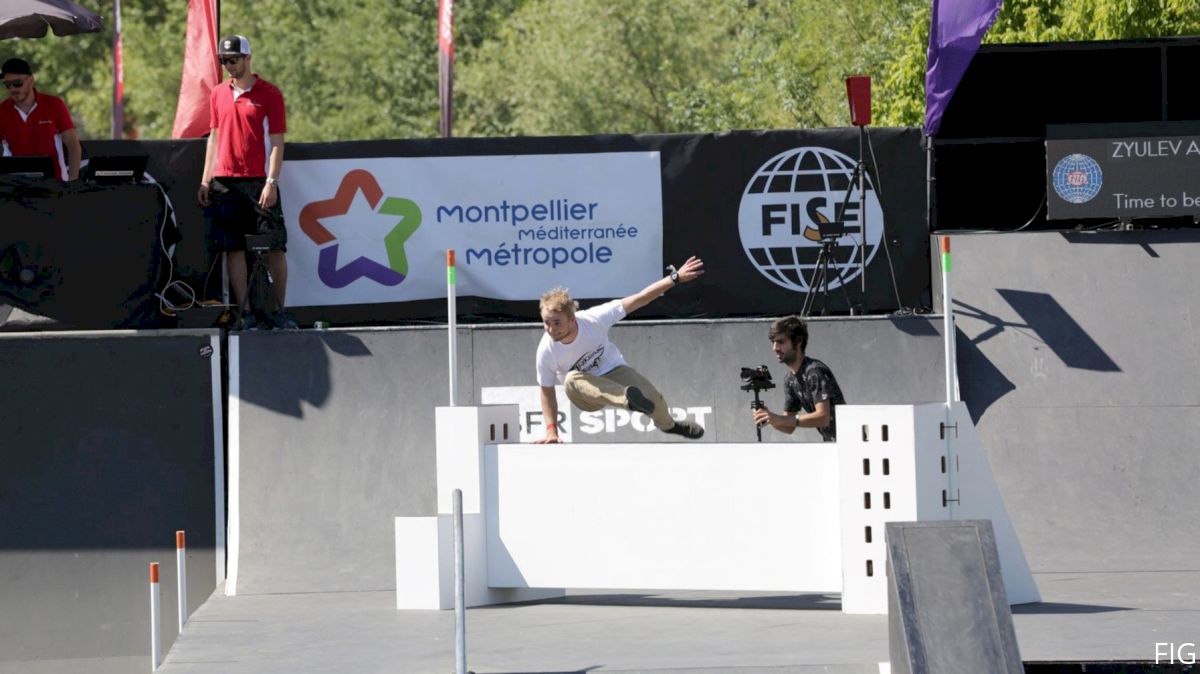 Release via
FIG
The development process of Parkour as new FIG discipline successfully passed two key stages with the organization of a first FIG Obstacle Course Cup in Montpellier (FRA) and the discussions held in order to implement the roadmap
unanimously approved
by the Executive Committee and the Council in Baku (AZE) last month.
Whilst FIG is aware that the inclusion process of this discipline does not meet with unanimity among the community of practitioners, with much of it reasonably based on uncertainty and concern over respect for work already accomplished, a significant portion of the negative feedback also relies on bias and misinformation indiscriminately conveyed on social networks.
It is for this reason that FIG would like to specify that its approach has never been to unilaterally appropriate a discipline.
FIG wants to respond to the aspirations of those, starting with the founders of Parkour, who consider that building bridges with a well-established Olympic Federation may lead to reaching new tiers for a development strategy while complying with the philosophy and culture of Parkour. There are several countries where the cooperation of Parkour and gymnastics is successful, with FIG Member Federations offer their various activities in this discipline.
A first successful FIG Obstacle Course Cup
With the support of with Parkour founders, David Belle and Charles Perrière, FIG had decided to stage on May 28 in Montpellier a first event in conjunction with the FISE, a major festival of urban sports encompassing also other editions worldwide.
Despite the tight deadline and the unilateral decision of APEX School of Movement to withdraw from the project they had originally been associated with, this FIG Obstacle Course Cup was very successful. The sprint and freestyle competitions and also the teaching generated real interest among the young spectators.
Constructive meetings
In Montpellier, President Morinari Watanabe together with other FIG representatives on site had extensive and interesting discussions with the athletes, organizers and other members of the Parkour community participating or attending this event. As a result new possible ways forward were suggested to consider and respect Parkour's specific nature.
In the wake of this event, FIG had convened the representatives of several international Parkour organizations to a meeting in Lausanne. Some of them could not attend due to other commitments while others had chosen not to collaborate with FIG and declined the invitation.
The meeting held at the Federation's headquarters in Lausanne brought together the representatives of the founders of Parkour and FIG leaders, including President Watanabe and Secretary General André Gueisbuhler. Building on the success of the Montpellier event, the parties agreed to carry on with the inclusion process pursuant to the roadmap approved in Baku early May.
FIG underlines that the doors remain open for international Parkour organizations willing to collaborate.
Education, Development and Competitions
Next on the roadmap is the appointment of a FIG Parkour Committee which shall work in three areas, education, development and competitions. This Committee shall be chaired by David Belle and composed of Charles Perrière and other Parkour experts as well as two athletes' representatives (one male and one female).
The next FIG Executive Committee meeting in Vestfold (NOR) from 27 to 29 July 2017 shall officially nominate this Committee and shall, upon proposal by this FIG Parkour Committee, confirm the hiring of a full-time sports manager specifically in charge of this new discipline within the FIG.
The roadmap also seeks to provide the staging of a series of Sprint and Freestyle Obstacle Course World Cups in 2018 and 2019 together with a first FIG World Championships planned in 2020. With this in mind draft World Cup and Code of Points Regulations in this new discipline as well as modifications to the FIG Technical Regulations shall be put forward at the last 2017 Executive Committee meeting in Cotonou (BEN), on 26 - 27 October.
As for education and development, the Parkour Committee shall be in charge of preparing educational tools for youngsters and coaches' education programs with a view to put in place a framework in which the amateurs will be able to evolve progressively and in a safe environment.
This Committee shall also support humanitarian projects led by the International Olympic Committee (IOC) together with Peace and sport in refugees' camps and Olympic Solidarity centers in Haiti and Zambia.
Related:
FIG Approves Inclusion Of Obstacle Course Competitions As New Discipline