2017 Women's NCAA Championships
The Road To NCAAs: Sophomore Katelyn Ohashi Soars To Perfection On Beam
The Road To NCAAs: Sophomore Katelyn Ohashi Soars To Perfection On Beam
UCLA sophomore Katelyn Ohashi chats about bring back her layout full on beam, her takeaways from regionals and how she bounces back from a fall.
Apr 12, 2017
by Lauren Green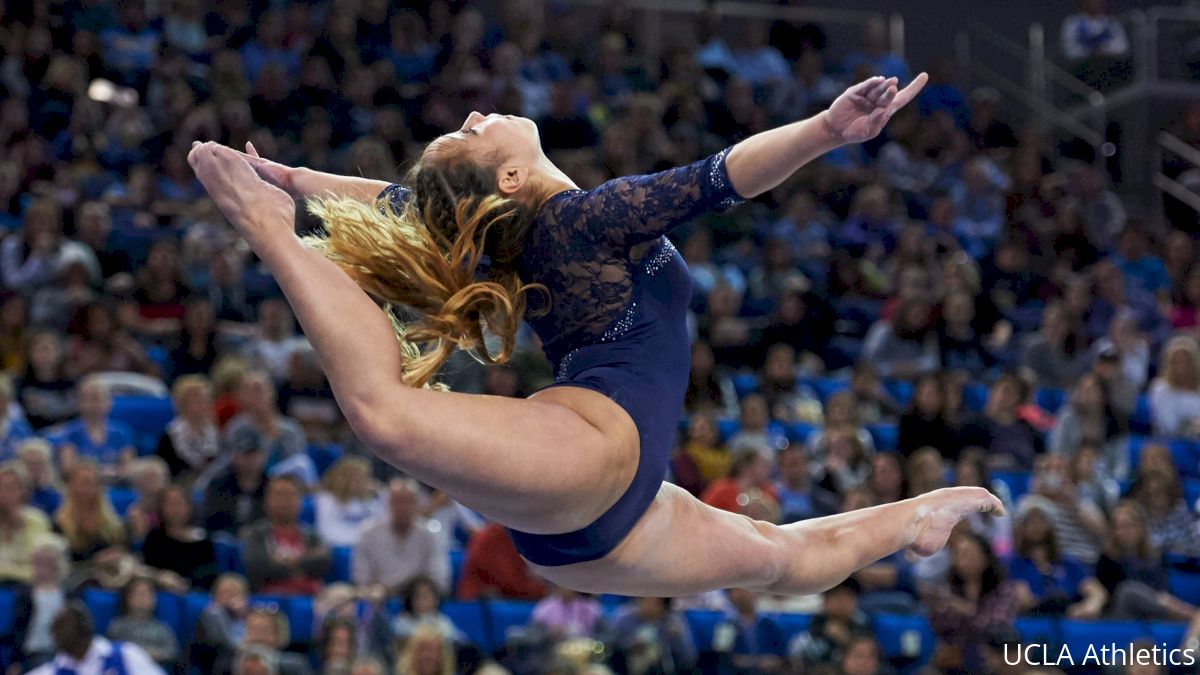 It's hard to miss
Katelyn Ohashi
on the competition floor this season. The sophomore has provided some of the best routines in UCLA's lineup heading into this week's NCAA Championships and brings some huge skills on balance beam, including a triple series that has sometimes included a layout full. She always seems to have a smile on her face and frequently is laughing or dancing on the side with her teammates.
Ohashi has had two perfect 10s on beam this season in back-to-back weeks.
Watch @katelyn_ohashi's PERFECT 10 on beam that helped UCLA defeat Cal, 197.525-196.800. #GoBruins pic.twitter.com/szYY0IHaZz

— UCLA Gymnastics (@uclagymnastics) March 5, 2017
She has scored a 9.875 or better nine times this year on beam and has not scored below a 9.850 on floor exercise. Her jewelry thief-themed floor routine has been a crowd favorite this season, and she posted a career-high 9.925 in back-to-back meets last month. If she hits on beam the way she's shown that she can, she'll be one of the contenders for the individual NCAA event title.
UCLA will compete in the first semifinal session on Friday in St. Louis and takes on Pac-12 rivals Utah, Oregon State, and Washington as well as Denver and defending champion Oklahoma.
FloGymnastics: What is your favorite event to perform on and why?
Katelyn Ohashi: My favorite event to perform on would be floor, because I get to show personality the most on that exercise. I feel like it's the least stressful one.
What is your favorite skill to perform on any event?
I like competing my layout full on beam just because I feel like it's not a very common skill. No matter what happens, I feel like people are just happy to see it. I enjoy doing it.
What is the most challenging skill you've learned and what made it challenging for you?
The most challenging skill I ever learned was my Ono and Healy on bars just because they're probably the most terrifying skill too. I've landed on the bar multiple times.
What was the biggest thing you took away from regionals that you'll apply to nationals?
Probably don't hit your foot on the beam. Because then you miss your foot on your dismount. (laughs) Probably just staying focused and staying tight.
How do you bounce back from a fall?
I don't really think about my fall. If we're going to the next event, you have to flip the page. If it's on the same event you have to get back up and finish the routine. It can either be good or bad. Sometimes you'll overthink it, and then you get more uptight. Or you're like 'I already fell so I might as well finish the routine [strong].' It's kind of easy just going up and finishing strong and hitting the refresh button is what we always tell each other to do. So you're not thinking about that, you're just doing what you know how to do.
How does the adversity that your team faces during the regular season help prepare you for the postseason?
I think it's good to have adversity just because it helps you know what you need to focus on and that there's always room for improvement. That way you don't get loose-minded like we've been winning and winning and we're going to stay on top. There's no such thing as staying up top for that long, period. If you have some adversity you always know what you need to work on.
What made you want to bring back your layout full?
I think I just wanted to add something new. It's boring doing the same thing. I'm honestly more comfortable doing the full, because I'm never straight on my back handspring. So when I put in the full I can compensate for that and try to fix myself, whereas layouts, if you're off, you're off.
What has the transition been like going from club to being a freshman to now being a sophomore with that year of experience?
It's kind of nice. It's almost like it's a different experience for me, because I'm done trying to figure out everything. I'm done adjusting to college. I feel like having that year under me has really helped me find my voice and know what's right and what's wrong.
What has been the biggest challenge for you personally this season?
This season probably just staying healthy and stuff. I feel like it's hard at this age to stay 100 percent healthy. I've had a lot of injuries from a young age.
How would you describe yourself in three words?
Indecisive, giggly, and effervescent.
What are you most looking forward to about competing at nationals?
It'll be a nice reunion for all of the former elites, and that's always fun to see everyone. We get to hang out a little bit depending on the hotels.
Related:
2017 NCAA Championships Rotation Order For Semifinals & Super Six
2017 NCAA Championships Field Set