2017 NCAA Regionals
Recapping The Action: NCAA Gymnastics Regionals
Recapping The Action: NCAA Gymnastics Regionals
Catch up on all of the action from Saturday's six NCAA regionals, which set the stage for the NCAA Championships.
Apr 4, 2017
by Lauren Green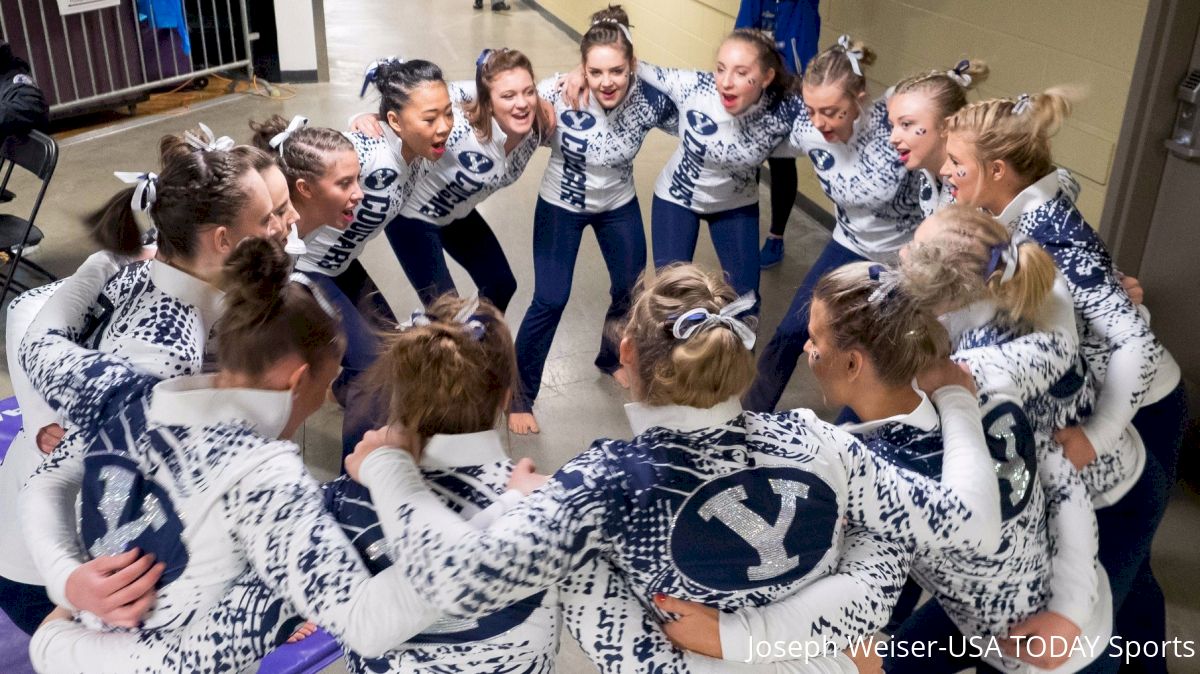 This past weekend's NCAA Regionals saw 36 teams vying for 12 spots at the national championships. There was some drama for the second spot in some regionals, but all six of the top-seeded teams advanced.
Battle out West
With No. 1-seeded Oklahoma already headed to nationals, the battle for the final place at the NCAA championships came down to Washington and Kentucky on Saturday night in the Seattle regional. Washington finished the meet on beam while Kentucky closed the meet on floor exercise. The Huskies rebounded from a fall in the fourth spot with a 9.775 from
​Joslyn Goings
​and a huge 9.900 from ​Hailey Burleson
to seal their place at regionals. It is the first time that Washington advanced to the national championships since 1998. The Huskies' score of 196.550 was their highest mark at regionals in program history.
That moment when you wake up and it has finally hit you that you are heading to Nationals! pic.twitter.com/jUpenzYaeE

— UW Gymnastics (@UWGymnastics) April 2, 2017
Kentucky sends both
Mollie Korth
and
Alex Hyland
to the national championships, where both will compete in the all-around as individuals. Korth and Hyland led the Wildcats to a 196.200. They tied for fourth place in the all-around with matching 39.300s in the all-around. Hyland's top mark came on balance beam, where she tied for third with a 9.900. Korth's best mark of the night came when she notched a sixth-place finish on vault with a 9.875 on her Yurchenko 1 1/2. Kentucky is still looking for its first trip to the NCAA championships.
Leaving the door open
Alabama looked to be comfortably ahead at Saturday's Morgantown, West Virginia, regional. That is, until the Crimson Tide finished on the vault. Alabama posted its lowest vault score of the season with a 48.800 and then finished on a bye, where the Tide had to wait and see if their 196.625 total would hold up.
Southern Utah finished the competition on the balance beam and was within striking distance of Alabama. The Thunderbirds would have needed a season-best 49.325 to tie the Crimson Tide for second place. Unfortunately for Southern Utah, it was forced to count a fall and fell to fourth place.
West Virginia had its best meet of the season, scoring a 196.325 and coming within 0.3 points of a spot at nationals.
Kirah Koshinski
and
Alexa Goldberg
came within 0.025 points of an individual spot at nationals on floor and bars, respectively.
Check out these highlights from tonight's AWESOME regional showing?! #HailWV pic.twitter.com/veljEs2aY5

— WVU Gymnastics (@WVUGymnastics) April 2, 2017
Redemption for the Wolverines
For Michigan, 2017 was a year for redemption. The Wolverines dominated the Morgantown Regional to advance to the NCAA championships one year after a bad beam rotation ended Michigan's season. The Wolverines were forced to count a fall on beam in last year's regional--they were edged by just 0.050. This year, Michigan did not count a score below 9.800. Senior Nicole Artz won the regional title on beam with a 9.925, while junior
Paige Zaziski
won the all-around with a score of 39.575.
A few highlights from today's NCAA Regional. #GoBlue pic.twitter.com/yc6eZ1Jm8L

— Michigan Womens Gymnastics (@UMichWGym) April 2, 2017
Oregon State, Nebraska edge out competition
Oregon State and Nebraska edged out the competition in their respective regionals to secure their places in the NCAA championships. The Beavers beat out Iowa State by 0.1 points to move on, while the Cornhuskers topped Boise State with big beam and vault rotations.
The Beavs survived a scare from Illinois and a late rally from Iowa to advance to NCAA Championships! #GoBeavs pic.twitter.com/rwJAz3fyXg

— Oregon State Gym (@BeaverGym) April 2, 2017
Iowa posted a massive 49.600 on balance beam to close out the meet, including four scores over 9.900 from
Charlotte Sullivan
(9.900),
Nikki Youd
(9.925),
Angel Metcalf
(9.950), and
Clair Kaji
(9.950).
Clair Kaji and Angel Metcalf shared the beam title! Both will advance to the NCAA Championships, Kaji on beam and Metcalf in the all-around! pic.twitter.com/IaHDKKAlJQ

— Iowa Gymnastics (@IowaGymnastics) April 2, 2017
Denver back to nationals
The Pioneers secured their place at nationals for the first time since 2008 with one of their best meets of the season. The Pioneers were fourth at regionals last year behind Florida, Minnesota, and Missouri. This year, Denver challenged Utah for top spot at the Fayetteville Regional. The Pioneers were just a tenth behind the Utes, getting standout performances from
Maddie Karr
in the all-around and
Diana Chesnok
on the uneven bars.
WE'RE HEADED TO NATIONALS... it's been almost 10 yrs since DU has been represented as a team... I couldn't be more proud of these ladies pic.twitter.com/f7iNoK0Ipy

— Maddie Karr (@themaddiekarr) April 2, 2017
Karr earned a share of the regional title on balance beam and finished second in the all-around, just 0.025 points behind MyKayla Skinner.
Gators rebound after uneven bars struggles
Gainesville regional host Florida had a rocky start to the competition with shaky performances in the first rotation on the uneven bars. Sophomore standout
Alicia Boren
finished with 9.425 after going over on a handstand in the leadoff position.
Rachel Gowey
came off the bar on her Ray and scored just a 9.200.
How about those #Gators!#NCAAGym Regional winners today in @OConnellCTR @GatorVisionTV has a quick look at the many highlights! pic.twitter.com/wWBBRIKgcq

— Gators Gymnastics (@GatorsGym) April 2, 2017
The Gators got big scores on floor and vault to close the competition, though. They were highlighted by 9.925s from Boren,
Alex McMurtry,
and
Kennedy Baker
on floor and four scores of 9.900 or better on vault from McMurtry (9.900), Baker (9.900), Boren (9.925), and
Rachel Slocum
(9.950)
Eight teams return to nationals from last year's group:
Alabama, Florida, LSU, Georgia, Utah, UCLA, Oklahoma, Nebraska
Newcomers this year:
Michigan (third at regionals last year), Oregon State (third at regionals last year), Washington (third at regionals last year), Denver (fourth at regionals last year)
Related:

2017 NCAA Championships Field Set
2017 NCAA Championships Rotation Order For Semifinals & Super Six