2017 NCAA Regionals
Washington Advances To NCAA Championships For First Time Since 1998
Washington Advances To NCAA Championships For First Time Since 1998
In impressive style, first year head coach, Elise Ray, leads her team back the NCAA Nationals for the first time since 1998
Apr 5, 2017
by Keri Monstrola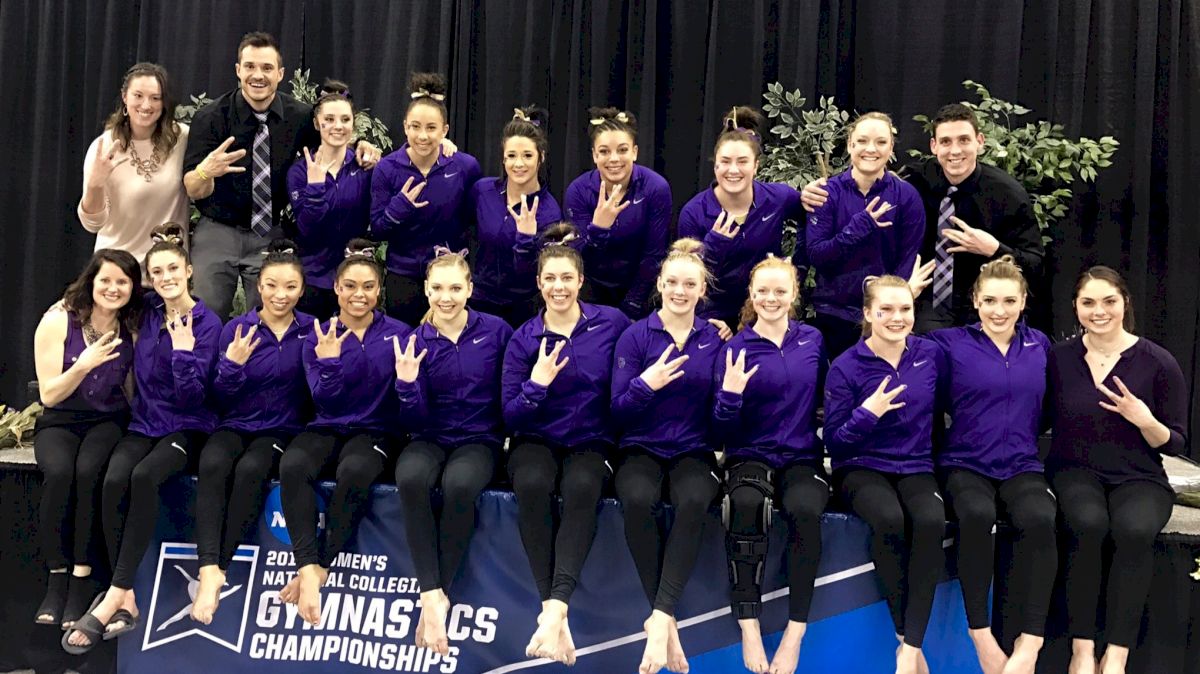 The Washington GymDawgs booked their first trip to the NCAA Championships since 1998 in style on Saturday by finishing second in the Seattle Regional. Under the guidance of first-year coach
Elise Ray
, the GymDawgs continued to break records this season by scoring a 196.55, their highest team total at regionals in program history.
Top-ranked Oklahoma won the regional with a 198.075, and third-place Kentucky rounded out the podium with a 196.200, just missing a berth to compete in St. Louis on April 14.
Watch: Highlights from today's #NCAAGym Regionals. The #GymDawgs finish in second to advance to the #NCAAGym Championships. pic.twitter.com/y3DiVwkF18

— UW Gymnastics (@UWGymnastics) April 2, 2017
After sitting out on a bye in the first rotation, Washington got after it in rotation two on floor with a team score of 49.25.
Alexandra Yacalis
hit a beautiful routine to lead the GymDawgs on floor, scoring a 9.90. Washington followed with three 9.85s from
Maya Washington
,
Kaitlyn Duranczyk
, and
Hailey Burleson
.
While UW showed great height and distance on their vaults in the third rotation, the GymDawgs struggled with sticking their landings and finished with a 48.875. Yacalis led the GymDawgs with a 9.85 on vault.
Washington gained momentum on bars, shutting the door on a hard-chargind Kentucky squad to finish with a strong 49.25.
Kaitlyn Duranczyk
continued her impressive career in the event by tying her career-high score of 9.95 in her final bars routine at home. Both Goings and Burleson added a 9.85 to boost the GymDawgs' team bar score.
Though UW had the tough draw to finish the competition on beam, the GymDawgs showed they could handle the pressure. Washington overcame an injury and a fall on the final rotation to clinch their spot to the NCAA Championships with a 49.175 on beam. The competition came down to final routine of the night by
Burleson, who sealed UW's team runner-up finish with a 9.90 in the anchor spot.

Related:
2017 NCAA Championships Field Set
Complete results: Seattle Regional
Complete results: Morgantown Regional
Complete results: Champaign Regional
Complete results: Gainesville Regional
Complete results: Fayetteville Regional
Complete results: Lincoln Regional