2017 NCAA Regionals
Preview: Gainesville, Lincoln, And Morgantown Regionals
Preview: Gainesville, Lincoln, And Morgantown Regionals
Check out all 18 teams vying for spots at nationals out of the Gainesville, Lincoln, and Morgantown regionals.
Mar 31, 2017
by Lauren Green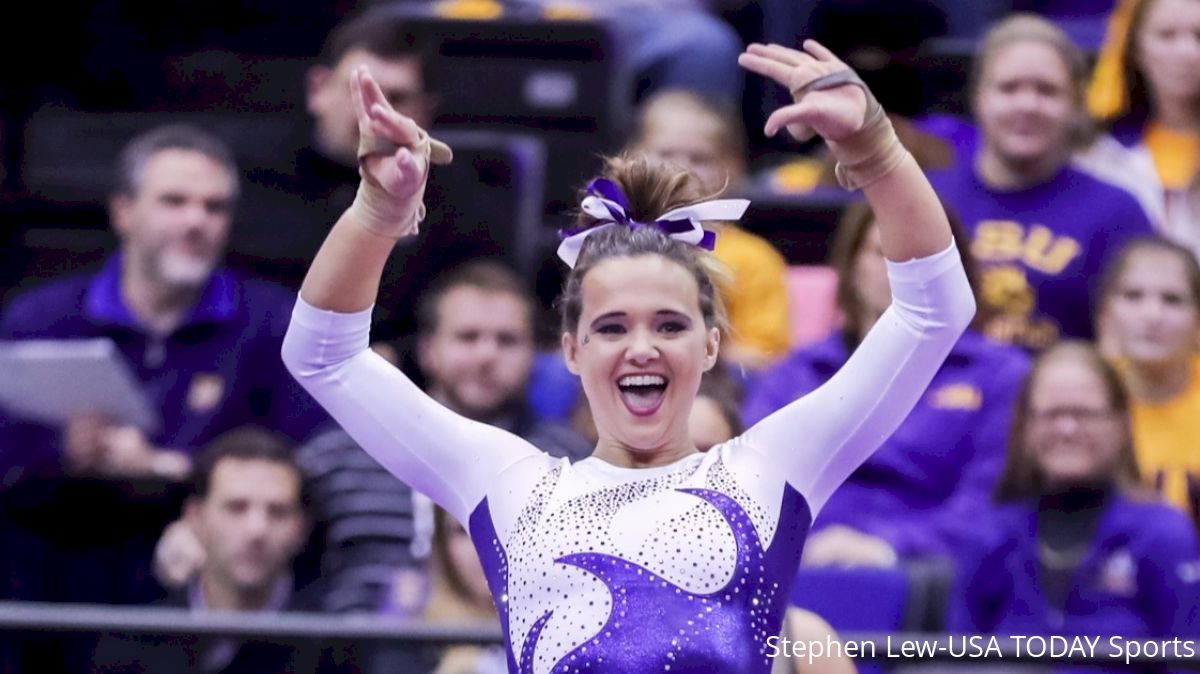 The 18 teams at the Gainesville, Lincoln, and Morgantown regionals are set to battle this weekend for six spots at the NCAA Championships. The top two teams from each of Saturday's regionals will advance to the second NCAA semifinals session on April 14 in St. Louis. If the top three seeds in these regionals advance to the Super Six, it would set up a rematch of the SEC Championships, which saw LSU finish on top ahead of Florida and Alabama.

Gainesville Regional
Teams: *Florida (No. 3), Georgia (No. 10), Missouri (No. 15), New Hampshire (No. 30), Penn State (No. 33), North Carolina (No. 35)
Favorites:
Florida, Georgia
Florida is the leader in this group, which has three SEC teams as its top seeds. The Gators have had injuries this season, notably to Kennedy Baker midseason. Baker was back in the all-around at the SEC Championships, though, and the Gators could be peaking at just the right time. Georgia has had a solid season after its opening-week struggles. Balance beam could still be the make-it-or-break-it moment for the Gymdogs. They'll be looking for some big performances from senior Rachel Schick and freshman Sabrina Vega.
Dark Horse
:
Missouri
The Tigers have had their struggles this season and lost sophomore standout Morgan Porter early in the season with a torn Achilles. Kennedi Harris and Britney Ward have been strong contributors for Missouri. Ward has brought in big numbers on both vault and balance beam. Harris has been great on vault and floor. The trouble spot for MU has come on the uneven bars. If Missouri hits on all four events and gets a little bit of help from Georgia, the Tigers could be headed to nationals.
​How to Watch: 4 PM ET / Live Stream / Live Scoring
Lincoln Regional
Teams: LSU (No. 2), Boise State (No. 11), *Nebraska (No. 14), Arizona (No. 25), Iowa State (No. 29), Minnesota (No. 36)
Favorites:
LSU, Boise State
LSU has been a dominant squad this season, especially on vault and floor exercise. The Tigers boast possible 10.0s on six of their vaults, which will help rack up tenths of a point on their opponents. They have been one of the best floor teams in the country this season. Ashleigh Gnat, McKenna Kelley, and Myia Hambrick have been the top floor performers this season for LSU. Kennedi Edney has all been strong, though she's been in and out of the lineup. Boise State has had a fantastic season. The Broncos were ranked as high as seventh this season and set several new program marks. Senior Diana Mejia scored a 9.800 or better nine times this season on the uneven bars. Sophomore Shani Remme has also been a strong contributor on all four events this season.
Dark Horse:
Nebraska
The Cornhuskers were fourth at the Big Ten Championships, though that included a little bit of a struggle on floor. Balance beam could be the crucial event for Nebraska. Four times this season, the Huskers have counted a fall. Nebraska will want to jump into the lead on Boise State behind two of its best events in floor exercise and vault. As the site hosts, the Huskers will look to Jennie Laeng in the all-around and Ashley Lambert on floor exercise for big performances in their home gym.
​How to Watch: 5 PM ET / Live Stream / Live Scoring
Morgantown Regional
Teams: Alabama (No. 6), Michigan (No. 7), Southern Utah (No. 18), George Washington (No. 20), *West Virginia (No. 23), Kent State (No. 31)

Favorites:
Alabama, Michigan
This is one of the most interesting regionals. Alabama and Michigan aren't separated by much in RQS. The Crimson Tide have had their ups and downs this season, and they don't have the strong vault lineup. However, Alabama has been stellar on the three other events. Aja Sims and Kiana Winston will be ones to look out for on both balance beam and floor exercise. For Michigan, this is a chance at redemption after last season.
The Wolverines were forced to count a fall on balance beam at last year's regionals, which cost the squad a chance at nationals. Michigan has posted back-to-back road scores over 197 at the Big Five meet and the Big Ten Championships. Seniors Nicole Artz and Talia Chiarelli are capable of bringing in the big scores and valuable leadership. Olivia Karas and Emma McLean have been huge contributors this season as well on floor exercise and vault.
Dark Horse
:
Southern Utah, George Washington
If either of the top teams stumble, look for Southern Utah or George Washington to step in and fight for that slot at nationals. Both teams have had strong seasons and are separated by less than 0.5 of a point in RQS. Southern Utah is a fairly young squad, but a deep one as well. The Thunderbirds get contributions across the board. Freshman Autumn Jorgensen and senior Stacie Webb will be ones to watch from Southern Utah. Juniors Jillian Winstanley and Cami Drouin-Allaire will also be ones to watch for George Washington.
​How to Watch: 4 PM ET / Live Stream / Live Scoring

*Regional Host