Create a free account to unlock this article!
Get Started
Already a subscriber? Log In
By Will Graves, AP
The face of U.S. women's gymnastics will change next month when longtime national team coordinator Martha Karolyi retires following the Summer Olympics.
But the address that doubles as the program's heartbeat will not.
USA Gymnastics has reached an agreement with Karolyi and husband Bela to purchase the training facility the couple owns in Huntsville, Texas. Financial terms were not disclosed, but a closing date of August 24--just three days after the closing ceremony in Rio de Janeiro and five days before Martha Karolyi's 74th birthday--has been set.
"It has everything we could possibly ask for," USA Gymnastics President Steve Penny told The Associated Press. "Along with what it represents to our heart and soul, as a physical facility, we couldn't go out and build it. It's been custom-made what for what we want and need. You add up all the elements, and it's like, 'Dang, what an easy decision.'"
The Karolyis established the rustic estate in Sam Houston National Forest about an hour north of Houston in 1983, and eventually expanded it to 2,000 acres. USA Gymnastics is buying 36.2 acres, including three training gyms, housing for up to 300 athletes and coaches as well as a dance studio, dining hall, medical and rehab facilities and recreational areas. The facility will also get a new name: the USA Gymnastics Athlete Development Center at the Karolyi Ranch.
The Karolyis will keep their residence, a hunting lodge Bela Karolyi built, and the remaining acreage. USA Gymnastics will have right of first refusal if the Karolyis decide in the future to sell off other parcels of land.
The USA Gymnastics board of directors unanimously approved the sale, and pointed to the amenities, the location and the unique aspects of the ranch--which includes a vast array of wildlife from camels to peacocks--that have helped turn the women's national team into an international powerhouse. The five-woman team Karolyi will lead to Brazil next month is heavily favored to back up the team gold medal it won with ease in London four years ago.
"This place has stood the test of time," Penny said. "There things we have to make sure we do a little bit differently; we have to fix some things. Nothing that is going to require significant work. It's sturdy. It's a sturdy place to be."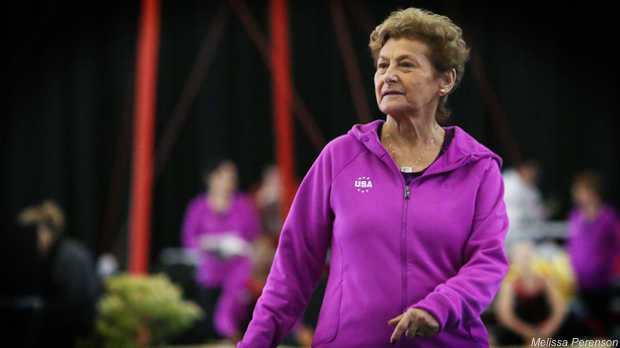 Karolyi announced her decision to step down after the Rio Games last summer. The Karolyis are expected to maintain a presence at the ranch, and USA Gymnastics is considering turning an older portion of the main gym--one lined with pictures, medals and trophies from major competitions dating back to the 1980s--into a museum to honor the Karolyi legacy.
"They are still a part of us," Penny said. "They will always be a part of USA Gymnastics. They're still both going to play vital roles for us in the future. Martha will always want to drift into the gym and we'll always want her to do that."
Bela Karolyi joked the sale means "freedom for him" to do as he pleases on the ranch while his wife of 54 years travels to visit family in her native Romania. Though the deal has been in the works for a while, the formal exchange of power will mark the end of an era. The Karolyis defected from Romania to the U.S. in 1981 and the ranch played a vital part in the U.S.'s rise from also-ran to dominant force.
When Martha Karolyi was elevated to national team coordinator in 2001, she installed a centralized system that required national team members to make regular visits to the ranch for training and to foster a team environment that can be difficult to cultivate in an individual sport. The U.S. has produced the last three Olympic all-around champions--with reigning three-time world champion Simone Biles expected to make it four straight in Rio--while adding two Olympic team silvers to go with the gold from London.
"Once everybody sees that this system is working and producing world and Olympic champions, they believe in it," Martha Karolyi said last fall. "We believe they will be hopefully following in a same direction down the road. We want to make sure this is safe for generation after generation."
While Penny considers August 24 as Karolyi's official retirement date, there has been no decision yet on her replacement.
"I have yet to have a formal discussion with anyone that has expressed interest," Penny said. "I've met with the coaches and told them our main goal is to get through Rio and not worry about making it a distraction."
The Karolyis have pledged to donate $250,000 to USA Gymnastics after the sale.
"That's how solid our relationship is with them," Penny said. "This has been a very smooth and cooperative effort to get to a good place where everybody is comfortable with what we're doing."
Quick facts/timeline for the USA Gymnastics National Training Center at the Karolyi Ranch via USAG
Location:
454 Forest Service Rd. 200, located in the middle of the Sam Houston National Forest in Huntsville, Texas
Size:
2,000 acres
Facilities:
Two artistic gymnastics training facilities, used by acrobatic gymnastics also (50,000 sq. ft. total)
Multi-purpose training gym for rhythmic and trampoline and tumbling (32,000 sq. ft.)
Medical and rehab facilities
Dance studio
Dining hall
Housing for 300 participants, coaches and administrators
Athlete lounge areas
Recreational facilities, including Olympic-size swimming pool, basketball court, tennis court, volleyball court, fitness room, indoor whirlpool and sauna
Internet access

Timeline:
1983
Karolyi purchases 40 acres bordering on the Sam Houston National Forest, north of Huntsville.
1984
Gym and cabins are built and the Ranch opens for summer camp
1986-89
Ranch grows to 2,000 acres
1999
Bela Karolyi is appointed to newly created position of national team coordinator (through 2000 Olympic Games) and monthly training camps are staged at the Ranch.
2001
Semi-centralized training system implemented, and Ranch is designated as the "U.S. Women's National Team Training Center."
Martha Karolyi is named women's national team coordinator (a position she still holds).
2003
Dance studio is added.
Completion of second gym expands training center to 30,000 sq. ft. in total.
2004
"Walk of Fame" brick path is unveiled.
2006
Additional housing is built for coaches and gymnasts.
2007
The Lodge is added.
2010
Third training facility is built, especially designed for rhythmic gymnastics and trampoline and tumbling.
2011
Designated as a "U.S. Olympic Training Site"
2015
Additional housing is built and a fitness room is added.
2016
USA Gymnastics purchases the gymnastics-related facilities, recreational areas and athlete/coach housing and dining areas.
Related:
Martha Karolyi To Step Down After 2016 Rio Olympics
Who Should Replace Martha Karolyi?