2016 NCAA Championships
Oklahoma Wins NCAA Championship In Close Super Six Battle
Oklahoma Wins NCAA Championship In Close Super Six Battle
In an incredibly close competition, Oklahoma has emerged as the NCAA Champion with a final score of 197.6750. LSU finished second with a 197.4500, followed
Apr 17, 2016
by Justine Kelly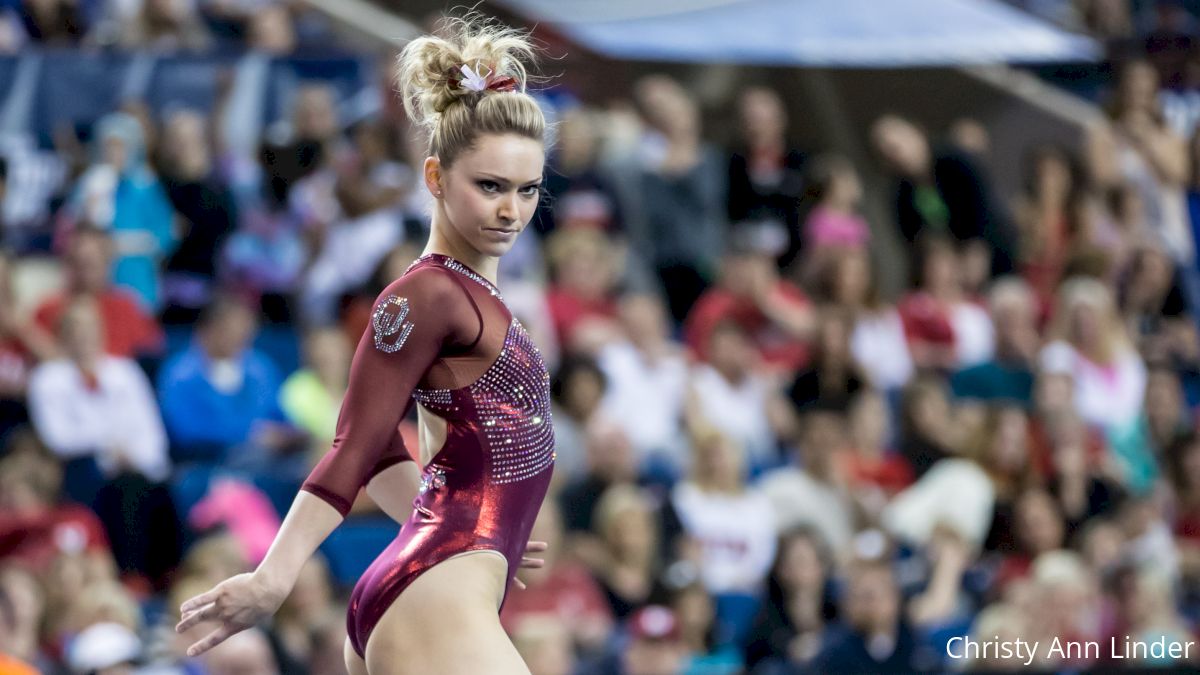 In an incredibly close competition, Oklahoma has emerged as the NCAA Champion with a final score of 197.6750. LSU finished second with a 197.4500, followed by Alabama with a 197.4375, Florida with a 197.3500, UCLA with a 196.8250, and Georgia with a 196.8125. This competition will perhaps go down in history as one of the best Super Six meets - every team performed at their best and we got to see some great gymnastics across the board.
The battle for the title was close throughout the entire meet. Going into the final rotation, four teams were separated by a mere two tenths of a point. Oklahoma, LSU, Alabama and Florida gave it their all in their final events, but it became clear soon enough that the Sooners would come out on top thanks to a solid performance on floor. Oklahoma started the meet on vault, where they put up their lowest score of the competition - a 49.2250, mainly due to a few landing issues. Landings were not a problem for them throughout the rest of the competition, however. They stuck almost every dismount on bars in the third rotation, resulting in three scores that hit 9.9 or better. They kept up the momentum on beam, scoring just as high, with their highlight being
Chayse Capps
who delivered just as expected with a 9.9375.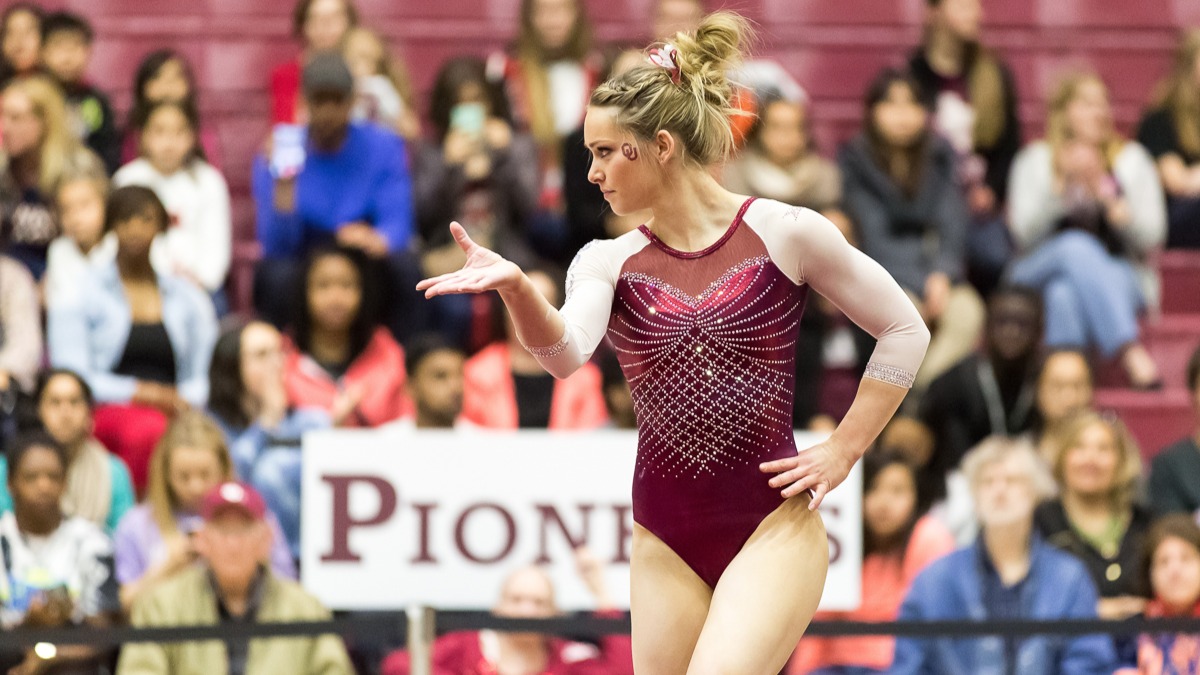 Although the competition was close in the final rotation, the Sooners went to floor where they were ranked #1 in the regular season. They put up one of their best performances to date with three scores 9.9 or better before
AJ Jackson
took to the podium. Jackson needed just a 9.8 or better to win the meet for Oklahoma, and she more than answered the call, putting up a 9.9125.
Haley Scaman
began her routine just as the score was announced, and she performed at her best for her final routine as a Sooner, scoring a 9.95, the highest score on floor.
In a close second, LSU accomplished their highest finish in school history with a 197.4500. Things were a bit nervy for the team on their first event - uneven bars - when
Sarah Finnegan
suffered fall. The rest of the lineup put up solid performances, though no scores over 9.9 which set them back a bit from the rest of the competition. Things picked up for the team on beam, where they scored a 49.3375 thanks to multiple stuck landings and no falls, setting them up nicely for their best events to end on. The Tigers' scores continued to rise on floor, where
McKenna Kelley
,
Myia Hambrick
and
Ashleigh Gnat
all scored 9.9 or better. Like Oklahoma, LSU also ended their competition on their best event - vault, where they were ranked #1 in the regular season, and they had possibly their best vault rotation ever, delivering four scores 9.9 or better. Gnat anchored the rotation with her double twisting Yurchenko to score a 9.95, the highest score of the meet on that event.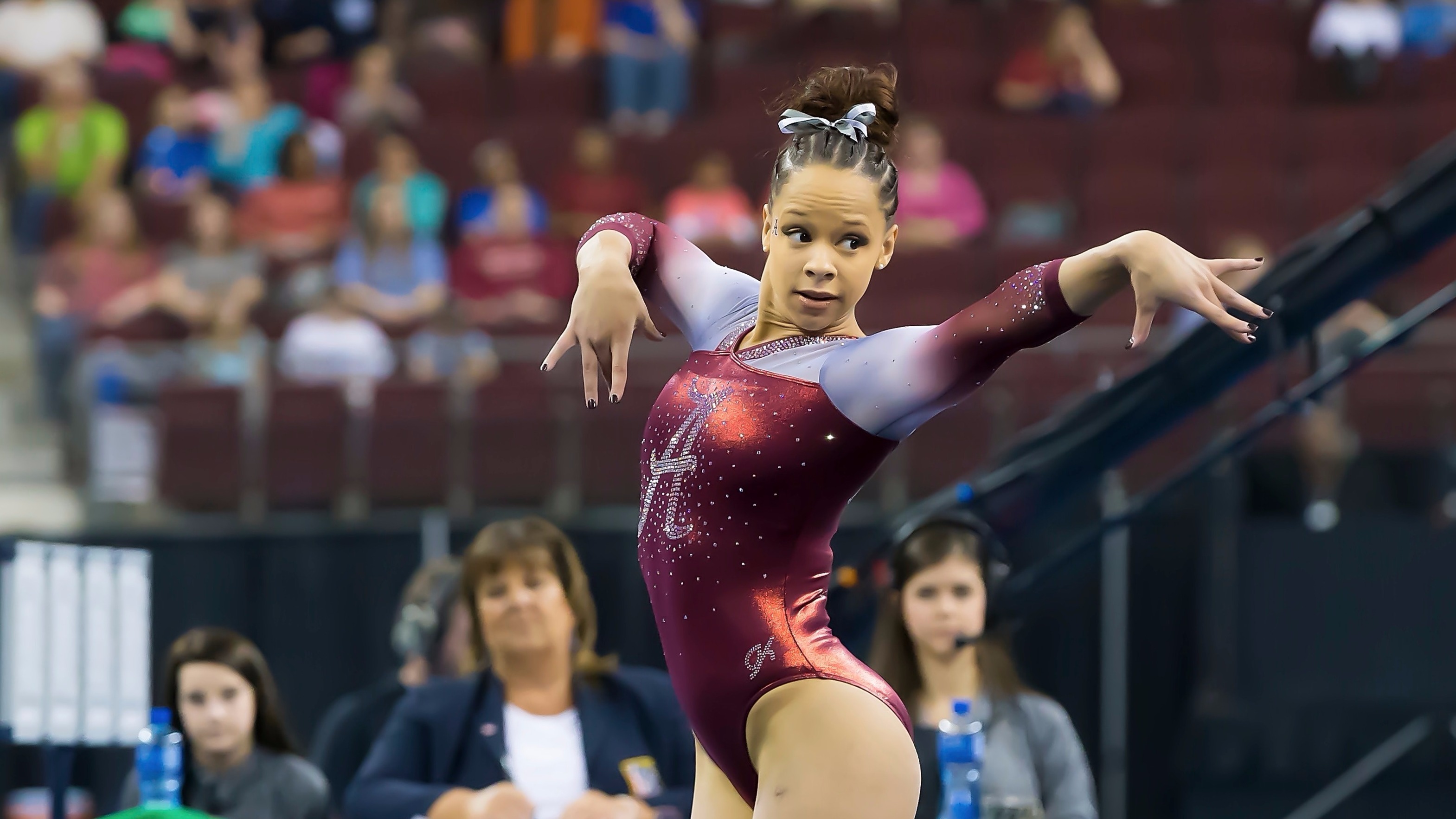 Alabama also had one of their best meets, finishing with a 197.4375, very close behind LSU. The team started with sky-high tumbling on floor and ended the rotation ahead of Oklahoma, Florida and LSU. The Tide suffered a fall from
Jenna Bresette
on vault in the next rotation, but the high difficulty in their lineup helped boost the scores.
Nickie Guerrero
,
Katie Bailey
,
Mackenzie Brannan
and
Lauren Beers
all performed 1 ½ twisting Yurchenkos, many of which were nearly stuck or had small steps on landing to minimize deductions. Bars was the weakest event for the team, with form issues and landing deductions adding up. Their highest scores came from Brannan and
Kiana Winston
, who both nailed their routines to score 9.8875. The end of the meet came down to a stressful situation on balance beam, but the Tide handled it with no problem, an it ended up being their highest scoring event of the meet. Brannan and
Aja Sims
both scored 9.9, and Guerrero was the highlight with a 9.95 to tie for the highest score of the meet.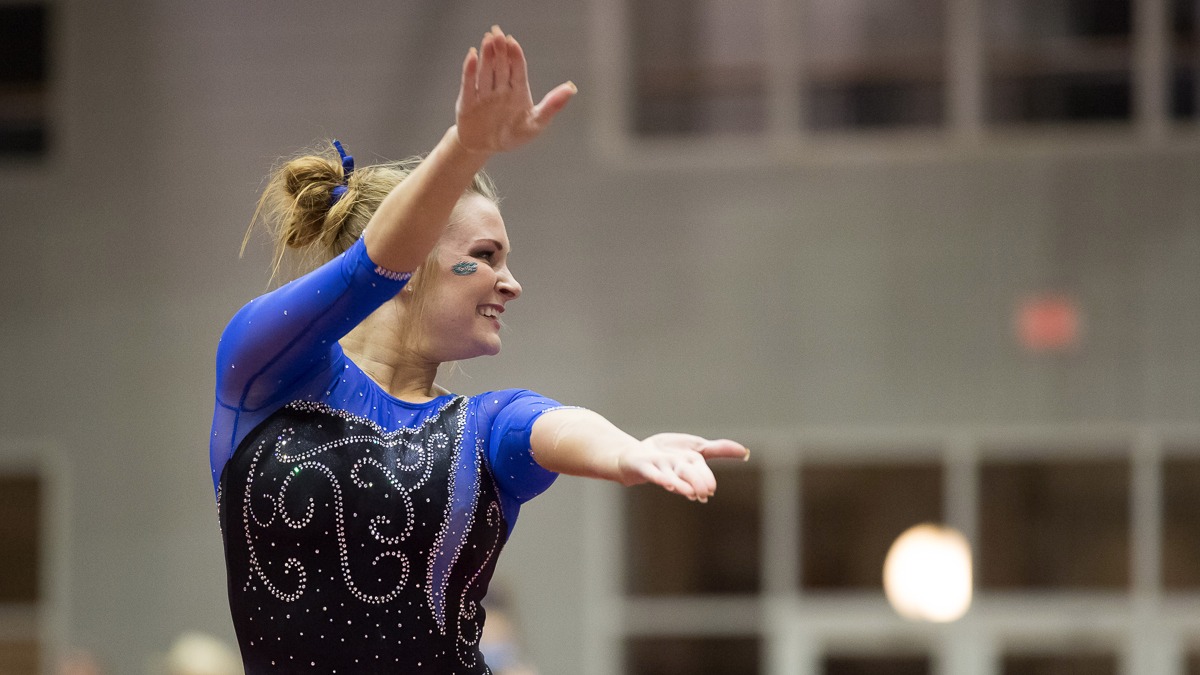 Somewhat surprisingly, Florida came in fourth place, though they still finished with an impressive high score of 197.3500. Things started a bit slow for the Gators on beam and they had a few uncharacteristic wobbles and steps on landings.
Bridget Sloan
delivered their highest score of the rotation with a 9.9. The team did much better on floor, but still had a few more deductions than normal from some of their typically higher scoring competitors.
Kennedy Baker
opened her routine with a flawless double arabian, but unfortunately stumbled with a big step out of her double pike to score only a 9.8125. Sloan was once again the high scorer for the team with a 9.925, and
Bridgette Caquatto
anchored with one of her best routines to score a 9.9. Florida went to vault in the fourth rotation and put up a solid performance.
Alicia Boren
had an unfortunate fall on her Yurchenko 1 ½, but the rest of the lineup did their job and the score was dropped. Highlights were Sloan's and
Alex McMurtry
's stuck full twisting Yurchenkos, and Baker's stuck 1 ½. The team had their best performance on bars for their final event, and once again Sloan put up the highest score with a 9.9375, also the highest score of the meet, for her final routine as a Gator.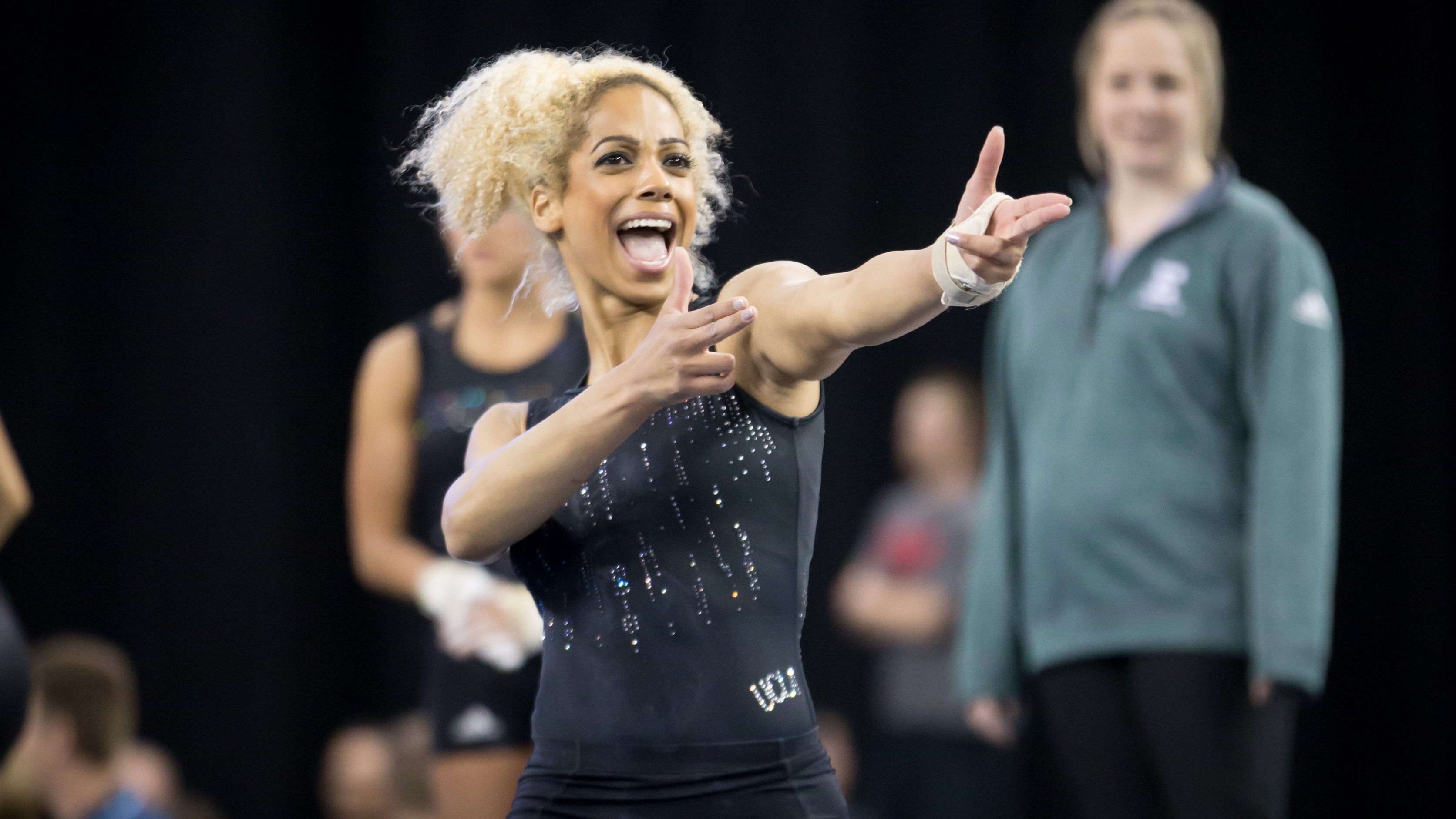 UCLA had a very balanced competition, scoring above 49.00 on every event with no massive errors. They had a good start to the meet on floor, with the only mistake being
Angi Cipra
stepping out of bounds. Unfortunately they did not put up anything above a 9.8375, which is somewhat unusual for them. A bonus was to see
Hallie Mossett
back in the lineup, and she tied her teammate
JaNay Honest
for the highest score of the lineup. On vault, the Bruins have always struggled against competition due to their relative lack of difficulty, but they had much better landings on their Yurchenko fulls this time and put up a decent score. Unsurprisingly,
Pua Hall
scored the highest with a 9.85 for her Yurchenko 1 ½, which she stuck.
Peng Peng Lee
was the highlight of the bars rotation for UCLA. Her routine is packed with difficulty, and her execution was spot on with just a hop on her dismount. The Bruins' final event was their best - balance beam - where they scored a huge 49.4375, bolstered by
Danusia Francis'
9.95, the highest score of the meet for her last routine competing for UCLA.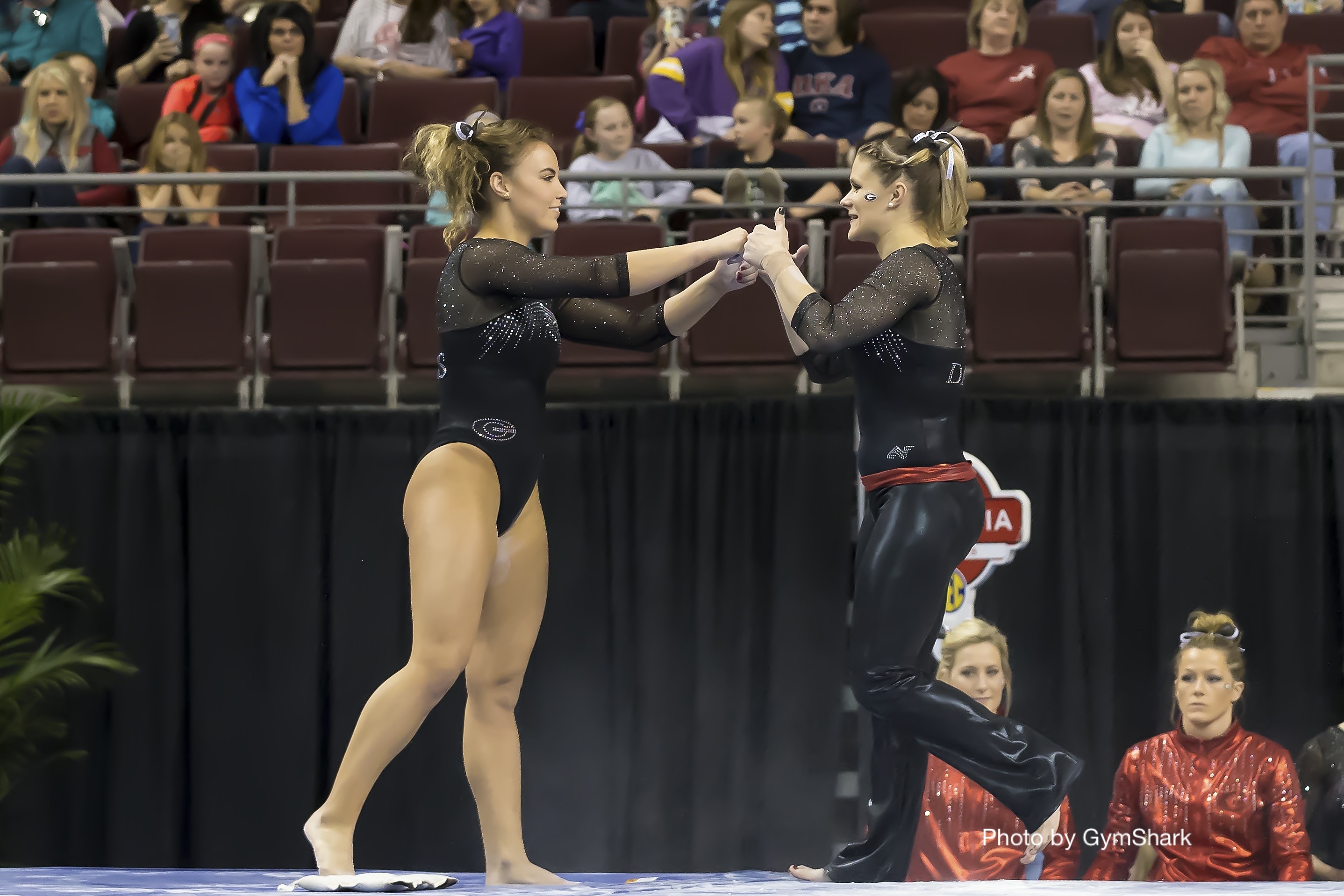 Georgia started the competition on bars, where they had no major errors. Senior
Brandie Jay
scored highest for the team with a 9.9 for a routine packed with difficulty. The Gym Dogs' best rotation came next on balance beam. Although this was a difficult event for the team earlier in the season, they demonstrated that they had clearly conquered it tonight when they put up a huge 49.3625, their highest score of the meet. Both
Ashlyn Broussard
and
Mary Beth Box
scored 9.9125 for routines with hardly any visible errors. Box was also the highlight on floor, where she anchored and was able to perform a double front as her opening pass. Jay was the high scorer on this event as well, putting up a 9.8375. The team ended their competition in the fifth rotation on vault.
GiGi Marino
,
Brittany Rogers
and Jay all performed a Yurchenko 1 ½ to put up solid scores for the team.
Congratulations to all the teams on their amazing performances!
Related:
Full Results - Sooners Get It Done!
2016 NCAA Individual Titles Crowned
Results: 2016 NCAA Women's Championships - TEAM - Semifinal 1
Results: 2016 NCAA Women's Championships - TEAM - Semifinal 2
Results: 2016 NCAA Women's Championships - INDIVIDUAL