Analyzing The Elites: Vault Edition
Analyzing The Elites: Vault Edition
Gymnastics is a sport of tenths, hundredths of a tenth...thousandths of a tenth. There are so many variables that go into a score--part of it objectively ba
Dec 13, 2015
by Rebecca Johnson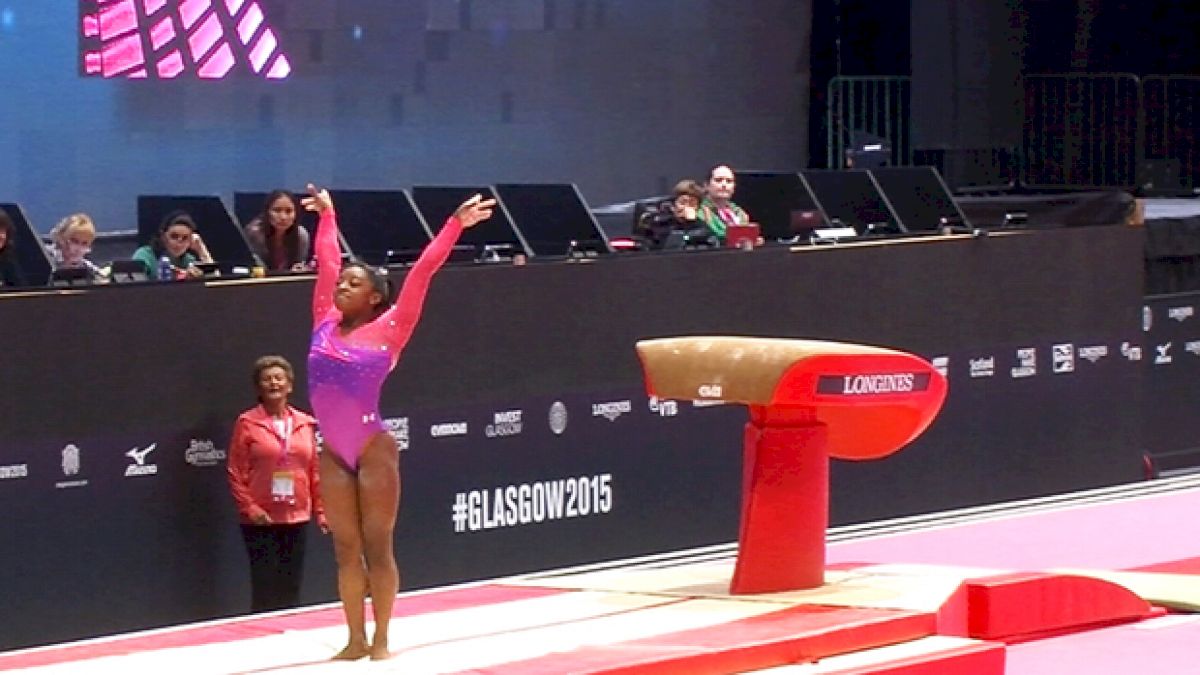 Gymnastics is a sport of tenths, hundredths of a tenth...
thousandths
of a tenth. There are so many variables that go into a score--part of it objectively based on the difficulty score and part based on execution, artistry, and aesthetics. Every gymnast has their own style and way they perform each skill, and we're going to take a look at the similarities and differences between them. Today, our focus is on vault.
Amanar: Paseka vs. Biles
Simone Biles
and Russia's
Maria Paseka
both perform amazing Amanars, which start out of a 6.3.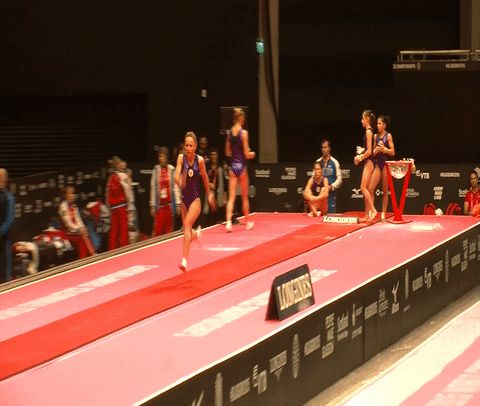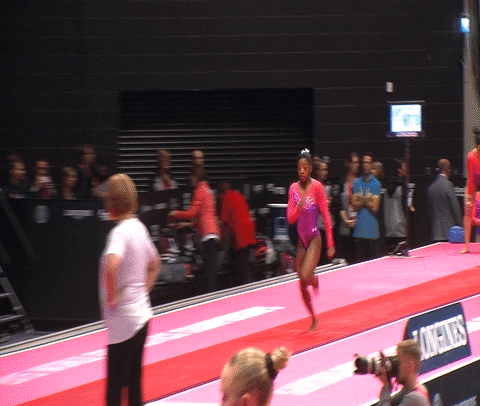 Now, this is where Biles sets herself apart from the world with her unmatched height and clean form. She comes into the table so quickly out of her roundoff, which makes her body shoot off the table before she even hits vertical. Her precise shoulder angle on the block mixed with huge speed is what launches her so high into the air. Biles twists very fast and knows exactly where the 2.5 ends, so she is able to spot the landing just before finishing the twist. This is the key for such an an outstanding landing.
Paseka also has a very impressive Amanar. She comes into the table a little higher and her arms are a little wider on the block, so she doesn't quite get the same "pop" as Simone. You can see Paseka has some leg separation in the pre-flight on this vault, but she shows a nice line in the air. The small hop forward comes from being just a little off center and not quite fully finished with the twist upon landing, however on a 2.5 twist, a small hop forward is commonplace.
Front Handspring Rudi: Steingruber vs. Wang
Switzerland's powerhouse
Giulia Steingruber
and China's
Wang Yan
both perform a front handspring Rudi, which has a 6.2 start value.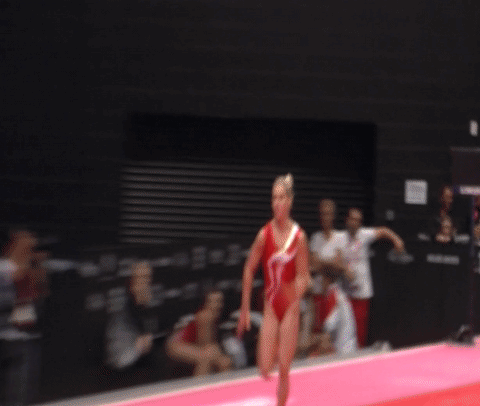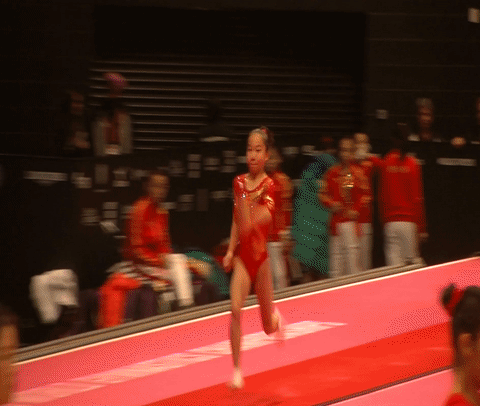 Steingruber builds a ton of speed as she makes her way down the runway and gets to the table very quickly after her punch on the board. With this, she gets huge height and is able to sail into the air before the twist. Her height allows her to complete the twist with ease and have a nice, controlled landing. Steingruber changes her angle a few times in flight and uses a bit of a pike on her block to initiate the twist, while Wang keeps more of a straight body throughout. Wang's vault doesn't have quite the same height as Steingruber's because she begins her twist a little earlier off the table, which causes her to pike it down at the end. Wang has her legs glued together in the air and shows a controlled landing despite her chest being a bit low.
Yurchenko Double: Jiaxin vs. Little

Tan Jiaxin
of China and
Emily Little
of Australia both perform the Yurchenko double full very nicely. This is a very classic vault in elite competition but only has a 5.80 start value, so execution is crucial.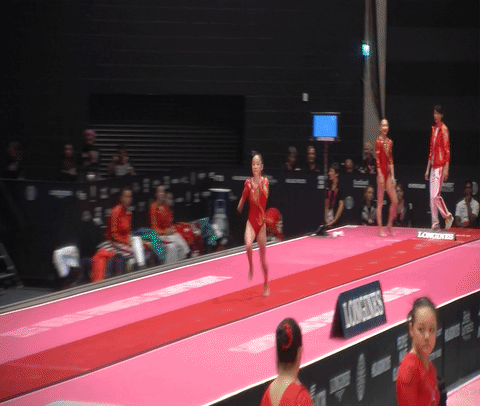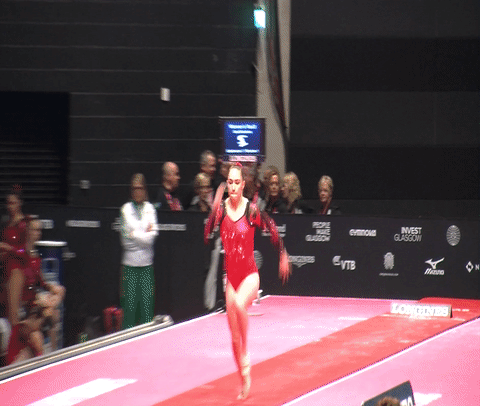 Jiaxin's vault has great height and she is very quick on her pre-flight, which allows her to get a great pop off the table before the double full twist. She also sees the landing well and is able to control it with just a small hop backwards. Little also gets great height off the table, but has a bit of leg separation/crossing in the twist and pikes it down at the end, whereas Jiaxin lands more upright. While Little doesn't quite get her chest up on the landing, she is still able to control it with just a step backwards.
Lopez: Tutkhalyan vs. Biles
Lastly, the Lopez vault which starts out of a 5.6, is performed by both
Seda Tutkhalyan
of Russia and Biles.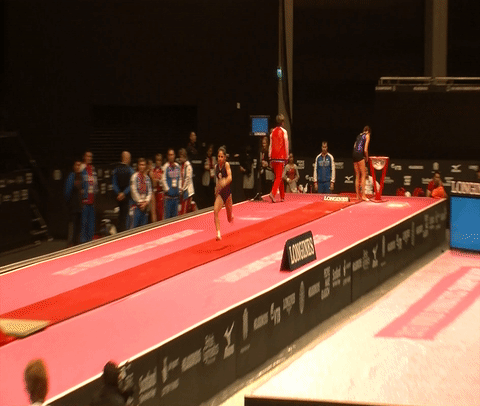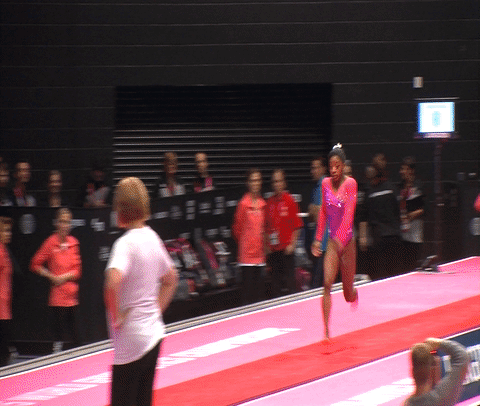 Tutkhalyan has some leg separation in her twist but is able to find the landing well with a hop backwards. She comes into the table a little higher than Biles out of the half twist, so the block doesn't happen right at vertical. Tutkhayan is layed out, but her hips are a little closed throughout the flip, while Biles flares open right off the table and is very straight during the half twist. The quickness of the pre-flight in Simone's is what makes her body fully turned and ready for the flip before her body hits vertical on the table, so she pops straight up into the air. She has plenty of time to compete the layout half and sees the ground for a lovely landing. Biles is capable of a Cheng (1.5 twists) and hopefully we will see that in 2016!
While vault is mostly a power event and doesn't leave much room for style and artistic flare, these elite gymnasts find a way to make each vault their own and do them at a world-class level.
Stay tuned for more event analyses coming soon!
Related:

Simone Biles: Golden Girl- The Trailer