Simone Biles Signs With GK Elite Sportswear
Simone Biles Signs With GK Elite Sportswear
Simone Biles has signed with GK Elite Sportswear as an official endorsed athlete. She recently signed with Nike and is now adding to her sponsorship reperto
Nov 23, 2015
by Rebecca Johnson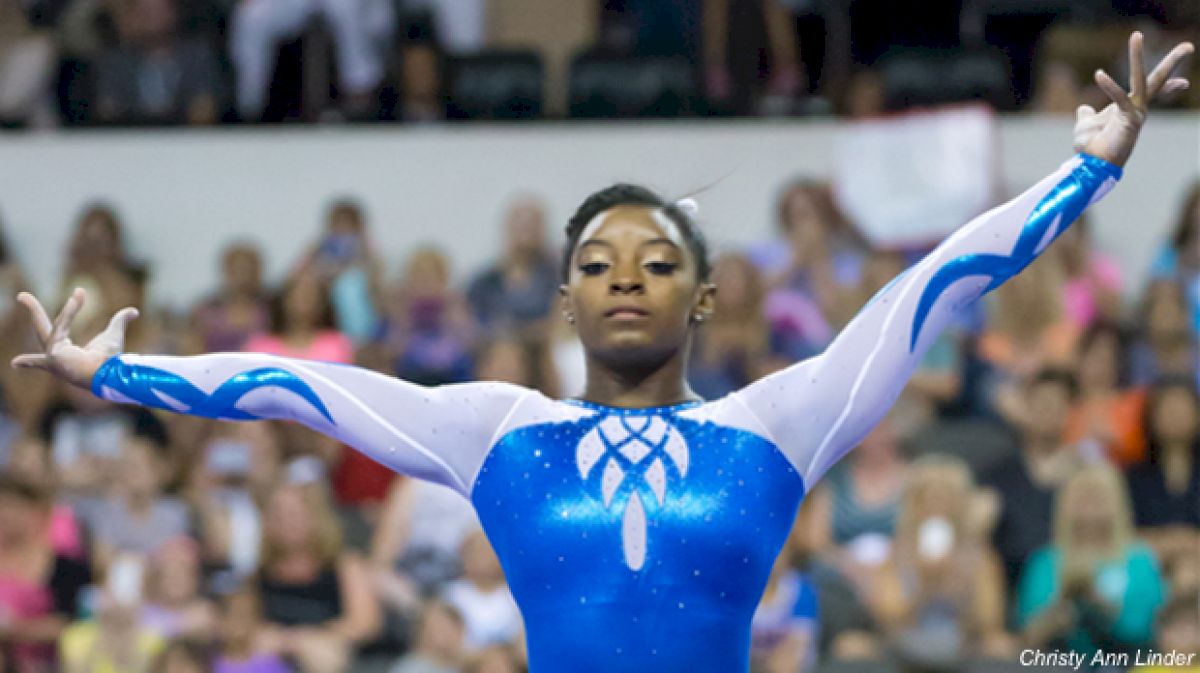 Simone Biles
has signed with GK Elite Sportswear as an official endorsed athlete. She
recently signed with Nike
and is now adding to her sponsorship repertoire. Biles is excited to be able to represent a brand that she knows well and has worn throughout her impressive gymnastics career.
So excited to say I'm officially apart of the @gkelite family! #GKSimone #GKChampion #GKChoiceofchampions pic.twitter.com/4nSnXyNfqH

— Simone Biles (@Simone_Biles) November 23, 2015
Release via
GK Elite Sportswear
READING, Pennsylvania (November 23, 2015) – GK Elite Sportswear, L.P., the world's leading supplier of gymnastics apparel, is pleased to announce that Simone Biles will join their list of official endorsed athletes.
At just 18 years old, Simone made history at the 2015 World Championships breaking the womenÂ's world record when she earned her tenth world gold medal. She is now the most decorated female gymnast in World Championship history, with a total of fourteen medals. Simone is also the first woman to win three consecutive world all-around gymnastics titles. Her career began when she was just six years old, and she currently trains at World Champions Centre in Spring, Texas under head coach and mentor Aimee Boorman.
"I am so excited to become a part of the GK family," said Biles. "I've always loved training and competing in GK leotards. It's amazing to be able to represent a brand that I've worn throughout my gymnastics career."
Kelly McKeown, Executive Vice President of Corporate Relations & Design at GK remarked, "We are extremely proud to announce our new partnership with Simone. She is a brilliant gymnast and a positive role model for gymnastics. SimoneÂ's sparkling personality and passion for the sport makes her a great brand ambassador for GK. We look forward to an exciting road ahead!"
Simone was recently nominated for Female Olympic Athlete of the Year in Team USAÂ's Best of the Year awards and Sports IllustratedÂ's Sportsman of the Year. The voting for Team USA ended Friday, November 20 and will end for the SI nomination on December 12.
ABOUT GK ELITE SPORTSWEAR?GK is the world's leading brand of gymnastics apparel and is recognized around the world for superior variety, quality, fit and service. For over 30 years, GK has been dedicated to the sport of gymnastics, contributing millions of dollars to support hallmark grass roots gymnastics development programs. Known for their signature collections of gymnastics workout leotards, GK has partnered with over ten Olympic athletes and currently offers workout leotards designed by 2012 All-Around Olympic Gold Medalist Gabrielle Douglas, 2012 Floor Exercise Olympic Gold Medalist Alexandra Raisman, and 2008 All-Around Olympic Gold Medalist Nastia Liukin. GK is proud to have been chosen by Under Armour® to manufacture the US National Team competitive and training apparel for USA Gymnastics through 2020. Based in Reading, Pennsylvania, Elite Sportswear, L.P., the company behind the GK Gymnastics brand, continues its commitment to American-made quality and continuous innovation in designs for Gymnastics and Cheerleading apparel. For more information about GK Gymnastics Apparel, visit www.gkelite.com.
Related:
Simone Biles Signs With Nike