A drizzly day in London, American gymnast Gabby Douglas sat with her phone in hand at the back of a bus en route to the North Greenwhich Arena. The bus shimmied around the tight London streets transporting Douglas to her next Olympic competition. While some may take rain as a bad omen, for Douglas the mist was more welcomed than sunshine. "When I was little, my mom used to tell me that when it rains, it's God's manifestation waiting to happen...a big day is waiting to happen," Douglas recalls, "so when it was raining I was like, it's going to be a great day. I texted my mom, 'It's raining. It's gonna be a great day.'" And Douglas would be right, as the bus slowed to a halt depositing her to the women's all around final.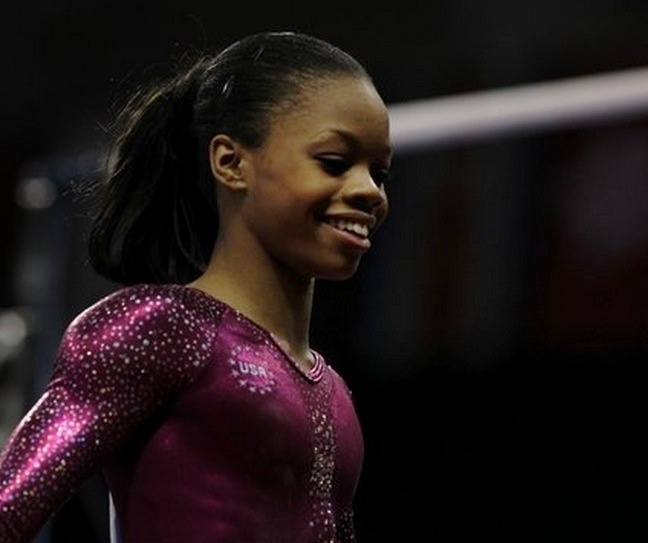 Photo by Melissa J. Perenson.

Douglas started her competition on the vault with a beautiful Amanar. A small hop to the side, Douglas fought for every tenth, a trait that followed her throughout the night. Douglas moved to the bars, her best event, and it showed. Douglas soared through the air easily completing multiple tkachevs and cleaning piroutetting to the handstand position. Not a misstep as Douglas wound up for the double layout dismount landing gracefully on the competition floor. A fantastic routine, but the celebration was short lived as Viktoria Komova and Aliya Mustafina of Russia raked in tremendous scores on the event as well putting the pressure on Douglas to stay ahead of the pack.

The third rotation placed Douglas on beam, an apparatus where nerves love to creep in. Douglas, though, proved more than capable of handling the pressure. Douglas shook off the tiniest of wobbles on the balance beam never losing her composure. Douglas walked away from beam with a remarkable 15.5, one of the highest beam scores flashed at the London Games.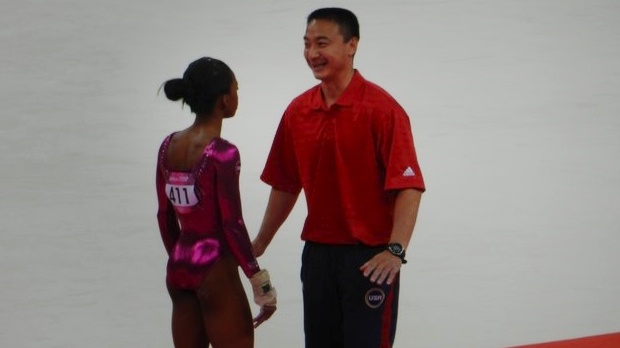 Coach Chow gives Gabby a pep talk before her final routine in the All Around Final.

With Komova close in tow, it seemed a floor showdown would determine the all around gold. Gabby Douglas preceded Komova on the floor exercise. Opening with a 1 1/2 to triple twist and holding onto an abrabian double front to stag that almost went out of bounds, Douglas performed a lively and near-perfect routine. Earning a 15.133 for her efforts, Douglas now waited to see what Komova brought to the table. Komova demonstrated she was not going down without a fight performing one of her best floor routines of the games. Komova stuck nearly every pass including a textbook double pike to close the routine on a high note. With no clear winner, Douglas and Komova sat in eager anticipation for the final scores to roll in. Finally, the judges awarded Komova a 15.1 giving her an all around total of 61.973, just tenths behind Douglas's 62.232.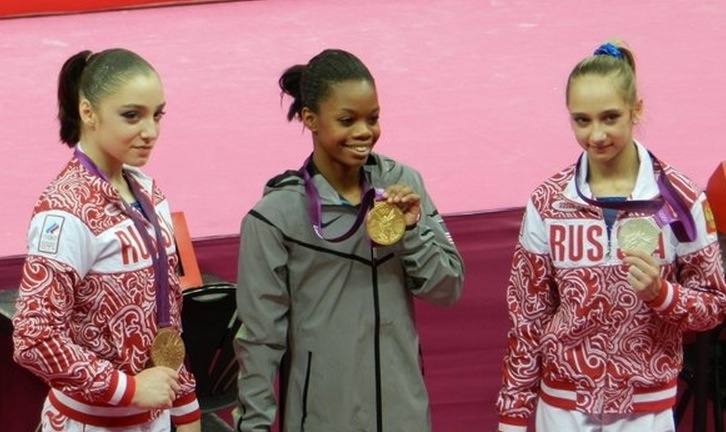 2012 Olympic All Around Medalists.

Douglas took the gold becoming the fourth American woman to do so, the third in the past three Olympic Games, and the first African American woman to nab the title. Not a flawless night for Douglas, but an even more impressive one as she fought for each tenth and kept her lead the entire night proving herself as an Olympic Champion.

Watch Gabby's final competition routine, and don't miss Coach Chow's reaction to the left of the floor:


Since the Olympic Games, Douglas received honors at the BET awards and a nomination alongside her Fierce Five teammates at the ESPY awards, released two books, and made a number of media appearances. But, perhaps most excitingly, in recent months Douglas returned to training in West Des Moines, Iowa with Head Coach Liang Chow. Gymnastike caught up with Douglas a few weeks ago and witnessed first hand her gymnastics progress. Hear from Site Head Anne Phillips as she reflects on Douglas's return and chances at making another Olympic cycle, or watch the journey for yourself in our exclusive Beyond the Routine series.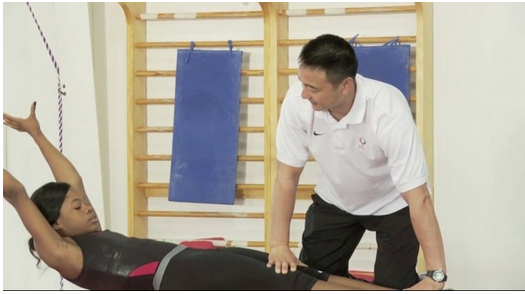 Douglas back to training at Chow's gymnastics and dance.

Whether Gabby Douglas can return to Olympic glory remains to be seen, but it is clear that one year ago today she made herself a part of gymnastics history as a fighter and a winner.