The McKayla Maroney/Kyla Ross friendship has been well publicized. A decade after first meeting, training together, and ultimately building a strong bond, Maroney and Ross each earned their place on the five person 2012 Olympic Team. And if that weren't enough, they went on to win a historic gold medal for Team USA. Together. It is truly a fairy tale story, but that story is not complete.
What many may not know is that there was a third teammate - a third friend. Her name is Charlotte Drury. And just like Maroney and Ross, Drury is a world class athlete with Olympic potential. Drury just chose a slightly different path.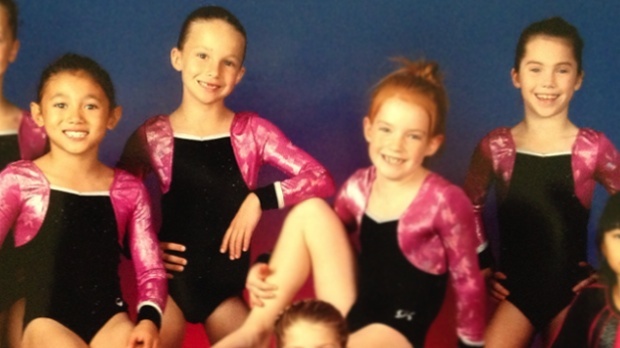 The trio met at NGTC Gymnastics in Aliso Viejo, California when they were all about five years old and competing level 6. They competed together, rode carpool together, and spent nights over at each others homes. Eventually, they all made their way to Gym-Max Gymnastics to train with esteemed coaches Jenny Zhang and Howie Liang.
Together, they progressed up the competitive levels all the way to level ten. Feeling a lack of passion to pursue elite artistic gymnastics, Drury made the difficult decision to walk away. With a gentle push from her mom, Ann Drury, she quickly made her way into competitive trampoline, a lesser-known form of gymnastics. Thanks to her strong foundation of artistic gymnastics, Drury won a National Title in her first year of competition. From there, she advanced to Junior Elite, accomplished her goal of making the Junior National Team, and even won a World Cup event in Portugal. At the 2013 USA Championships, Drury won silver on individual trampoline and won the Senior National Title for synchronized trampoline. She is officially a 2016 USA Olympic hopeful.
This month, the three best friends were selected to represent USA Gymnastics at the upcoming World Championships. Ross and Maroney will compete at the individual World Artistic Gymnastics Championships in Belgium, while Drury will take part in her first Worlds in Bulgaria. Their story in indescribably unique.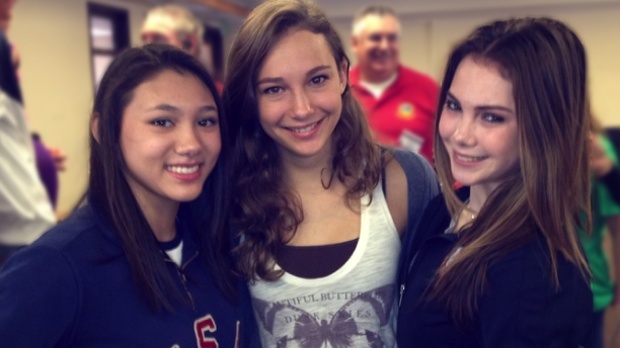 We had the pleasure of speaking with Charlotte about her recent success in trampoline, and what was like growing up alongside Olympic stars Kyla Ross and McKayla Maroney. Below is our interview.

Gymnastike: Let's start with the difficult decision to walk away from artistic gymnastics. For those who don't know how hard the decision is to quit gymnastics, can you expand on the emotions of it - of giving up something you worked for and spent the majority of your time doing?
Charlotte Drury: Yeah. I remember before I quit, my coach and I talked, and she said, 'I can see it. I can see it in you that you're not done yet. I can see you still have a passion for this sport.' And she was completely right, I just knew at the time I couldn't keep pushing myself to do this [artistic gymnastics] because I didn't love it anymore. I didn't want to go. Once I got there [to the gym], normally I was pretty good. But then it just got so tough and things started to hurt, and mentally it's just like downward spiral from there. It's so hard to get out of it. Really, it's a huge decision to put on a 13 year old. It's like a life decision. It's so hard to convey that feeling to people who really don't know it. But, it's like the equivalent of giving up your whole life.
G: And then, how did you eventually find your way to trampoline?
CD: I knew about trampoline when I was in artistic. I had always been bouncing around. I remember when we were little at NGTC, my coach would sometimes schedule us for trampoline, and that was like the highlight of my life! [laughs] I remember every day you'd run up to look at the schedule to see, 'Is it trampoline? Do we get to do trampoline today?', and you'd either be super, super happy or you'd be kind of sad. I mean, I'd still be excited if we didn't get to do it, but it was the best thing when we did! So seriously, I quit one day. I met with my coaches, said, 'I'm done. This is over.' And that very same day I was sitting on the couch, and my mom was like, 'you've got to do something!' So, she signed me up for trampoline that very day and I went to practice that night! [laughs]
G: Wow! So you didn't even get a day off?
CD: Yeah, so there was really wasn't much down time. I've never really been out of the sport! Because I was already bouncing off the walls even having just one day off and my sister and I were causing a giant mess, and my mom was like, 'this is not going to fly!'
G: And of course before all that happened you developed close friendships with your teammates. Can you tell me about the first time you met Kyla?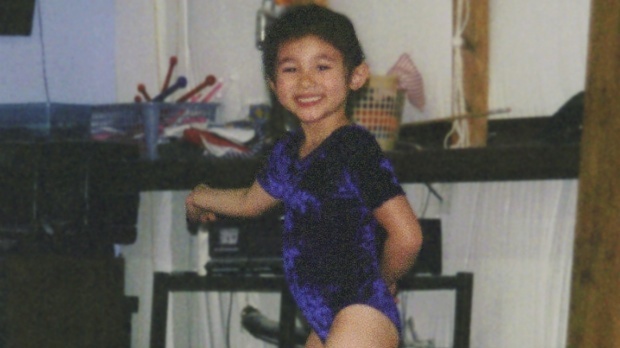 CD: Actually, I remember the exact time I first met her! She came into the gym and she was wearing this purple velvety leotard, and I remember being super jealous because I didn't have a purple velvety leotard! And, I also remember that when she was little she was little she was super, super strong looking. She was so buff! And I was the most awkward kid ever! [laughs] We were standing in line next to each other and I poke her arm and was like, 'oh my gosh, you're so buff!' And she looked at me and did her like little awkward laugh half smile thing that she still does, and was like, 'thanks.'
G: What about McKayla? Do you remember the first time you two met?
CD: No. McKayla's just always been there! I could list off a thousand memories I have with her, but I don't remember meeting her. She's seriously like my sister; she's just been there!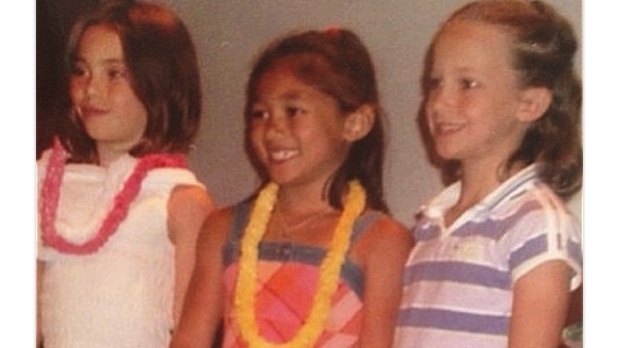 G: Can you share one of your early stories or memories with the girls?
CD: I remember we were having a handstand contest once. And the three of us were like the most competitive people in the entire World, so when we would have handstand contests we would stay up for like five minutes when we were six years old, and try to knock each other down. And I remember one time I came down before them and I was so mad. I stormed over the the wall and practiced my handstand for like ten minutes. Then I came back and did another handstand contest. We had to keep going until someone had won!
G: So do you remember who won?
CD: Um, I think it was McKayla, but I'm not sure. I remember it wasn't me!
G: Can you describe Kyla and McKayla?
CD: Kyla - a lot of people think she's reserved, but she's really not. When you're with her she's super jumpy and happy and laughs - she has the World's greatest laugh, so if you can get her to laugh, your life is complete. She's really, really smart! She's super driven - probably the most driven, competitive, motivated person on this entire planet. It's crazy, she's taking like AP calculus this year along with gym. It's crazy. But, yeah, that's Kyla!
McKayla is everything that everyone thinks she is and 10 times more. She's crazy, she's loud, she's hilarious, and loving. Honestly, she's like that girl you see in movies and you're like, 'wow, I wish I had a best friend like that', and then I'm like, 'wait, I have a best friend like that!' She's always that girl who's texting, 'how was your day?' 'how are you today?' At the end of the day if I didn't hear from her that day, I know something's wrong. She cares about everyone else so much; she has such a big heart.
How has your relationship with them changed over the years? Can you describe your relationship with them as kids and the relationship now?
CD: It really hasn't changed much. It's always been Kyla on one end of the personality spectrum, then McKayla far on the other. Then I've always been the one in the middle. I'm kind of like the middle person that holds the two together. If you watch them, they are complete opposites. And I'm always the one that's in the middle. It's still like that to this day; not too much has changed.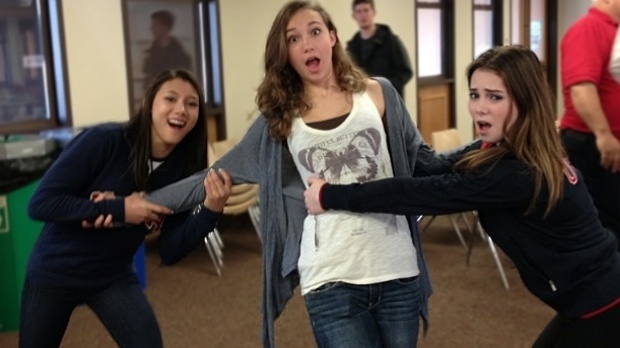 G: And what was it like for you as a close friend to watch them both go through the whole Olympic selection process and ultimately make the team?
CD: It was the most surreal moment. I remember watching the Trials on my computer and seeing them name the team. And I remember, we were watching - all three of us were on the ground during the 2008 Olympics - and we were laying on the floor of my living room all watching the Olympics. And of course it was on too late and we all fell asleep so we didn't knew that Nastia won until the next morning! But I remember when they named the team, I looked at where we were laying from the exact same spot, and I remember thinking, 'oh my gosh, they did it! They actually did it.' It was the most surreal moment. My mind was blown. I was just so proud of them.
G: That's incredible. And were you still in artistic gymnastics then?
CD: Yeah, we were all still together at Gym-Max.
G: And were you picturing yourselves there [at the Olympics] at that time?
CD: Oh, definitely. It's been a dream. Or, it's not even been a dream. It's just one of those things you never questioned that we were all going to try to go to the Olympics. And of course they can say they've been now, and of course I'm still trying [laughs]. But it's never really been a thought in our heads that it's not going to happen. That we're going to give up. It's always been a dream for all three of us to go. And we never really had to say it. We just knew it.
G: Is there a certain moment that you knew it would happen?
CD: No. It just always kind of was. It was just there. I guess I thought it up when I was too little to remember.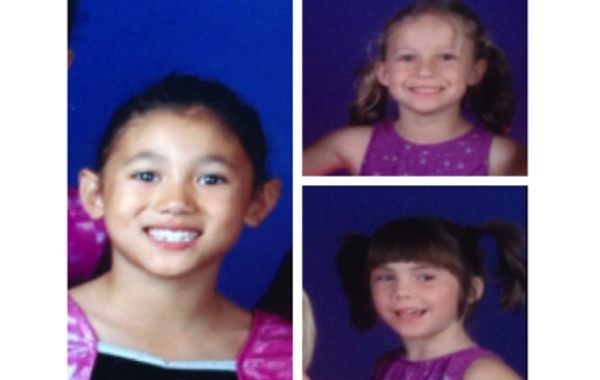 G: Was it hard at all for you to grow up with them, have the dream of going to the Olympics together like you said, and then watch is all play out for them?
CD: You know, a lot of people ask me that, and it really wasn't! Because, like I said, there has never really been any doubt in my mind that this wasn't going to happen. That wasn't my time. 2012 wasn't my time. And artistic, I mean I was good at it, but I wasn't that good [laughs]. Trampoline has really opened up the door for me. I can't even - I was just so proud for them I never even thought about myself in that whole situation. It was just crazy, and I was so happy for them.
G: So then what's your outlook on Rio 2016?
CD: It's my whole life, basically. I was sitting in class today and a kid was like, 'so you do trampoline, is that in the Olympics?' And I was like, 'yeah, it is'. So he asked, 'are you going to try and go?' And I said, 'yes I am!'. It's always just been one of those things - I'm going to go into the gym every day, not think about it every day - I'm going to have my short term goals. The goal I have now is World Championships. I'm going to focus on that and I'm going to get as good as I can as fast as I can for that. And take it from there. If it happens, it happens. You can't rush it to make 2016 come faster. Just take it day by day.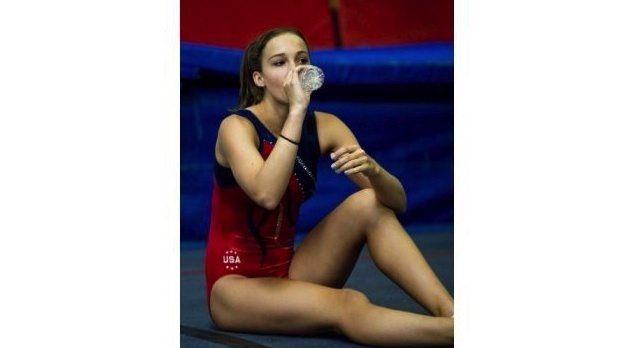 And what do you think of the possibility of - if Kyla and McKayla should make the team again - the three of you going to Rio 2016 together?
Oh gosh, you say that and my heart starts beating faster already! If that happened, I would probably have a heart attack [laughs]. If I think about it, I'm going to cry. It would be amazing!
This month, all 3 of you reached a milestone of all making the World Championships team. Can you tell us about that, and how it feels?
It feels amazing! The fact that we're all going to be going to World Championships in the same year, even though it's for different sports, but all for gymnastics, I can't even describe to you. It's like a dream come true. Well, half of the dream has come true, but we're getting there!
After Kyla and McKayla were named to the World team, you tweeted an adorable picture. Can you tell us what was going on in that shot?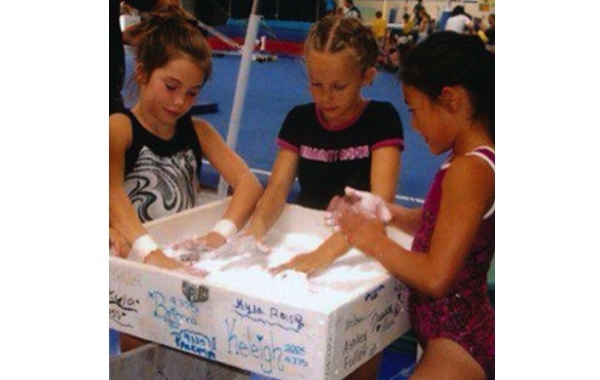 We were literally like chalk monsters! We would get chalk and we didn't even know what chalk did. We were at that stage where it was… 'chalk, chalk, chalk, chalk! You need chalk to do good!' We would stand in the chalk bin for hours and chalk up before our turn. So, that would be that!
Alright, final question, and it's a bit off topic. Chellsie Memmel recently announced her goals to compete in T&T. How has that impacted the sport so far, and do you think it will affect the popularity of the sport?
I think it's a great thing that she's coming to tumbling. Tumbling is a crazy cool event to watch. And a lot of people, when she made the announcement, thought, 'what's tumbling? What's T&T? Isn't that some kind of explosive thing?' Um, no! That's another sport! So it's been great just for raising awareness of the sport. She didn't compete [at Nationals] because she got married - huge congrats to her - but as soon as she does start competing I feel like it's going to be such a great thing to bring awareness and popularity to the sport and bring some attention to some of the athletes who deserve it in the sport.

Photos by Ann Drury. Special thanks to Charlotte, Ann, and Jill Hicks for making this story possible.

More:
Watch Beyond the Routine with Kyla Ross
Watch Charlotte Drury Train her new Routine for Worlds