The 2015 Secret U.S. Classic has concluded and had its share of both highs and lows. We highlight the top five of each here.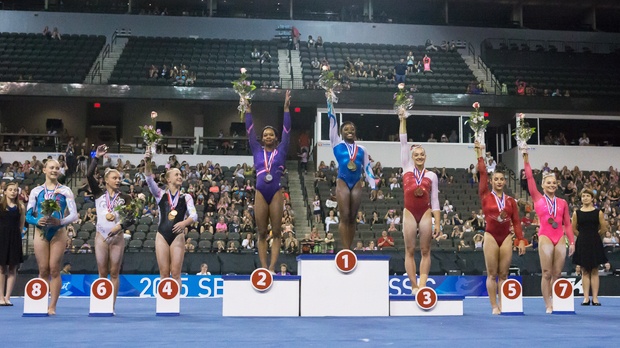 HIGHS
1. New floor routines from the top competitors
Simone Biles
,
Gabby Douglas
and
Bailie Key
all showed off incredible new floor routines with expressive choreography and incredible tumbling.
Before the competition, Biles described her routine as festive as fun, and she delivered with very lively dance and pleased the crowd throughout. Unsurprisingly, she also received many 'ooohs' and 'ahhhs' from the stands after each high-flying tumbling pass.
Douglas combined a new piece of music with parts of her old routine from 2012, possibly reflective of her post-Olympics comeback. She is still the reigning Olympic Champion, but bears both a different perspective and training location. Douglas was focused on getting into her routine and making eye contact with the crowd, but noted that she wants them to "crank that music up next time."
Key pulled off a dramatic and captivating set, not only engaging the crowd through her artistry but also through a brand new opening pass of a double layout—which she performed with ease.
2. Aly Raisman going all out on difficulty and making Martha proud

Raisman brought back her first competitive Amanar since London, as well as an incredible new second tumbling pass on floor. She performed an Arabian double pike punch front tuck, but missed the punch in competition and had to take a fall. For her it was a time to try the big skills and see where she was at with them. Raisman looked very strong and confident throughout the entire competition, and shared afterwards that Martha was proud of her—arguably one of the finest things a U.S. gymnast could hear.
Nichols competed a giant Amanar for the first time ever, making it look easy and earning a big 15.80. She also added a new turn in her beam routine and a sky-high double double on floor that she nearly stuck. And don't worry—she didn't forget about bars—she's planning a full twisting double lay dismount for P&Gs. To top off the amazing upgrades, she also has a full-in beam dismount in the works.
4. Simone nailing two brand new beam skills

The D-score boss boasted the highest one of anyone on beam (6.7) after adding in even more difficulty to an already stacked routine. Biles opened her meet with two brand new beam skills—a punch front tuck half and a punch front pike. She nailed both with no problem at all, despite admitting to being very nervous about competing them. She's a gamer and continues to prove it time and time again.
Kocian is known for her tremendous bar work, and she showed nothing less than expected with her gold medal earning 15.60 routine. She combined huge difficulty, high-flying releases and impeccable form. The highlight was her beautiful combo of an in-bar stalder Shaposh to Pak straight into a stadler Shaposh half, but truly the entire routine was a treat to watch.
Honorable mention:
Sabrina Vega competing for the first time since 2012 Olympic Trials
After being plagued by several injuries requiring multiple surgeries in the last few years, Vega is back. She recently had a final shoulder surgery, so she only competed beam and floor, and performed two solid routines. She may not have hit her routines the way she would have liked, but accomplished her goal to "get back out there," and experience competition again.
Lows
The Secret Classic was over before it even started for the two gymnasts who took devastating falls in training prior to the meet. During podium training, Felicia Hano sprained her ankle on a vault. Then, in the very first warm-up rotation on bars just hours before the meet, Oakley took an awkward fall from the high bar and sustained a tibia patella fracture.

2. Kyla Ross missing her Pak 1/1 in competition

After much hype about Ross competing a new upgrade, her hand slipped on the low bar and she took a jarring fall. Perhaps the most frustrating part was the number of exquisite repetitions she completed on the days leading up to the meet, but we all know that it's the one in competition that counts. Hopefully Ross will keep it in for P&Gs, and prove to herself and the world that she can compete it successfully.
After choosing to defer from Oklahoma for her sophomore year in order to train for an elite comeback and a trip to Rio, Dowell was ready to come on strong at this competition. She's added back in a ton of great difficulty from her previous elite routines, but had a couple substantial errors in the competition. Her hand peeled off the bar on a Shaposh and one of her feet slipped off the beam on her double back dismount, leaving her with a disappointing start to her journey back to elite.
3. Four falls in a row in bar rotation one
Brenna Dowell's Shaposh peel started a chain of falls in a rough rotation on bars. Following Dowell,
Polina Shchennikova
showed a highly difficult and well-executed routine, but fell on her full-in dismount. Then
Lauren Navarro
missed the high bar on a Shaposh half, not quite getting it fully rotated.
Alaina Kwan
was next up and had a great set going with a huge Jaeger release, but on her Tkatchev to Pak combination missed her hands and crashed her chest into the low bar. It was surely uncharacteristic to see such inconsistency, and quite disheartening for those who so badly needed to prove themselves at this competition.

5. Slews of scratches
The Secret Classic is often used as somewhat of a practice meet for the P&G National Championship held just a few weeks later, preparing the gymnasts by competing on podium in front of a big crowd. Many of the gymnasts showed some serious upgrades, however there were a large amount of scratches on various events—21 to be exact, based on the official start list. Surely several of these were for good reasons such as major injuries or protecting minor ones, but it was still unfortunate to miss out on some stellar routines. We look forward to full line-ups at P&G Championships.