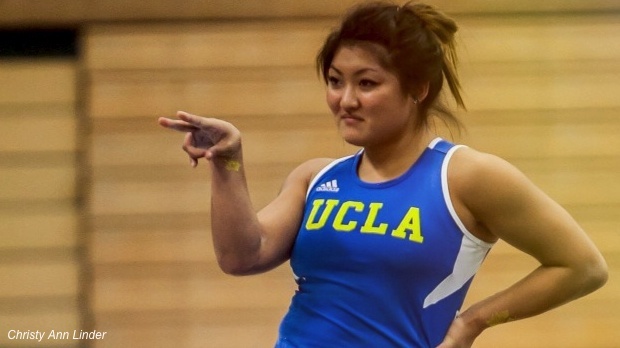 The top two teams in the Pac12 faced off in Westwood tonight as #9 UCLA hosted #12 Stanford.
Highlighted by a perfect 10.0 on floor for standout performer Sydney Sawa, UCLA came away with the victory. Fresh off a Monday night upset over #4 Utah, Stanford started off strong, but only managed a 196.250 team score. They fell to the Bruins on the road with a final score of 196.90 - 196.250
After rotation 1, UCLA led the way 49.40-49.00 paced by 9.925's for Samantha Peszek and Olivia Courtney on vault.
Both teams struggled on bars and Stanford took the lead at the halfway point of the meet, 98.35 - 98.275.
UCLA changed up their leadoff performer on beam and went with freshman star Hallie Mossett. She delivered a 9.875 and set the Bruins down a great path. Olymian Samantha Peszek delivered a gorgeous 9.95 to win the event title. The final performer, Sawa, took a fall on her side aerial. However, due to solid performances in the previous lineup spots, the Bruins dropped her score for a great 49.525 team total on the event. Meanwhile, Stanford struggled on floor with out of bounds errors and only managed a 48.975. UCLA stormed back into the lead heading into the final rotation, 147.80 - 147.325.
Despite out of bounds errors in the final rotation, UCLA pulled away from Stanford thanks to a 9.95 crowd pleasing routine from Sophina DeJesus and Sawa's perfect performance.

UCLA still came up short of their goal to break 197, but came away with the win in a close conference match up.

Stay tuned for video interviews.

Watch the video of Sydney Sawa's perfect 10.

Meet Results: