Choreographer Dominic Zito: Reinventing Kyla Ross
Choreographer Dominic Zito: Reinventing Kyla Ross
Dominic Zito works with Olympic gold medalist Kyla Ross as Gym-Max. Photo by Bridgett Anderson. Choreographer Dominic Zito has burst onto the USA Gymnastic
Aug 26, 2013
by Anne Phillips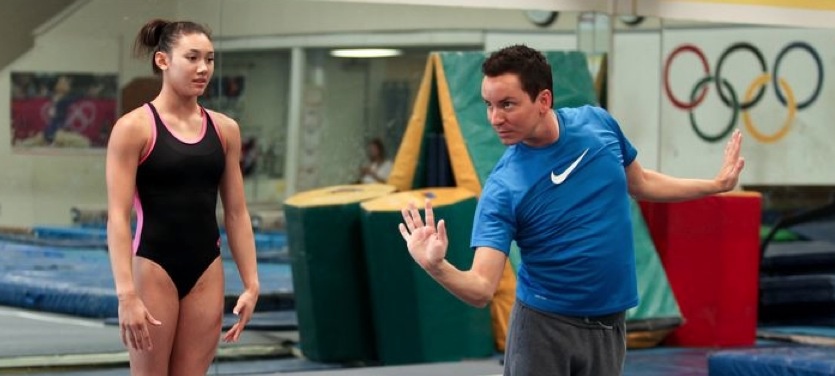 Dominic Zito works with Olympic gold medalist Kyla Ross as Gym-Max. Photo by Bridgett Anderson.

Choreographer Dominic Zito has burst onto the USA Gymnastics elite scene in recent years after being discovered by Olympic coach Mary Lee Tracy of Cincinnati Gymnastics.
Zito's journey began back in the late 80's as a young gymnast in Ohio. He competed all the way up through level ten, and made time to study dance on the side. As a high school student in 1995, Zito choreographed his first routines at no cost for local club gymnasts who couldn't afford to work with established choreographers. After numerous free routines in his area, his talent began to get recognized.
In 2001, Zito was minoring in dance at Kent State University while coaching and choreographing for a nearby club gymnastics team. Kittia Carpenter, owner and head coach of Buckeye Gymnastics, was so impressed by Zito's routines at the Ohio State Championships that she called him the very next day.
Soon after, Zito began working with Mary Lee Tracy and her renowned club, Cincinnati Gymnastics Academy. From there, "the chain of events kept going", Zito admits. "I got into the University of Michigan, the University of Nebraska… Mary Lee referred me to everybody. She and Kittia have been behind me since day one."
In 2009, Zito got the ultimate call. Coach John Geddert selected Zito to choreograph for Jordyn Wieber. And it would be Wieber's 2011 World Championships floor routine to Wild Dances that would officially put Dominic Zito on the map.
Today, Zito is one of the few choreographers for the USA Gymnastics National Team gymnasts. He created thirteen floor routines showcased at the 2013 P&G Championships, including 2012 Olympic Gold medalist Kyla Ross of Gym-Max.
We caught up with Dominic the week following Championships to get the scoop on Kyla's stunning new routine, and more. At the time, he was right in the thick of it, working with Ross as her home gym in preparation for the upcoming World Championships Selection Camp.

Watch Kyla's floor performance during the 2013 P&G Championships finals:



Gymnastike: What is the first big routine that you credit for propelling you into the USA elite circle?


Dominic Zito: Definitely Jordyn [Wieber], for sure. And so many people ask why we didn't change her routine before 2012 because she had used it at [2011] Worlds, and won Worlds with it. We didn't feel like we could top it because everyone loved it so much, which was great. So, we kept it the same!

But definitely she was the first athlete that made my name as a choreographer in gymnastics. Jordyn Wieber all the way, for sure!
G: Fast forward to this year, and you had 13 routines at the P&G Championships. Can you tell us which ones you're most proud of?


DZ: Yes, Maggie Nichols from Twin City Twisters, obviously Kyla Ross, Lexie Prissman who did not get to compete, Amelia Hundley, Norah [Flatley] and Alexis [Vasquez] from Chow's, all of Parkettes girls... little Ragan Smith of Northwind - that is one of Martha [Karolyi]'s favorite routines - hers and Amelia's! She loves Maggie's and Kyla's, but she especially loves Ragan's. She thinks it's really cute.
I'm most proud of Kyla Ross' routine because we definitely developed her into a beautiful, elegant, classy athlete. I'm most proud of that for sure.
I'm also extremely proud of a lot of the juniors I worked with because this is their first step as being on the national team and some of them it was their first year to make Championships. So it was a big deal. Especially with Ragan Smith, and the ones who had never worked with me before. I'm definitely proud of them because they tried to showcase what I was going for with their routines. So all of the juniors as a whole. And definitely Amelia Hundley - the showmanship behind her routine is one of my all time favorites. You know the story behind that one, she's a cute little Russian dancer."

G: Is there a story or theme behind Kyla's routine?


DZ: Kyla's routine, the theme - which we came up with during the process and after - was beauty and strength. We wanted to showcase both in the routine, and it really was displayed at Championships.
G: Her routine this year seems a lot more mature than her past routines. Can you talk about the maturity level in her routine this year?


DZ: Well the music comes first before the maturity of the routine. The situation with music now... working with USA and Martha, first the coaches contact me, then I provide them with 25 to 50 pieces of music, custom cut by myself. I search nonstop - 8 to 12 hours per day I've searched before, especially for Kyla's music. A lot of people don't know that I do the music also and it's such a long process.
First with Kyla I found several pieces we loved, but Kyla didn't love them. But, [her coach] Jenny [Zhang] and I loved them! So, we finally found the one she's using right now. It's called Le Cirque by Maxime Rodriguez. A lot of figure skaters use his pieces. So I found the piece and put it together. Kyla didn't like the slow part; she thought it was too slow. So I'm trying to figure out a way for her to like the music, and we finally came up with the [current] arrangement. And with all the music now for the girls I work with on National Team, I have to send it to Martha for approval before I can do the choreography.
So, I got the call. I had 3.5 weeks to come up with music before the next [national team training] camp and have the routine choreographed for her, or she was keeping [her 2012] Phantom of the Opera [routine] through World Championships. This was my ultimatum [laughing]. So I really, really want to work with her. They called me when they got back from Italy but Martha wanted the routines done immediately. They wanted Lexie [Priessman]'s new routine done, and I just did Maggie [Nichols]'s before that Italy trip.
So, the pressure was on for me to find this music! And we finally found it, and I think the maturity comes from the music. And immediately, when I hear a piece that I know is it, I get the chills. I'm not exaggerating, I get the chills when I hear the right piece of music. And I'm a fan of the sport; I love a great performance too, you know. So when I hear this music and shut my eyes I picture her dancing to it. I can see her visually. It's crazy! And the maturity working with Kyla was unbelievable. She was willing to do absolutely anything and step up into this new role as a beautiful young woman. I think the maturity is something she wanted to put into it and I helped her direct that through the choreography.
G: I love hearing you get chills when you find the right music!


DZ: Yeah, it's crazy. And the same thing happened with Jordyn and her new routine which I choreographed a few months ago. I don't know when we'll see it. But, same thing, I got the chills because it's like her old one, but more mature.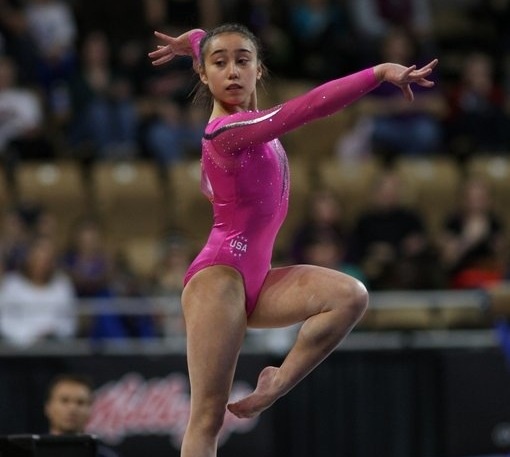 Katelyn Ohashi during her gold medal performance at the 2013 AT&T American Cup. Photo by Melissa Perenson
DZ: The music with Katelyn, again, was stressful. It's always stressful coming up with the perfect piece for one of the top USA athletes. Valeri [Liukin] called me to do her routine. She wanted, he told me, something more fun, but he still wanted some violin and the vocals in it because that's the new trend to have vocals. And, I think it really does draw the audience to the floor when you have some vocals in the music.
So, the music I came up with, one of them was from Eurovision, same with Jordyn Wieber's that I found. I found an instrumental form of this song from Eurovision and I paired it with another piece that I enjoyed. I put the two together. She had about six options. She didn't have as many choices because we kind of knew what direction to go with Katelyn because she had such a pretty, elegant routine before.
Working with her was very fun. She's very outgoing and willing to do anything as long as it looks good. The routine - I would love for her to smile through the entire routine. I know she likes to smile during the shimmy part and down on the floor.

The theme behind her routine really didn't evolve until after we were done with the routine. Hers is just about performing and getting the routine to match the music more than anything. A lot of routines nowadays don't match the music. With Katelyn, I wanted her to use every single beat of the music - she walks on her arm with her fingers, she shimmies down on the floor. And we were trying to accent all those little beats and make those beats more apparent in the music.
She was great to work with, and alongside with her was Rebecca Bross. She was with me during all the choreography sessions, so if Katelyn couldn't pick something up, Rebecca worked with me and then Rebecca helped me work with Katelyn, which was fun! So I had both of them there, and Rebecca was awesome! She was like my little assistant! [laughing] It was very cool and very helpful! So, hopefully we get to see that routine again soon because I thought she did a great job at American Cup.
G: Definitely! And back to Kyla, I know you're in California right now working with her again. Can you tell us what you're focusing on this week with Kyla?


DZ: Yes, this is my 4th trip with California to work with Kyla on her not just floor, but on her beam routine too. I don't know if anyone's noticed, the artistry and flow of the routine is moving a lot better. I'm trying to pull out every ounce of energy and eye contact. That's something I really work on. When you see my work you will notice the starting pose. Actually, John Geddert texted me after he saw Kyla's routine at the [training] camp. He said, 'Did you do Kyla's routine? I knew from the beginning pose with the eye contact.' I love that! That's kind of one of my trademarks, the eye contact. That is absolutely my favorite part of the floor routine - drawing the audience in.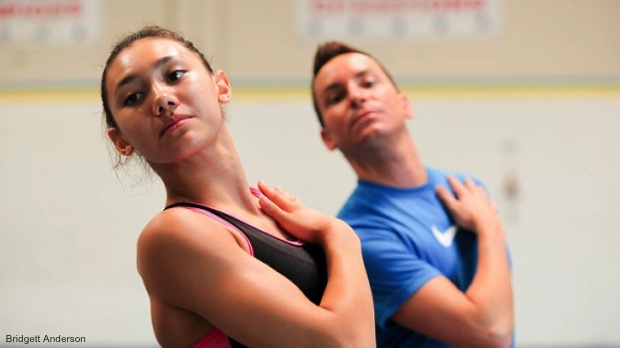 So working with Kyla here, we're pulling out more of that. And you're going to see it at Worlds on beam and floor. I've been working on not just the artistry and the movement because I think she's doing that beautifully, but putting her heart and soul into it now, and making everything come from within. And having her try to not look like me when she does the choreography, but put her own style into it more.
And on this trip we're accenting more with the hands, stretching through the finger tips. And we're really working on transitions from her landings into the choreography. As where sometimes she lands and does that gymnastics present then moves on, we're trying to dance throughout the routine. Again on beam, the flow, into and out of the elements. And the eyes on beam, even in her side dance and the sharpness of her head.
And of course dancing on and off the floor - walking on with perfect legs and toes because the judges are watching from the minute you salute. So, trying to perfect absolutely everything. Her routine is so artistic already. Now I just want to make it even better and more entertaining.
So this is my fourth trip and I think after this trip she'll be ready to go for Worlds because I've been working with her for four days. So it will be pretty exciting to see. I'm honored to be her choreographer and to be given the opportunity like I was with Jordyn, and for Martha to trust me with my work.

Actually, this is interesting… I had to promise Martha that I was going to give her an artistic routine that would score well internationally. And that was verbatim in a email, which is so funny. And I gave her my word that I would!