UPDATE 6/13
Alexander Alexandrov was spotted in Houston, TX at Discover Gymnastics. Alexandrov resided in Houston while he was coaching in the US. During his time in Houston Alexandrov coached many top elites including: Carly Patterson, Dominique Moceanu, Kim Zmeskal, and Mohini Bhardwaj. He was the head women's coach at the Houston Gymnastics Club. Could Alexander be considering a return to the US or is this just a stop on his way to Brazil?
---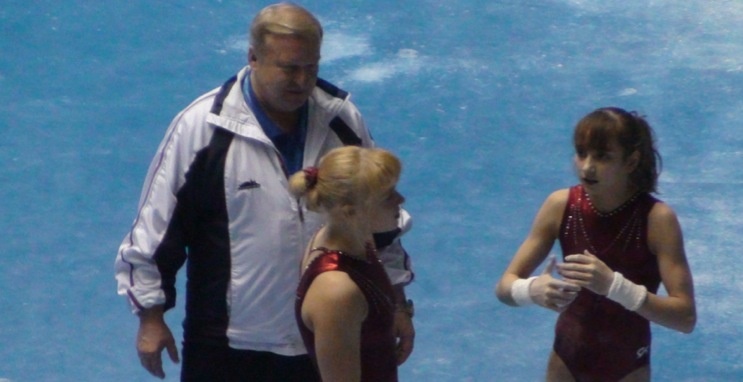 Alexandrov with Viktoria Komova and Tatiana Nabieva at the 2011 World Championships in Tokyo.

Word on the street is Russian coach Alexander Alexandrov will be leaving the Russian Federation for good and taking a coaching job in Brazil.
Alexandrov is the personal coach to Olympic gold, silver and bronze medalist Aliya Mustafina and the former Russian team head coach.
Gym Blog Brazil put out a statement today: "Not yet official, but a very reliable and secure source confirmed the arrival of Alexander Alexandrov in Brazil later this month. More details soon!"
Should this be true, it is very exciting news for Brazil who continues to be a "bubble team" for team qualification to the Olympic Games. Right now, the big push is for Brazil to qualify full teams to the 2016 Rio Olympic Games held in their home country, with dreams of making the Olympic Team Finals. As his past results have proven, Alexandrov is the man for the job.
Alexandrov is a fantastic technical coach and saw much success in his time at the helm of the Russian team. He led the women to their first major team title in 19 years by decisively claiming the 2010 World Team title in Rotterdam while Mustafina won the all around.
Long ago, he served as head coach of the former Soviet women's team before moving to the USA to coach for many years. He has immense experience training some of the World's best gymnasts including: Svetlana Boguinskaya, Oksana Chusovitina, Tatiana Gutsu, and Dimitry Bilozerchev, to name a few.
However, after a silver medal team performance in London and disputes among other coaches on the Russian team, Alexandrov was dismissed as the Head Coach of the Russian women's gymnastics team in September 2012.