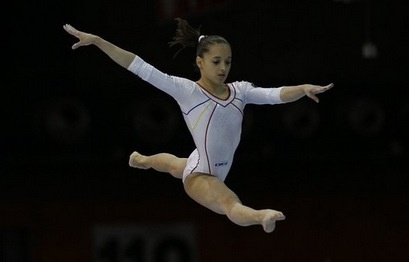 UPDATED 7/26, 11am London time:
The Romanian paper Libertatea has reported that Larisa Iordache is suffering "fasciitis" in her foot. The injury is not serious, but it can be quite painful. It is caused from iflamed tissues in the plantar fascia, the thick tissue which connects the heel bone to the toes and creates the arch of the foot. Iordache should be clear to compete as long as she can fight through the pain.
---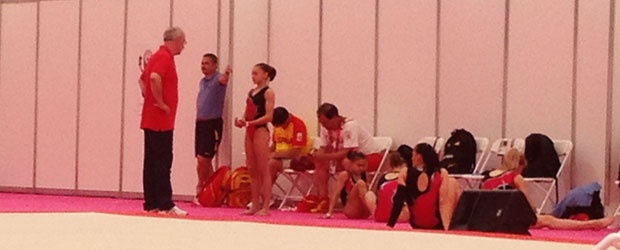 In observing training today in the North Greenwich Academy, Larisa Iordache's status is in question. The Romanians began their training on floor where Iordache warmed up tumbling passes with her teammates. She did a few passes and seemed to struggle with her whip to triple full, training a few whip to double twists, and getting feedback from the coaches. Then, every Romanian gymnast except for Iordache practiced one full floor routine. She sat on the sidelines opposite of the rest of her team. She did not appear to be injured. She just sat quietly as her the rest of her teammates continued to train floor.
This is shocking because Iordache is one of the team's best floor workers, could contend for a spot in the floor final, and is one of the favorites for the Olympic all around title. After missing World team medals the past two years, many consider the Romanians strong contenders for a medal here in London with an outside shot at gold. Larisa Iordache is a big factor in that.
The team then went to vault, again without their young star. Iordache instead got ready for bars and tried to stay busy stretching. She had a talk with the assistant coach and teared up. After vault, head coach Octavian Belu talked with Iorache for a few minutes. She looked upset, he appeared frustrated.
The team went on to bars. Iordache joined back with the team and performed two full, hit uneven bar routines. She is by far the top Romanian uneven bar worker. She did not hold back on her full in dismount, but Belu looked displeased with the landing position, showing her a nice squat position, and having her mimic the same for him. Belu pulled her aside and had her run up and back down the side of the bars training area as he watched closely. She appeared to be jogging normally.
Midway through their uneven bars rotation, an official came over and said the remainder of the training session would be closed to media.
Iordache and the Romanians will take to the arena tomorrow, July 26, for podium training in subdivision 5 and we will continue to keep you updated on her status and we hear more.
Stay tuned for updates from men's podium training, and a more complete report of women's training this morning in London.