The Gymnastics Kitchen With Betsy McNally: Lilly Lippeatt's Lunchbox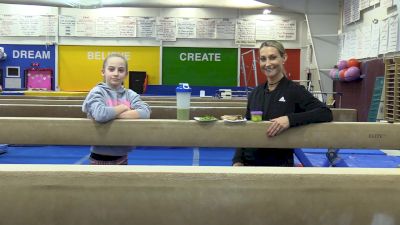 In the video above, personal trainer and sports nutritionist Betsy McNally speaks with junior elite Lilly Lippeatt at Cincinnati Gymnastics about her diet and how she keeps her body competition-ready. You can watch Lippeatt LIVE on FloGymnastics this weekend at the 2018 International Gymnix in Montreal. Read more from McNally below.
---
Lilly and I have worked hard together to create meal plans that are both functional and enjoyable. We make sure her meals are loaded with protein, antioxidants, and complex carbs — ingredients that will prepare and repair her body to stay in top gymnastics shape.
Here's what Lilly had for lunch this week:
Whole grain wrap: filled with complex carbohydrate to give her long-lasting energy and muscle refueling.
Chicken: loaded with the protein she needs to repair her broken-down muscles.
Cheese: more protein — and who doesn't love cheese?
Spinach: packed with vitamin K for healthy blood flow and calcium to build healthy bones. Every gymnast needs good heart health and strong bones.
Pineapple: this fruit is a wonderful source of natural, energy-packed vitamins and good dose of natural sugar. It helps with digestion and fight inflammation of tired bones and joints.
70 percent cocoa dark chocolate: just a little square for an antioxidant-rich snack that helps fend off free radicals and build stronger cells.
Edamame: the amazing protein-packed soy bean that is loaded with calcium and is fun to pop into your mouth. Lilly added some lemon, a serious addition of vitamin C and just a dash of sea salt to replenish and lost minerals.

And, finally, Lilly's Green Shake, made of greens, coconut water, Greek yogurt, and peaches. This electrolyte-friendly shake is filled with magnesium, protein, natural sugar, and packs in the power of inflammation fighting greens. Who needs an energy drink when you have all of this goodness homemade?
Good Luck at Gymnix Lilly! We will be cheering you on!
Want a personalized meal plan like Lilly's? Contact me at coach@betsymcnally.com or follow me on Instagram or my Facebook page.