Valeri Ingui Is BACK After NCAA Gymnastics!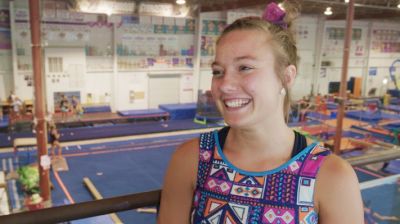 Valeri Ingui competed for the Lindenwood Lions from 2012 to 2016 and made a huge impact the development of the program throughout her four years. During her career, she qualified as an individual to NCAA regionals, won the MIC Championship all-around title with a school-record score of 39.400, and became a USA Gymnastics first team All-American on beam among many other honors.

Ingui graduated in 2016 and is pursuing a career in elementary school teaching.

But a couple months ago she decided that she's NOT DONE with gymnastics. She's currently training at GymQuarters and is preparing to compete at the J.O. level this upcoming season as a level 10. We chatted with Ingui after practice to hear about her journey back into gymnastics and the excitement she feels for getting to do the sport she loves.