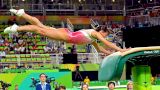 2017 Cottbus World Cup Results
Nov 23-26
The Cottbus World Cup was held over the weekend in Cottbus, Germany.
The four-day meet was part of the World Cup series and featured individual event competition. USA's Allan Bower took fourth in the floor final while Marvin Kimble secured silver on high bar.
Oksana Chusovitina clinched the gold in the women's vault final and Germany's Elizabeth Seitz won gold on bars in her homeland.
Women's results:
Vault

Rank

Name

Points

Nation

1.

Oksana CHUSOVITINA

14.283

UZB



2.

Liliia AKHAIMOVA

13.733

RUS



3.

Tjasa KYSSELEF

13.716

SLO



4.

Michelle TIMM

13.566

GER



5.

Eleonora AFANASEVA

13.366

RUS



6.

Sophie MAROIS

13.250

CAN



7.

Gabriela JANIK

12.916

POL



Uneven Bars

Rank

Name

Points

Nation

1.

Elisabeth SEITZ

14.900

GER



2.

Jiaqi LYU

14.866

CHN



3.

Cenyu WANG

14.200

CHN



4.

Sanne WEVERS

13.933

NED



5.

Kelly SIMM

13.666

GBR



6.

Nora FERNANDEZ

13.466

ESP



7.

Rose WOO

13.166

CAN



8.

Angelina RADIVILOVA

10.800

UKR



Balance Beam

Rank

Name

Points

Nation

1.

Cenyu WANG

14.166

CHN



2.

Pauline SCHAEFER

14.000

GER



3.

Maria KHARENKOVA

13.766

RUS



4.

Katarzyna JURKOWSKA-KOWALSKA

13.433

POL



5.

Sanne WEVERS

13.133

NED



6.

Liliia AKHAIMOVA

12.800

RUS



7.

Diana VARINSKA

12.700

UKR



8.

Rose WOO

12.633

CAN



Floor

Rank

Name

Points

Nation

1.

Liliia AKHAIMOVA

14.000

RUS



2.

Maria KHARENKOVA

13.600

RUS



3.

Pauline SCHAEFER

13.500

GER



4.

Rose WOO

13.166

CAN



5.

Maisie METHUEN

13.066

GBR



6.

Elisabeth SEITZ

13.000

GER



7.

Laura BECHDEJU

12.500

ESP



8.

Diana VARINSKA

12.400

UKR



Men's results:
Floor

Rank

Name

Points

Nation

1.

Rok KLAVORA

14.133

SLO



2.

Bram VERHOFSTAD

14.133

NED



3.

Kirill PROKOPEV

14.133

RUS



4.

Allan BOWER

13.966

USA



5.

Christopher REMKES

13.566

AUS



6.

Dzianis SANUVONH

13.466

BLR



7.

Mizuki HASEGAWA

13.100

JPN



8.

Luka TERBOVSEK

12.100

SLO



Pommel Horse

Rank

Name

Points

Nation

1.

Junwen WANG

15.200

CHN



2.

Ryuhei NASHIMOTO

14.933

JPN



3.

Di TAN

14.833

CHN



4.

Oleg VERNIAIEV

14.466

UKR



5.

Robert SELIGMAN

14.400

CRO



6.

Andrii SIENICHKIN

14.333

UKR



7.

Allan BOWER

14.066

USA



8.

Slavomir MICHNAK

12.433

SVK



Still Rings

Rank

Name

Points

Nation

1.

Igor RADIVILOV

15.133

UKR



2.

Peng LEI

15.066

CHN



3.

Xingyu LAN

14.633

CHN



4.

Dmitrii LANKIN

14.533

RUS



5.

Marcel NGUYEN

14.500

GER



6.

Chih-Yu CHEN

14.500

TPE



7.

Ruben LOPEZ

13.833

ESP



8.

Andreas TOBA

13.733

GER



Vault

Rank

Name

Points

Nation

1.

Keisuke ASATO

14.966

JPN



2.

Igor RADIVILOV

14.883

UKR



3.

Christopher REMKES

14.816

AUS



4.

Andrei MAKOLOV

14.549

RUS



5.

Felix REMUTA

14.316

GER



6.

Ruiyang QU

14.100

CHN



7.

Wei-Sheng TSENG

13.666

TPE



8.

Mizuki HASEGAWA

12.050

JPN



Parallel Bars

Rank

Name

Points

Nation

1.

Di TAN

15.566

CHN



2.

Oleg VERNIAIEV

15.166

UKR



3.

Marcel NGUYEN

15.133

GER



4.

Vladislav POLIASHOV

14.666

RUS



5.

Ivan RITTSCHIK

13.333

GER



6.

Ruben LOPEZ

13.000

ESP



7.

Petro PAKHNIUK

12.966

UKR



8.

Hidetaka MIYACHI

12.366

JPN



Horizontal Bar

Rank

Name

Points

Nation

1.

Andreas BRETSCHNEIDER

14.566

GER



2.

Marvin KIMBLE

14.033

USA



3.

Pietro GIACHINO

14.000

NOR



4.

Di TAN

14.000

CHN



5.

Mitchell MORGANS

13.900

AUS



6.

Hidetaka MIYACHI

13.733

JPN



7.

Sascha CORADI

13.333

SUI



8.

Anton KOVACEVIC

12.966

CRO