Completed

,

Mar 19-20, 2016
The 2016 City of Jesolo Trophy did not disappoint and this competition showcased some of the best gymnastics in the world. This meet provided a first look at some of the top gymnasts who will be major players in competitions for the rest of the year including at the 2016 Olympic Games. Countries who competed at Jesolo include Italy, USA, Brazil, France, Canada, Finland, Germany, and Slovenia.
It was a stellar day for the U.S. seniors at event finals. Powerhouse MyKayla Skinner took the vault title, specialist Ashton Locklear grabbed gold on bars, new senior Laurie Hernandez won beam, and Aly Raisman reminded us once again why she is the reigning Olympic floor champ. Full results below:
Vault
Bars

Beam
Floor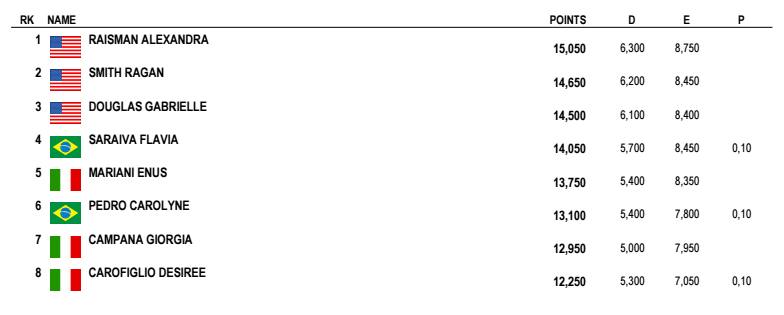 Watch
archive videos from Day 1
of competition, including the junior all-around competition, and senior team and all-around competition.
Related
Results: Senior Team & All-Around - Jesolo 2016
Results: Junior Event Finals - Jesolo 2016
Results: Junior All-Around - Jesolo