Bailie is a junior international elite gymnast who trains at Texas Dreams Gymnastics under coaches Chris Burdette and Kim Zmeskal-Burdette. Key placed 3rd on vault and 4th all-around at the 2012 Junior Visa Championships and 3rd in the all-around at the 2012 City of Jeselo Trophy. Jeselo was Key's first international competition as a member of the U.S National Team.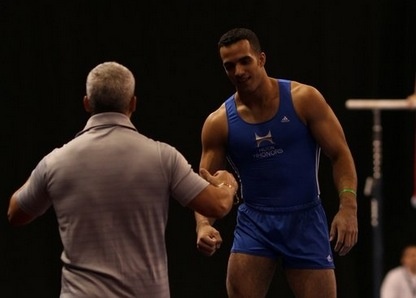 Photo by Mellisa J. Perenson

Defending Visa Champion Danell Levya leads the senior men at the end of night one with a score of 91.85 barely edging out John Orozco who scored a 91.8.


In the last rotation, Leyva was on the parallel bars, which he is the world champion, and scored a 15.8.
He also performed well on pommel horse, earning the second-highest score of the night with a 14.8.
However, Orozco finished just .05 shy of Leyva's score.
Throughout the night Orozco only scored less than a 15.0 on one event, the pommel horse, where he performed a solid routine but was only awarded a 14.65.
Clustered well behind Leyva and Orozco were Sam Mikulak (90.55), Chris Brooks (90.5), and Jonathan Horton (90.3).
Mikulak had an overall good night, except for an uncharacteristic fall in his last pass on the floor exercise, which is usually one of his best events.


Horton also performed well on night one. He put up high scores of 15.8 on high bar, 15.5 on rings and 15.7 on vault. Horton currently performs a Roche on the vault, but is working on upgrading again to the version with a half twist, which is called a Dragulescu.
Horton placed fifth in the all-around due to a low score on his weakest apparatus, the pommel horse, where he only managed a 13.3.
Sixth-place Jake Dalton (88.95) also struggled on the pommel horse, earning a low score of 12.55, but executed well on vault (16.15) and floor (15.8), his greatest strengths.


Glen Ishino finished seventh (88.0) recording the highest score on pommel horse with a 15.45. Ishino was the only gymnast to score over a 15 on that event.


Steven Legendre (87.85) broke a 16 on his best events, vault (16.2) and floor (16.15). His floor routine featured a difficult front double full-double front combination.


Joshua Dixon (87.3) executed a beautiful vault, a half-on, double full off, which earned him a score of 16.15.


Illinois teammates Paul Ruggeri (86.95) and C.J. Maestas (86.5) finished 10th and 11th in the all-around competition and both had inconsistent nights.
Ruggeri fell on vault and struggled on pommel horse, but finished strong putting up the leading score on high bar with a 15.85 and the third-highest on floor with a 15.75.
Maestas hit most of his routines but had errors on floor and pommel horse.

2008 U.S. Champion David Sender (86.45) began his comeback well with big scores on vault (16.3) and parallel bars (15.2), but also struggled on floor and pommel horse to finish in 13th place. Sender made a strong statement on vault, competing a well executed yurchenko double pike, a skill rarely seen in competition.
The Men's Finals will be on Saturday at 11:30am.


Watch more video of 2012 Visa Championships on gymnastike.org


Results:


All-Around
1. Danell Leyva, Miami, Fla., 91.850
2. John Orozco, Bronx, N.Y., 91.800
3. Sam Mikulak, Newport Coast, Calif., 90.550
4. Chris Brooks, Houston, Texas, 90.500
5. Jonathan Horton, Houston, Texas, 90.300
6. Jacob Dalton, Reno, Nev., 88.950
7. Glen Ishino, Santa Ana, Calif., 88.000
8. Steven Legendre, Port Jefferson, N.Y., 87.850
9. Joshua Dixon, San Jose, Calif., 87.300
10. Paul Ruggeri, Manlius, N.Y., 86.950
1. Steven Legendre, Port Jefferson, N.Y., 16.150
2. Jacob Dalton, Reno, Nev., 15.800
3. Paul Ruggeri, Manlius, N.Y., 15.750
4. Alex Buscaglia, Cary, Ill., 15.400
4. Eddie Penev, Penfield, N.Y., 15.400
6. Danell Leyva, Miami, Fla., 15.250
1. Glen Ishino, Santa Ana, Calif., 15.450
2. Danell Leyva, Miami, Fla., 14.800
3. Alexander Naddour, Gilbert, Ariz., 14.750
4. Sam Mikulak, Newport Coast, Calif., 14.650
4. John Orozco, Bronx, N.Y., 14.650
6. Masayoshi Mori, Irvine, Calif., 14.400
1. Jonathan Horton, Houston, Texas, 15.500
2. Brandon Wynn, Voorhees, N.J., 15.350
3. John Orozco, Bronx, N.Y., 15.050
3. C.J. Maestas, Corrales, N.M., 15.050
3. Scott Rosenthal, Clearfield, Pa., 15.050
6. Chris Brooks, Houston, Texas, 14.950
1. Chris Brooks, Houston, Texas, 16.450
2. Eddie Penev, Penfield, N.Y., 16.350
3. David Sender, Arlington HeIghts, Ill., 16.300
4. Steven Legendre, Port Jefferson, N.Y., 16.200
5. Joshua Dixon, San Jose, Calif., 16.150
5. Jacob Dalton, Reno, Nev., 16.150
1. Danell Leyva, Miami, Fla., 15.800
2. Sam Mikulak, Newport Coast, Calif., 15.600
3. John Orozco, Bronx, N.Y., 15.400
3. Brandon Wynn, Voorhees, N.J., 15.400
5. David Sender, Arlington HeIghts, Ill., 15.200
5. Chris Brooks, Houston, Texas, 15.200
1. Paul Ruggeri, Manlius, N.Y., 15.850
1. Danell Leyva, Miami, Fla., 15.850
3. Jonathan Horton, Houston, Texas, 15.800
4. John Orozco, Bronx, N.Y., 15.750