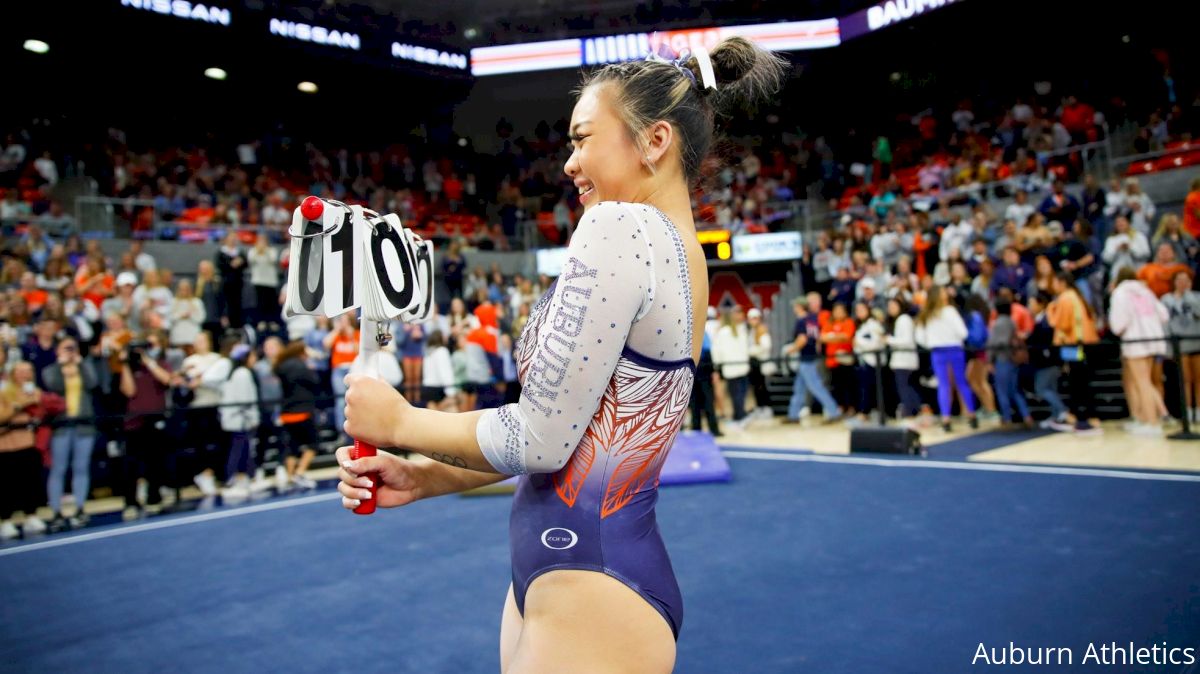 The Auburn Tigers will go up against Alabama, Arkansas and Georgia in this upcoming weekend's Elevate the Stage. The four teams are set to take the stage at 1:00 p.m. on Sunday, March 6th.
The Tigers scored the highest in program history last weekend against Kentucky, notching a 197.925 to beat the Wildcats in Auburn Arena.
With only one loss to LSU in 9 meets, Auburn has consistently met the challenges and over-delivered in their scores. Many factors have given Auburn the boost, notably the addition of Suni Lee, the Olympic all-around champion. Against Kentucky, Lee secured her second perfect 10 on the beam.
She became the first NCAA gymnast to perform the Nabieva skill on bars, her signature move on the uneven apparatus. A hallmark of her Olympic routine, the Nabieva—one of the most challenging skills in the sport. She floated through the performance, scoring a 9.975, setting herself up for the next event, the beam, where she clinched the 10.
Elevate the Stage Huntsville will be Auburn's second meeting with Alabama, Arkansas and Georgia, where the Tigers have won against all three teams.
Crowd erupts as the best gymnast in the world scores her first perfect 10 at Auburn Arena. What a moment for Suni Lee. pic.twitter.com/QGspjsspr4

— Bennett Durando (@BennettDurando) February 26, 2022
Gymnasts To Watch
In addition to Lee, another freshman, Sophia Groth, has seen the Southeastern Conference spotlight. Both were honored by the SEC for their outstanding meet at Kentucky, and Lee was named Gymnast of the Week, while Groth was honored with Freshman of the Week.
Junior Aria Brush returned to the lineup, scoring a near-perfect 9.95, while Cassie Stevens received her first career record of the night with a 9.925, also on bars.
In addition to being an exceptional bar worker, Stevens is known for her eponymous skill, the "Stevens," a gainer entry into her front aerial to knee on the balance beam.
Original Skill: Cassie Stevens (Auburn) BB@cassiestevenss pic.twitter.com/mLW01UCmOX

— InternationalGymnast (@intlgymnast) January 25, 2022
Derrian Gobourne capped the record-breaking night with her teammates by pushing Auburn to 197.925. She ended her floor routine with a 9.975 to break the record.
FLOOR: It's another 9.975 for the Tigers!!!@DGobourne is a QUEEN 👑#WarEagle pic.twitter.com/A0odeEzWkB

— Auburn Gymnastics (@AuburnGym) February 26, 2022
Coached by Jeff Graber, the twin brother of Suni's club and Olympic coach Jess Graber, the Tigers have been on fire all season. Graber has led his team to an 8-1 record, erasing any memory of 2021's record of 1-7.