5 Takeaways From Simone vs Herself Episode 5
5 Takeaways From Simone vs Herself Episode 5
Simone vs Herself episode five dives into the boundaries Simone Biles is pushing as she competes never-before-seen skills.
Jul 13, 2021
by Amanda Wijangco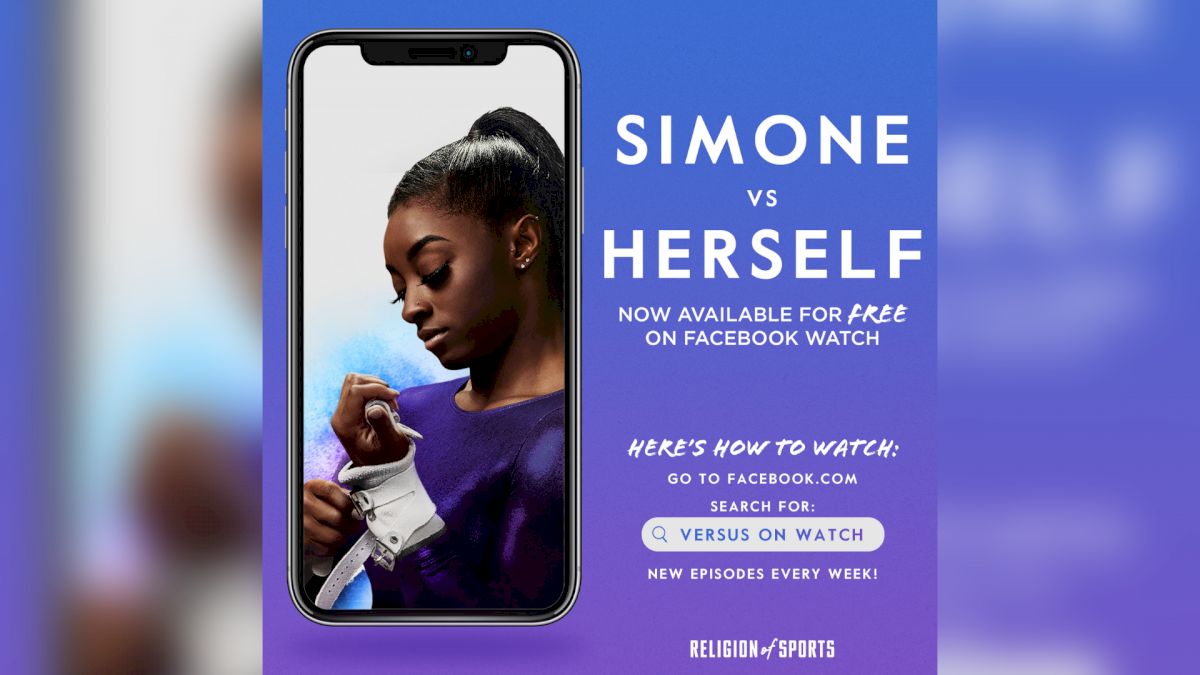 Simone Biles has cemented herself as a gymnastics legend, and Simone vs Herself episode five — titled "What Can't I Do?" — discusses just that.
From her thoughts on confidence to the start value of the Yurchenko double pike to her rhinestone goat and more, the latest episode of the Facebook Watch series, here are some of the top takeways from "What Can't I Do?".
Never underestimate how strong you are 💪 New episode of Simone vs Herself is out now! I hope you guys like it. Click the link below to watch Simone vs Herself (@vsonwatch) only on @facebookwatch. #SimoneVsHerselfhttps://t.co/GUtEEaxcrx pic.twitter.com/l0hAO5LK45

— Simone Biles (@Simone_Biles) July 13, 2021
Simone fakes it till she makes it.
Even the GOAT struggles with confidence sometimes. In the episode, she even says confidence doesn't come naturally to her. She adds she's always nervous when throwing a new skill, even in training. Biles says repetitions in training help her gain it, which goes to show that she really is still human despite her dominance in the sport.
She wants the Yurchenko double pike to get a 6.8 start value.
Biles debuted the iconic vault at the GK U.S. Classic earlier this year, and the judges gave it a 6.6 difficulty value. Viewers learn that Simone and her coaches hoped for a 6.8 start value. This certainly wasn't the first time the Olympic champion was disappointed by the value she received for an eponymous skill.
From the looks of the episode, though, it seems they won't be putting up a fight. Simone says she's "going to let it go," because she doesn't "know what else to do." While Simone isn't quite satisfied by the 6.6 value, she still has a good reason to do the vault in Tokyo. When asked why even do the vault anymore, she said:
"Because I can do it. And it will still be named after me, so we'll still have that in the books once it's all said and done. "
Biles started putting a rhinestone goat on her leotards to respond to haters.
It's difficult to believe someone wouldn't agree with Biles being the GOAT, but her acknowledgement of it has caused backlash. "There were a lot of people that said, 'Hey, Simone. You're the GOAT.'" Simone said. "But then if I acknowledge it, then I'm cocky."
So instead of verbally responding, she literally put it in lights for all to see and has quite a few leotards featuring "Goldie the Goat."
"It's kind of just to push back, and then it just pissed them off. So in the end, we won."
She has fluid build-up in her ankle.
If you've watched Simone at all on NBC this season, you've surely seen her ankle getting taped, a lot. While having taped ankles is certainly nothing new to gymnastics, fans now know why she's been wearing so much tape. Biles said she partially tore a ligament in her ankle at 2019 Worlds, and it started acting up again earlier this year after an awkward landing, causing fluid to build up in her ankle. So she tapes it because "there are no other options" with the Olympics so close.
She continued and said, "I always pray, 'Please just let me survive these 11 weeks!'"
Simone lets her gymnastics speak for itself.
Whenever you're at the top, there will be haters, and Simone's aware of that, especially as a Black woman making so much history. So she makes sense for her gymnastics to do the talking, because who else can match her there?
""At the end of the day, I let the gymnastics speak for itself, and if that's not enough, obviously I've been granted such a wonderful platform with a big following, so speak your mind and see where it goes. But for me, I just let gymnastics do the talking."
Facebook Watch will release new episodes of Simone vs Herself weekly with a total of seven episodes ahead of the Olympic Games.