Olympic Gymnastics Hopeful Marvin Kimble Retires
Olympic Gymnastics Hopeful Marvin Kimble Retires
With one month left until the Olympic trials, two-time U.S. national team member Marvin Kimble announced his retirement from elite gymnastics.
May 29, 2021
by Kelly Feng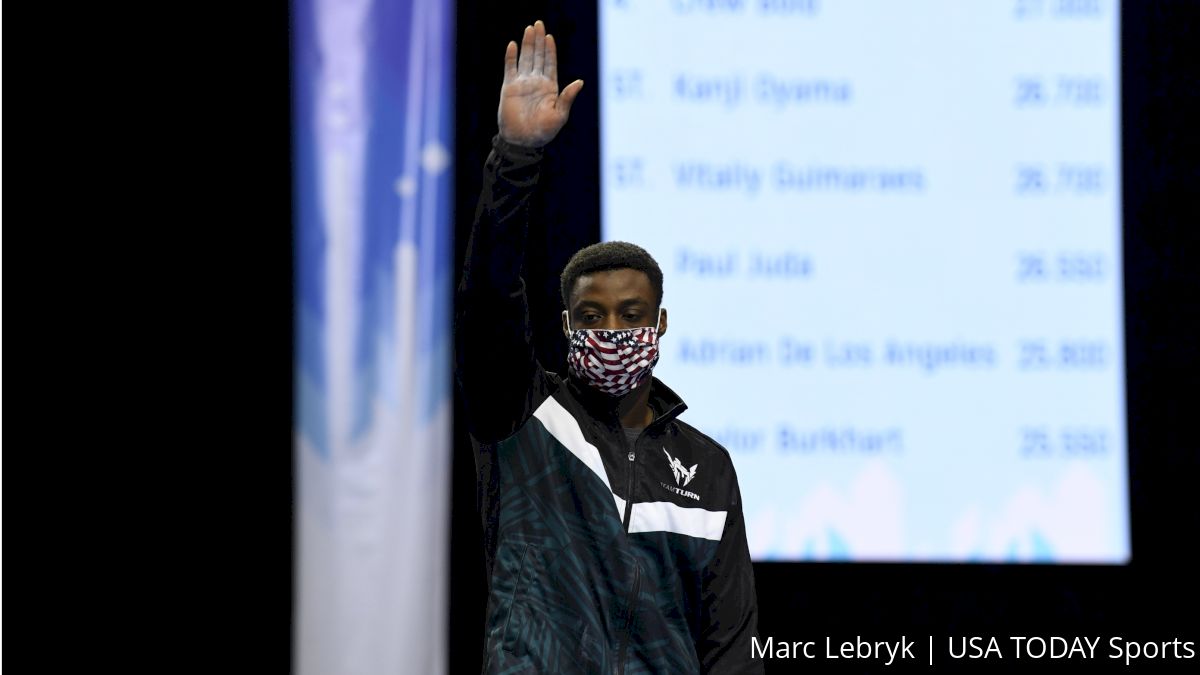 With one month left until the Olympic trials, two-time U.S. national team member Marvin Kimble announced his retirement from elite gymnastics. In a statement on Instagram, he wrote:
"I wish I could recapture that moment when I walked into the gym for the first time. For me, it was like a kid in a candy store. The challenge this sport brings is unmatched, and I am grateful that I got to go thru those battles and come out a better man." — Marvin Kimble
Kimble, who grew up in the inner city of Milwaukee, ended his post by saying, "Thank you gymnastics for saving my life."
It was an ongoing wrist injury that was the deciding factor in Kimble retiring. "I feel like I had a lot left. But the wrist wouldn't hold up. I can contribute in some way, so I'm still trying to figure out how to do that or transition into that."
Fans saw Kimble compete most recently at Winter Cup. While he placed 16th all-around, he shined on the high bar, where he placed third. Kimble was grateful for the win, feeling that the Winter Cup success gave him the extra motivation to work towards the Olympics.
But the wrist injury was always there. Despite three cortisone shots, the pain continued to hamper his training. He has a broken bone in his wrist that is "floating around." He also has a chipped bone in his hand, although it did not affect his training as much as the wrist did.
One of Kimble's career highlights was on the international stage when he competed in the 2018 Pacific Rim Championship and picked up two medals, winning gold with TeamUSA and also in the pommel horse final.
Although grateful for international recognition, the Milwaukee native mentions his junior years as the happiest, reflecting on his many wins. "The most fun time in my career was when I was a junior. From sophomore year of high school to when I graduated high school was the most fun, the most successful time in my career," Kimble said.
Kimble won the junior all-around at both the 2012 Visa Championships and the 2013 P&G Championships. He also won four event titles in 2012 and five event titles in 2013.
Except for a three-year stint training at the U.S. Olympic & Paralympic Training Center in Colorado, Kimble spent his entire career under the same coach, Andrei Kan, a rarity in gymnastics. During Kimble's formative years, they trained together at Swiss Turners before Kan moved to Saltos Gymnastics in Waukesha.
He credits Kan with his training and helping him navigate life's challenges. He explained, "My dad passed away when I was nine, and Andrei's the closest thing to a dad."
Kimble may have left competitive gymnastics behind, but his future is busy with studying business and marketing with Devry's online program.
He also sees himself coaching in the future, perhaps learning coaching skills from summer camps, as some of his best memories are from those venues.
"I had the most fun in my gymnastics career at summer camps. I would love to help out because that's where I learned how to interact with other gymnasts and how to be competitive," Kimble said.
Despite missing out on trials next month, Kimble is philosophical about his retirement. "I had a successful career in my eyes. The only thing I was missing was an Olympics. I made two World teams and have won nationals," he said.
At the end of Kimble's Instagram post, he said that gymnastics save his life. When asked about his Instagram post, Kimble was straightforward.
"Where I'm from, if it weren't for gymnastics—I have no clue, no idea where my life would have gone. There are so many different things you can get caught up in, and you never know which way life is going to take you."
Kimble's voice trailed off, and he took a moment to reflect.
"Gymnastics opened my eyes and [gave] me a different perspective on the world and people. That's why I say gymnastics saved my life."