All-Star Gymnastics Panel To Address Training The Brain For Competition
All-Star Gymnastics Panel To Address Training The Brain For Competition
Legendary gymnastics coach Valorie Kondos Field will be the keynote speaker of an all-star gymnastics panel covering athlete concerns.
Aug 13, 2020
by FloGymnastics Staff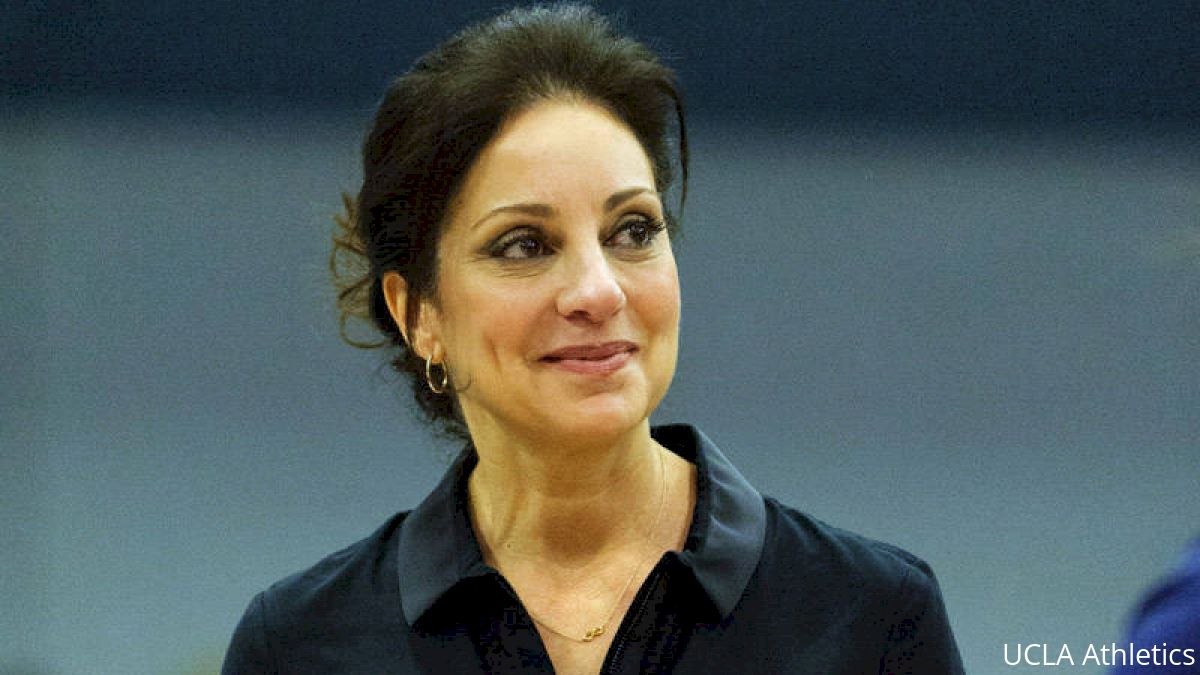 San Mateo, Calif. - Legendary gymnastics coach Valorie Kondos Field - who led the University of California, Los Angeles team to seven national championships during her tenure - will be the keynote speaker of an all-star gymnastics panel covering athlete concerns such as sustaining passion for the sport during the COVID-19 pandemic and overcoming mental blocks when returning to the gym.
Kondos Field is one of several panelists slated to participate in the fourth annual gymSAFE symposium Aug. 15 and 16 which will be online this year due to crowd-gathering restrictions. The event will be held on the videoconferencing app Zoom, making it possible for gymnasts from around the globe to participate. This year's Healthy Gymnast theme is "Train Your Brain" with a focus on helping athletes manage fear, anxiety, and burnout - especially after forced long absences from the gym.
The event will be held from 1 -3:30 p.m. PST each day, with a total admissions cost of $15. Tickets and information are available at the organization's website: www.discovergymsafe.org.
Among those joining Kondos Field will be Katelyn Ohashi, a former elite gymnast who has been a vocal advocate for change within the sport and whose floor routine while competing for UCLA in early 2019 went viral; and The University of Oklahoma's Maggie Nichols, described as the "Michael Jordan of collegiate gymnastics" by ESPN and the only NCAA gymnast ever to win Gym Slam - perfect 10s on all events - twice. Nichols was also featured in the Netflix documentary "Athlete A" for being the first to report abuse by the national gymnastics team doctor.
gymSAFE, Inc is a non-profit organization founded in 2015 by physical therapist Dr. Alyssa Herrera-Set and nationally rated gymnastics coach Jessica Wickizer. The organization was developed on the platform of helping coaches and athletes avoid injuries in the demanding sport of gymnastics. At the heart of gymSAFE is a student-athlete leadership council charged with organizing details of the events including seeking speakers for specific themes.
"Having events like this gives gymnasts a sense of ownership over their training," said Herrera-Set, who is also board certified in sports rehabilitation and owner of On The Move Physical Therapy in Belmont, Calif. "It gives them the opportunity to ask questions and be heard."
Herrera-Set will lead a brief Pilates exercise session during both days of the symposium. Other speakers aside from Kondos Field include mental toughness coach, Dr. Alison
Arnold; mindset performance coach Rebecca Smith; sports psychologist Diane Lattimore; personal trainer and bodybuilder Betsy McNally Laouar and Olivia Lubarsky, a former collegiate gymnast who spearheads an awareness campaign that highlights mental health issues affecting student athletes.
The gymnast panel features Ohashi; Nichols; Samantha Peszek, a 2008 Olympic silver medalist who recently won an Emmy for her work as a broadcaster; Toni-Ann Williams, the current assistant coach at Towson University and a graduate of the University of California at Berkeley who was the first gymnast to compete in an Olympic Games from Jamaica; Morgan Chall, a former Cornell University gymnast and graduate who served as chairwoman of the Division 1 Student-Athlete Advisory committee at the NCAA; and Kassandra Lopez, a former University of Utah gymnast who recently graduated with a Masters of Public Health and has been a strong supporter of gymSAFE's mission since it's beginning. All of the gymnast panelists were chosen because of their commitment to improving the culture of gymnastics. They are also collegiate champions.
Women's artistic gymnastics develops strength, balance, flexibility, self-discipline and takes mental fortitude to perform. It consists of timed routines on four apparatuses: the vault, uneven bars, balance beam and floor exercise. Team athletes typically train between six to 30 hours a week depending on skill-set and competition level.
Gymnastics is seen as a way for young girls to become strong women. As part of learning how to do the sport, gymnasts fall then get up and learn that perseverance pays off.
"Fear and mental blocks are something every gymnast faces at some point in their career," Wickizer said. "We want to give athletes the tools to make sure these blocks are not the reason they choose to quit gymnastics."
For more information about gymSAFE or the webinar event, contact the organization at 415-741-3888 or email discovergymsafe@gmail.com