2020 Florida vs Penn State | Big Ten Women's Gymnastics
7 Nonconference Matchups To Watch Before Big Tens
7 Nonconference Matchups To Watch Before Big Tens
A few notes on gymnastics' RQS and a list of the top Big Ten meets before the conference tournament.
Mar 3, 2020
by Olivia Karas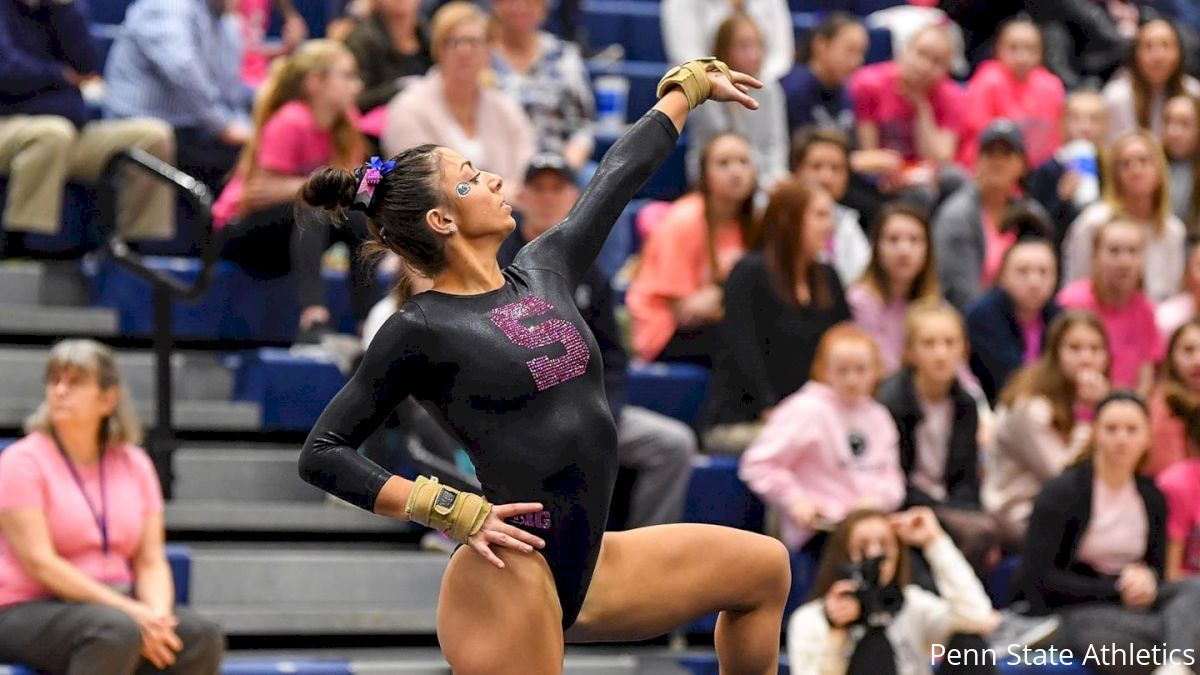 Welcome to the beginning of the end, aka the beginning of RQS!
College gymnastics is all about scores, not wins and losses. Really, wins and losses don't matter until it comes down to championship meets, like Big Tens, SECs, Pac-12s, etc.
Instead, the competition is internal, with the goal being to best the previous weekend's score and boost the RQS (Regional Qualifying Score). (Side note: Some call it the NQS, for National Qualifying Score, but for this article I'm going to use RQS.) Yep — as if gymnastics wasn't complicated enough, right?
Now, what is this darn RQS? The RQS is a team's average score for season, comprised of three top away scores and either three home/away scores, depending on which are highest. So, a team could be on fire while on the road and not do as well at home and have all of their counting scores toward their RQS be away scores. Then, the top score is dropped and the remaining five scores are averaged. This becomes the RQS and will determine where each team is placed for regionals, which begin after conference championships in a few weeks.
In this article, we'll look into Big Ten RQS scores, the next big matchups for Big Ten teams, and the final few weeks of hurrahs before conference champions are crowned and regional festivities begin.
Michigan vs. Oklahoma
Friday, March 6 @ 7:30 PM CT
Michigan fan or not, this top-five matchup is going to be epic. The Wolverine's head to Oklahoma for one of their final chances to grab a 197+ away score. Coming off of two massive back-to-back 197.9+ scores, the Wolverines are looking fresh and excited for the challenge of heading to Norman to take on the No. 1-ranked Oklahoma Sooners.
Michigan is coming off of a stellar home performance, led by sophomore Natalie Wojcik's 39.675 all-around score. Not to mention freshman Sierra Brooks put up an impressive 39.65 of her own, making it the first time in program history that two Wolverines scored 39.65+ in the same meet.
Senior Lexi Funk also notched her first beam win this season with a 9.925, and senior Maggie O'Hara continued to bring the heat with a career-high 9.875 on beam, following her career-high 9.875 on bars the weekend before.
This Michigan team is on the hunt for another big score and of course an opportunity to upset Oklahoma on Friday, so make sure to tune in on FSOK Plus to check out the excitement. I know I'll be watching.
Florida vs. Penn State
Saturday, March 7 @ 4 PM ET
The Nittany Lions welcome the No. 2-ranked Florida Gators to Happy Valley this weekend.
Penn State is coming off of a season-best 196.575, and they still have more room to grow. They come into the weekend ranked No. 25 and are just hitting their peak. As I mentioned before, the RQS score is really the most important aspect of the remaining meets prior to conference championships, so this will be an excellent opportunity for Penn State to knock off one of its earlier 195.6 home scores and replace it with a 196+. These next few home meets will be critical for the team to keep upping its scores and gain confidence rolling into the end of season. Plus, hosting the No. 2-ranked team in the country always adds some excitement!
Missouri vs. Nebraska
Saturday, March 7 @ 8 PM ET
The Nebraska Cornhuskers will host the Missouri Tigers following a bye week of competition.
Luckily for Nebraska, its home scores have been great so far this season. On the other hand, it is running out of away-meet opportunities to drop some of its uncharacteristically low scores.
The Huskers do have a chance to go lights out with a higher 196 or 197+ to help them gain more confidence as well.
Missouri comes to Lincoln ranked 16th and the Huskers stand at 19th, making it a close meet. And, to make it even closer, the teams RQS scores are separated by just 0.05. Even though it isn't about wins and losses, a close meet is always a good meet, and we might see just that!
Penn State vs. Arkansas
Friday, March 13, 7 PM CT
An away meet opportunity for Penn State is exactly what it needs! The Nittany Lions will be coming off of their home meet against SEC regular-season champ Florida and will look to keep the momentum going in Arkansas.
This is also a very exciting opportunity as Penn State has struggled most with away scores, currently counting one low 196 and two mid to low 195s. Hypothetically, if it rids itself of the two 195s with this away meet and then at Big Tens the next week, PSU would be in a good position.
This meet will end up being a pretty crucial one for Penn State, but it always helps to have some SEC scoring on your side. The meet will not be streamed anywhere to my knowledge, so Twitter may need to be our only means of following scores. Boo. Hope this changes before the meet.
Brown, Cal, Michigan State @ UC Davis
Friday, March 13 @ 7 PM PT
The shining Spartans of Michigan State are headed to UC Davis for a quad meet against Brown, Cal, and host UC Davis. Road scores is the name of the game for this team, as all of their road scores are sub 196, which is dangerous going into the end of season. With an opportunity here for a 196+ away score and at Big Tens, the team would be looking at a much more comfortable ranking leading into Regionals. However, it must be noted that this team has been exciting to watch this year, sneaking its way into the fourth and final spot in the evening session for Big Tens.
Denver vs. Nebraska
Saturday, March 14 @ 7 PM CT
This is another exciting home meet for Nebraska as it hosts Denver. Again, the same issue stands as the Huskers could use more away meet opportunities, but hosting a top-10 team is always a fun and exciting opportunity.
Nebraska can help itself by knocking off some of its low and mid 196s to put up some high 196 and even 197+ scores, especially with a team like Denver to compete against. But, the issue lies in away scores, which this meet and the meet the prior week against Missouri at home will not help. However, any and all confidence-building opportunities and potential high-scoring meets leading up to Big Tens is good for the team.
This meet will definitely be a Maddie Karr of Denver versus Taylor Houchin of Nebraska all-around showdown, with both athletes capable of big scores on all four events.
Oklahoma vs. Minnesota
Saturday, March 14 @ 2:30 PM CT
Big Ten Network
The final weekend before conference championships is no walk in the park for Minnesota, as it hosts top-ranked Oklahoma on March 14. The Gophers have a few mid-196 home scores they definitely want to drop, and this is their final chance to do so. They'll be coming off of a road meet at NC State where hopefully they can notch a 197+ score. However, this meet will be interesting as the last time Oklahoma and Minnesota competed against each other, it was Lexy Ramler and Maggie Nichols at the National Championships where Ramler was the national all-around runner-up to Nichols. Both gymnasts share similar style and poise in their gymnastics, and I am excited to see them go head-to-head in the regular season.
Here's to the final two weeks of regular-season meets and a heck of a lot of fun. Good luck, everyone!