2020 Elevate the Stage Toledo
Big Ten Weekly Notebook: Significant Results Roll In Before Elevate
Big Ten Weekly Notebook: Significant Results Roll In Before Elevate
t was the final weekend of conference matchups leading into the Big Five meet this weekend in Toledo, Ohio.
Feb 20, 2020
by Olivia Karas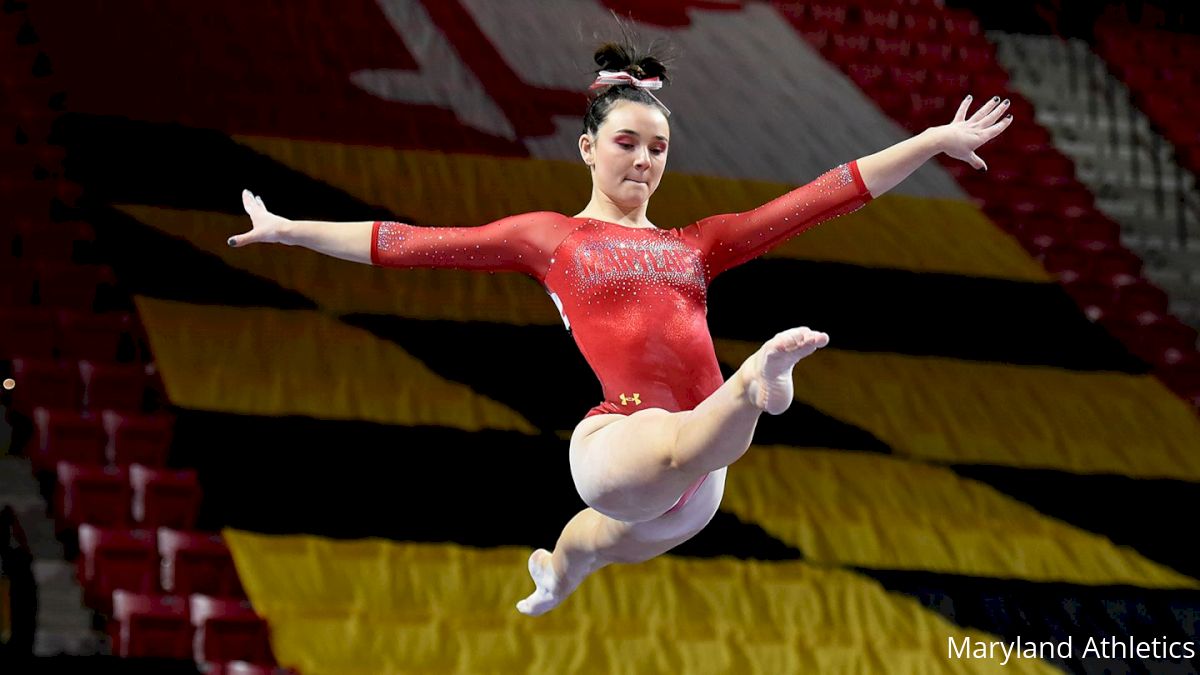 Hey everyone! It was the final weekend of conference matchups leading into the Big Five meet this weekend in Toledo, Ohio. Check out the action from this weekend below.
Penn State vs. Ohio State: Bridgens Still Dominant
Despite losing to the Buckeyes during the final rotation, Penn State still came out of the meet with a respectable 195.15 road score. Most notably, Lauren Bridgens came out with yet another all around victory, and Kourtney Chinnery won the vault title with a 9.825, a season-high. Although it was not the road performance the Nittany Lions wanted, they will look to redeem themselves this weekend and take advantage of a big road score opportunity.
The Buckeyes came out on top in this matchup, just edging out the Nittany Lions in the final rotation. Led by a stunning 9.9 bar routine by Colby Miller, the Buckeyes tallied a 195.35 home score. This score has been pretty consistent with what the Buckeyes have totaled so far this season. They have yet to break into the 196 mark, just missing it by a tenth a few weekends ago. The team will be looking to surpass 196 this weekend and continue improving at the right time.
Colby Miller places first and ties her career-high in uneven bars with a 9.900!#TogetherWeRise #GoBucks pic.twitter.com/IIV3JieIBU

— Ohio State WGYM (@OhioStateWGYM) February 14, 2020
Michigan vs. Iowa: We Will, We Will, Rock You!
In the spirit of an 80s-themed meet, the Michigan Wolverines were "Under Pressure" coming off of a big win at home against the Buckeyes. The team totaled a respectable 196.8 road score and had a few really exciting performances to bring back with them to Ann Arbor.
Sophomore Maddie Mariani notched her first 9.9 (and first event title!) on beam, and her fellow sophomore Abby Heiskell won her first vault title with a stuck cold FTY. And, of course, Sierra Brooks was flawless, notching her fifth-consecutive rookie of the week honor.
First 9.900 on beam, first event title on beam. Great routine by Maddie Mariani on Friday. #GoBlue pic.twitter.com/dWW15r7bLT

— Michigan Women's Gymnastics (@UMichWGym) February 17, 2020
Iowa had a successful evening as well, with three Hawkeyes scoring career-highs: a 9.8 on bars for Carina Tolan, 9.775 on bars for Mackenzie Vance, and a 9.8 on beam for Erin Castle. On top of these three superstars, sophomore Lauren Guerin earned a 9.875 on floor, her best score on the event this season. What an accomplishment!
Rutgers vs. Maryland: Small but Mighty
Although only coming out with a 194.00, the Scarlet Knights of Rutgers have lots to be proud of. Their super freshman Hannah Joyner just keeps getting better, finishing the meet for her team with a 9.925 on beam. Joyner has scored above a 9.9 on beam five times already this season!
The team has fluctuated a lot between mid- to high-193s and upper 195s. It'll come down to if they can hit. Rutgers has the talent, as we can see from their beautiful execution and skills, they just haven't been able to confidently compete yet. However, with a freshman anchoring your beam lineup and bringing in big numbers, hopefully the remainder of the team will catch the "stick" bug.
Maryland once again competed without Audrey Barber, and also were without Kristen Peterman who is out with a broken hand (we're thinking of you, Kristen!). However, this weekend, the team made do very nicely with its competing athletes. The team scored a 195.7, only a few tenths below its season-high of 196.15.
The win over Rutgers at home continued the Terrapins 3-0 record at home! The Terps capped their meet off with the 1-2-3 punch of McClure, Rouse, and Wright at the end of the floor lineup. Totaling a 9.9, 9.85, and 9.925 respectively, these three rockstars took it home for the Terps. If they can hit the same way this weekend in Toledo, the Terps will be in good shape.
Illinois vs. Michigan State: An Alumni Night to Remember
The name of the game this weekend for the Illini was beam, beam, beam! The team tallied a 49.4 on its final event of the night, marking its highest event total on any event this season. It also ties the second-highest beam score in program history! With this confident beam team, the Illini have potential to go big.
Their biggest struggle has come on vault due to very few stuck landings. If they can reign in those landings, just like junior Nicole Biondi did this weekend on her Yurchenko layout half, they will be golden. Also, keep an eye on Shayla Scott on beam. She hasn't scored lower than a 9.8 on the event all season.
WATCH: Nicole Biondi hits a 9.850 for the #Illini's highest vault score of the season! pic.twitter.com/RSfy7j3T9b

— Illinois W Gym (@IlliniWGym) February 16, 2020
This talented Spartan team didn't disappoint at their annual alumni meet in East Lansing. The team totaled a 196.15 and had numerous exciting routines and progress to be proud of for the team.
Importantly noteworthy was Jori Jackard's career-high 9.925 on bars that earned her the Big Ten Event Specialist of the Week honor! In usual news, Lea Mitchell was fabulous once again, winning her fifth all-around title of the season and ending the meet off with a stunning 9.85 floor routine. Alaina Raybon also scored a career-high 9.9 on her gorgeous bar routine seen below! The Spartans are cooking something special up this year...
NEW CAREER HIGH!!! Alaina Raybon shines on the bars as she sets a new career high of 9.900 in the second rotation! ?#GoGreen? pic.twitter.com/RoK75BEJTW

— MSU Gymnastics (@MSUgymnastics) February 16, 2020
Nebraska vs. Minnesota: Gophers Remain Golden
In the biggest meet of the weekend, the Golden Gophers hosted Nebraska in a Sunday evening matchup, complete with the Gopher band and cheer team. Minnesota was the dominant team here, notching 49.5s on both bars and beam.
Junior Lexy Ramler was the Gophers' show stopper, totaling a 39.625, getting two 9.975s, and being named the Big Ten Gymnast of the Week. Senior Ivy Lu was also brilliant this weekend, snagging a 9.9 on bars and a 9.925 on beam. Minnesota also got a stunning leadoff routine from Kristen Quaglia, which earned a 9.875, a new career-high, and the sweetest post-routine happy tears.
Also, check out the absolute sweetest video of Ali Sonier being awarded a year scholarship for all of her hard work as a Gopher. Congrats, Ali!
A big congratulations to @alisonier for earning a scholarship next year! Ali has been a key contributor to the team's success and is always working hard, both in and out if the gym! 〽️

Fitting that she is also last week's winner for Love the Battle! pic.twitter.com/lIVzJv39Y7

— Minnesota Women's Gym (@GopherWGym) February 18, 2020
Although leaving Minnesota with a loss, the Huskers put up a great fight and had a few very crucial and solid routines. An early fall from Taylor Houchin, their star bar worker, on bars halted some of the team's momentum going into vault, but they rallied, putting together a solid vault rotation, highlighted by a gorgeous stuck Yurchenko 1.5 by Houchin. What a recovery for the senior!
Even though the team total isn't what it wanted, Nebraska proved it can come back from early struggles and finish a meet well. The Huskers' final rotation on beam totaled a 49.075. Sophomore Addy de Jesus has done a brilliant job leading the team off on beam this year, her first year contributing on the event. Nebraska will look to bring its A game this weekend at the Big Five meet to replace this away score.
Upcoming Meets Streamed Live on Flo
Friday, February 21
Elevate the Stage Session One (Women's)
Saturday, February 22