2020 Elevate the Stage Toledo
Big Ten Gets Ready To Crown Regular-Season Champion At Elevate The Stage
Big Ten Gets Ready To Crown Regular-Season Champion At Elevate The Stage
Welcome to a really B1G week (pun intended) at Elevate the Stage in Toledo.
Feb 18, 2020
by Olivia Karas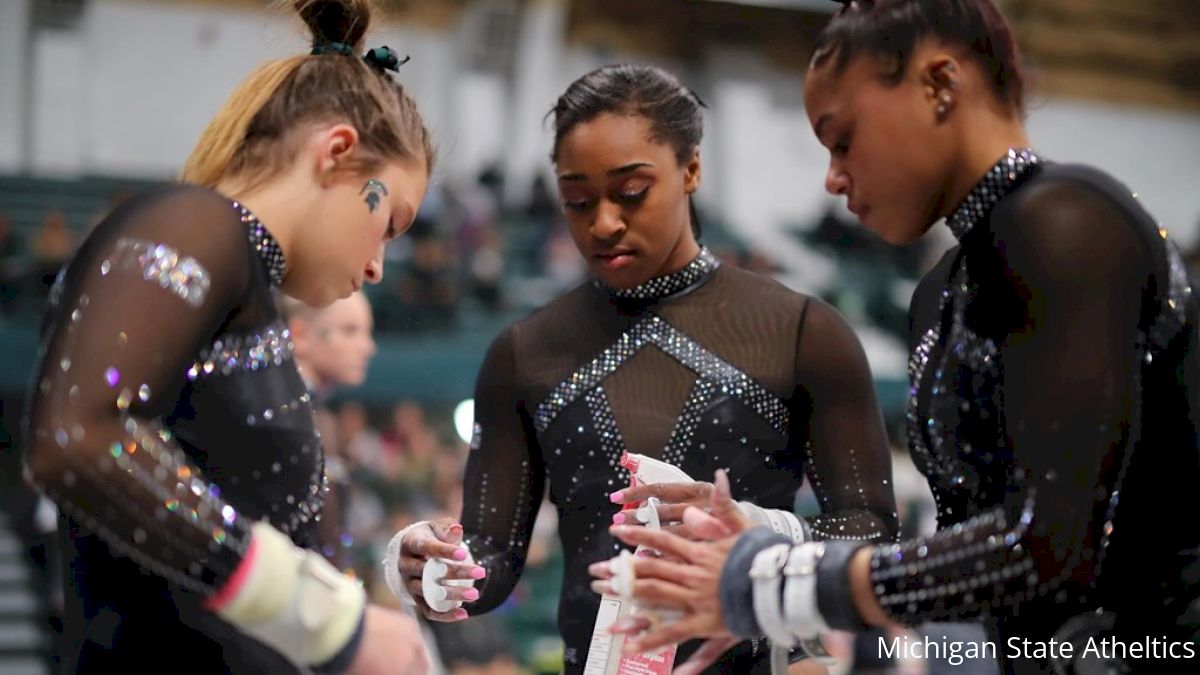 Welcome to a really B1G week (pun intended)! The Big Ten's women's gymnastics teams are headed to Toledo this weekend for Elevate the Stage, where the regular-season conference champion will be crowned.
Let's check out a preview of each team in the Friday and Saturday sessions of the Big Five competition.
Rutgers, Nebraska, Iowa, Illinois & Ohio State
Rutgers
Freshman Hannah Joyner has been the Scarlet Knights' leader, matching a program record 9.95 on beam in her first collegiate season. Following Joyner to anchor the Scarlet Knights' beam lineup is Erin McLachlan, who has been stellar for the team on beam this season and has a 9.95 of her own on the event. These final competitors are very critical to this team's success as they can build momentum and excitement for this team.
Rutgers will look for this meet to be an opportunity to use the podium to its advantage and go big during a meet. The Knights have struggled so far as a team, averaging 193.825, but have notched a season high of 195.7, which shows their potential when they're on. They will be looking for big numbers from Joyner, as well as junior Kaitlyn Hall on vault. Hall performs a tucked Yurchenko 1.5, a 10.0 start value. When she nails it, it is fantastic. Rutgers will be looking for her to zero in on that landing this weekend.
Nebraska
Coming off of an uncharacteristic meet at Minnesota this past weekend, the Cornhuskers will be looking for a big performance. Coming into this session as the favorites, their biggest goal should be to focus on themselves and hit big. Led by two outstanding seniors and one spunky sophomore, the Huskers will rely heavily on Taylor Houchin, Sierra Hassel, and Addy de Jesus to bring 9.9+ scores on all four events, especially following Houchin and Hassle's mistakes this past weekend.
With a season-high of 197.1, the Huskers have already proven they're a 197 team and are capable of putting a meet together. If the team can hit on bars and beam, they should be able to come out with a nice away score and successful regular-season finish.
Iowa
The Hawkeyes come into this weekend with a season-high of 196.175 and tons of potential for growth. Led by fantastic sophomore Lauren Guerin, the Hawkeyes rank 21st in the country on floor. Guerin has tallied a 9.95 twice so far this season on floor and notched a big 9.925 on vault the first weekend of the season.
The problem area for this Iowa team comes on bars. The team will rely on junior Erin Castle and senior Claire Kaji, both scoring in the mid-9.8 range with potential to go even bigger. Along with Castle and Kaji is Alyson Steffensmeier, who notched a 9.875 on bars this past weekend. With these three hitting big and the early half of the lineup staying on, the Hawkeyes will be set to soar the rest of the meet.
With all-around standout Charlotte Sullivan now listed as a student coach, Iowa hasn't gained much traction when it comes to AA titles this year, so for Elevate, it's safe to say Iowa isn't looking for all-around champions as much as posting a great away score and using this meet to go big.
Illinois
Illinois has remained consistently in the mid- to upper-195 range this season, despite one fluke meet at Maryland in early February where it totaled a 193.95. The consistency for this Illinois team is really impressive, yet I know they will be looking to up those 195s to at least low-196s.
Illinois came out of the gate hot this year with a perfect 10.0 from freshman Mia Takekawa on beam in her second-ever collegiate competition. Takekawa is brilliant on beam but has taken the past few weekends off from competing in it. I'm hoping to see her make a return to the anchor spot for this Illini team this weekend.
Another noteworthy athlete for Illinois is Shayla Scott. The sophomore has been beautiful on both beam and floor this season. She also competes vault but has had some trouble finding the landing. Once she gets it, she will be a consistently high score for the Illini.
With the loss of Rae Balthazor to an injury, the team needs their key competitors to be on this weekend. Junior Nicole Biondi is another solid performer for the team, making a comeback in the all-around just a few weeks ago.
Ohio State
The Buckeyes have had an up and down season so far. Scoring mainly in the 195 range, the team has yet to have a meet when it has reached its potential on all four events.
However, despite this, the Buckeyes come into this weekend ranked 12th in the country on bars, where they can be brilliant. The team tallied a bars season-high of 49.3 on Feb. 1, led by senior Olivia Aepli and junior Jenna Swartzentruber, both scoring 9.925s this season. Aepli is the Ohio State gymnast to watch in the all-around, if she can make a return to beam. But the most exciting athlete for this team has to be sophomore Claire Gagliardi. Gagliardi has scored no lower than a 9.875 on floor this season and has been nothing but a joy to watch on the event. Watch for her to go big on floor this weekend on the Elevate stage.
Michigan, Minnesota, Maryland, Penn State & Michigan State
Michigan
The Michigan Wolverines come into the Big Five meet as the reigning regular-season champions. The team is ranked ninth this week and undefeated in the Big Ten. Michigan's strongest event this season is vault, where it currently ranks second in the nation! The team is led by freshman phenom Sierra Brooks, who tallied a 9.975 on vault just a few weeks ago. The team started off with a 195.65, which it is looking to drop in the coming weekends. Ever since then, the team has been in the upper-196 to low/mid-197 range. With the momentum they have, the Wolverines should put up a big number this weekend.
Led by reigning Big Ten all-around champion Natalie Wojcik, the team is only improving as the season goes on. Also noteworthy to watch is freshman Gabby Wilson, a three-event contributor, and senior Lexi Funk, a beam and floor contributor for the team. Finally, Abby Brenner has been rock-solid for Michigan and has made amazing improvement on her three events to help lead the team.
Minnesota
The Golden Gophers came to play this season, rounding out their final weekend before the Big Five Championships with a huge 197.4, matching their season-high. Their meet was topped off by not one, but two 9.975s from junior star Lexy Ramler and a 36.625 all-around total for her as well. The team tallied a 49.5 on both bars and beam and saw immense potential from their leadoff performer Kristen Quaglia on bars and senior bars and beam queen Ivy Lu. Not to mention, junior Ona Loper has been crowned the all-around champion three times this season, with a season-high of 39.550.
The biggest goal for the Gophers this weekend will be to buckle down on vault landings. The team has been fantastic when sticking bars and beam dismounts, but have lost numerous tenths on vault landings.
Maryland
The Terrapins have taken a hit this season with junior all-around standout Audrey Barber out due to academics. The Terps are also without Collea Burgess, a consistent floor worker, and as of this past weekend, they lost Kristen Peterman to a broken hand.
However, despite its losses, the team has leaned on its fabulous freshman class to deliver when necessary. Alexa Tsiknias, Reece McClure, and Emma Silberman have driven the team forward, and along with this freshman trifecta, junior Tiara Wright has stolen the show on beam and floor, anchoring both events. The Terps have a season-high of 196.15, achieved in their first meet this season, and a low of 193.575 away at Nebraska. They will be looking to knock off that mid-193 with a solid away score in Toledo.
Penn State
The Nittany Lions have started improving at the right time. Notching only a 193.5 the first week of the season, they've climbed all the way up to a 196.325 — and that wasn't even their highest potential!
The team, led by a very pregnant but always excited head coach Sarah Brown, has been fantastic on bars so far this year. They come in at 15th in the nation on the event and are still working on buckling down on the handstands and dismounts.
The team is undoubtedly led by junior all-arounder Lauren Bridgens, who has taken the all-around crown four times this season. Bridgens, excellent on all four events, is particularly wonderful on floor. Her 9.95 on floor is a career best and she definitely could snag that perfect 10!
Along with Bridgens is Cassidy Rushlow, the star freshman all-arounder. Rushlow is capable of big scores, most notably a 9.925 on bars in only her second meet as a Nittany Lion. She will be one to watch this weekend for both the all-around and bars crown.
Michigan State
The Spartans are a team only on the rise, coming into the weekend ranked 15th nationally on beam and 19th on floor. They are led by junior Lea Mitchell, who is absolutely outstanding on bars and beam. She isn't only amazing on those events though, as she just claimed her fifth all-around title this past weekend against Illinois! The Spartans have shined on bars so far, led by a new career-high 9.9 by Alaina Raybon and 9.925 by Jori Jackard.
The Spartans didn't start their season off the way they wanted, opening with a 191.85, but ever since then the team has turned it up a notch. The team has reached a season-high 196.55 with even more room to grow. If Mitchell is on in the all-around and this bars squad can continue hitting, the Spartans will continue to be a team to watch.