2020 Big Ten Gymnastics
Big Ten Weekly Notebook: Penn State's Lauren Bridgens Does It Again
Big Ten Weekly Notebook: Penn State's Lauren Bridgens Does It Again
Lauren Bridgens' third all-around title of the season leads the headlines in this week's recap of Big Ten women's gymnastics.
Feb 12, 2020
by Olivia Karas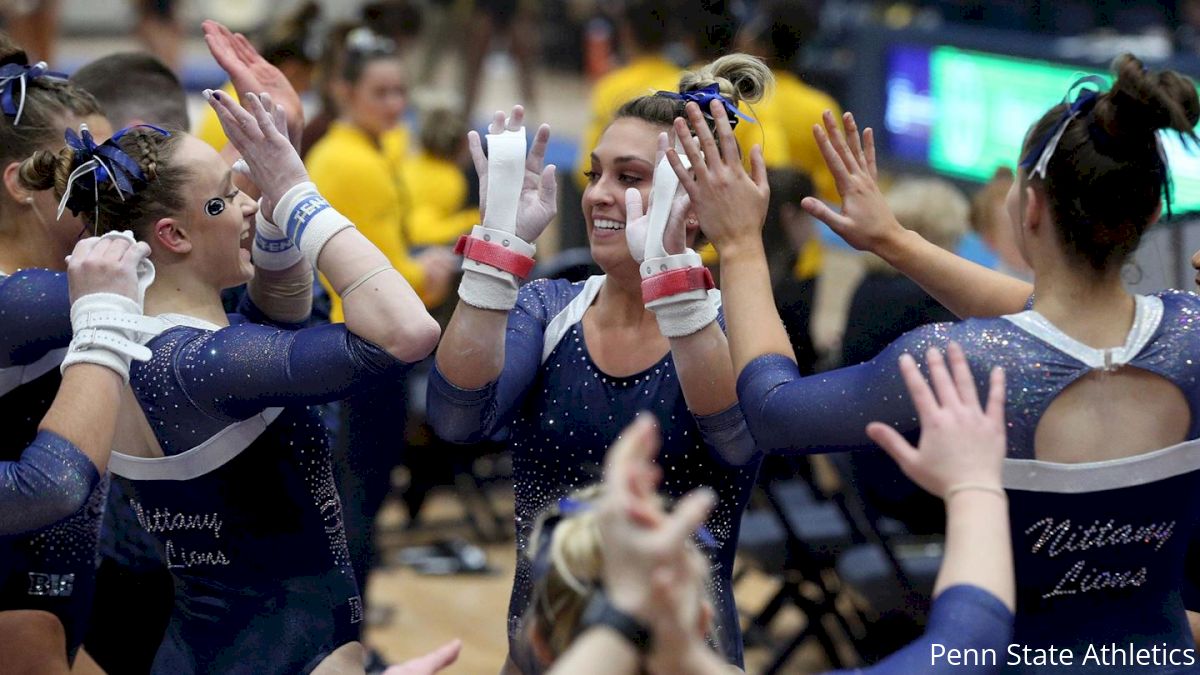 Hey guys! Happy Week 6 — we're pretty much halfway through the season. We're already getting a good look at teams making improvements and increasing scores! See the highlights of the Big Ten teams and their weekend action below.
Penn State vs. Illinois: Down to the wire
Once again, I am lucky enough to write the words "Lauren Bridgens takes the AA title!" Bridgens has been absolutely phenomenal this season, clinching her third all-around title this season at Illinois on Friday! All I've gotta say is this girl is on FIREEEE!
The Illini came out with the conference win this weekend as they hosted Penn State. After falling to Maryland the prior weekend, the Illini were definitely looking to redeem themselves, and that they did. Led by a beautiful 9.9 beam routine from Kylie Noonan, the Illini look to gain momentum and confidence this weekend as they head to Michigan State this weekend. This will be a big opportunity for them to put up a big away score.
Iowa vs. Minnesota: Teams on the rise
The Hawkeyes left Gopher territory with two fabulous event totals on beam and floor, concluding an already impressive away score performance in the 196 realm. Specifically noteworthy is the Hawkeyes' season-high beam score of 49.125, led by Dani Castillo's 9.875.
I am super excited for the energy this Iowa team brings to college gymnastics and the Big Ten, and I have a feeling they will hit their peak performance level at the right time. Keep your eyes peeled.
Minnesota totaled a 196.825 at home against Iowa with a few uncharacteristic mistakes. Minnesota has received a lot of attention from Lexy Ramler's back-to-back 10s on beam, so finally the Gophers are getting the credit they deserve. That also means that many will look too much into meets where the team didn't put up its best score. I'm here to say that this Minnesota team is electric. A 196.825 is a great score that they can absolutely out-score in the coming meets.
I am personally looking to see Paige Williams stick her FTY. If you haven't seen the height and distance this vault gets, check it out below. She FLIES! Once she sticks this thing, I firmly believe she could win a national title.
A winner from Williams in the three spot! @paigemwilli ties her season high of 9.850 on vault.

Ya gotta love that. pic.twitter.com/U9CU2r3jbY

— Minnesota Women's Gym (@GopherWGym) February 9, 2020
Maryland vs. Nebraska: Cornhuskers defend their turf
The Terps struggled a bit this weekend in Cornhusker territory as they fell to Nebraska by a large margin. Coming off of a high at home against Illinois, the Maryland gymnasts most likely got a little ahead of themselves. Not to worry, though. They still had a few very solid and exciting routines from this weekend, highlighted by a gorgeous 9.8 on beam from Tiara Wright and a 9.85 floor routine from Sabriyya Rouse. Check out her height on this tumbling!
Bri Bop! BOW pic.twitter.com/kjxp9aCZYw

— Maryland Gymnastics (@TerpsGymnastics) February 9, 2020
I'm really excited about Maryland this year and am stoked for its home meet this weekend, hosting Rutgers. Especially exciting is the Terps' vault team this year. They've started building up some 10.0 start value vaults and have some big and dynamic FTY as well. Look at this FTY from senior Alecia Farina. It is HUGE.
Farina runs it up!#Terps pic.twitter.com/4t9mkTWTu2

— Maryland Gymnastics (@TerpsGymnastics) February 9, 2020
The Cornhuskers put together a solid meet, led by senior Taylor Houchin's solid 39.4 all-around score and Addy de Jesus' 9.9 on floor. She keeps getting better each week!
Another 9.90 and another event title.? @addy_dejesus' performance on the floor against Maryland is our #RoutineOfTheWeek! #AGNB ? pic.twitter.com/I1YhBgA3bQ

— Nebraska Women's Gym (@HuskersWGym) February 10, 2020
Going into its meet this weekend at Minnesota, Nebraska is going to look to stick, stick, stick landings, specifically on vault. The Huskers' gymnastics and skill is all there, but a rising Minnesota team is hungry for bigger and better scores while defending its home turf. This will be an important test for Nebraska. However, with Taylor Houchin leading the team with her consistency and exquisite technique, the Huskers have potential to put up a massive number. This is arguably the most exciting Big Ten matchup this weekend!
Ohio State vs. Michigan: A friendly rivalry
A team is unbelievably gifted when it has two athletes competing stellarly in the all-around, making it hard for me to adequately highlight all of the good going on within the team.
Michigan's two all-arounders, Sierra Brooks and Natalie Wojcik, did not disappoint on Sunday in Michigan's meet against Ohio State. A casual 9.975 by Sierra Brooks on vault helped the team gain momentum after the first event.
However, this meet wasn't only finessed by a freshman. Sophomore Natalie Wojcik shined on beam, rightfully so as the reigning beam NCAA champion, and she took the AA title with a 39.65.
And don't forget about the rest of the Wolverines. Senior Lexi Funk notched a gorgeous 9.9 on beam, and sophomore Abby Brenner nearly stuck her vault AGAIN for a 9.9. Freshman Gabby Wilson is, dare I say it, my favorite floor worker in the country. Oh, and she got a 9.95. Not too shabby for the freshman.
Ohio State came into its rival's home and performed well for a great away score! The Buckeyes had some fantastic performances, highlighted by senior Olivia Aepli and sophomore Claire Gagliardi on floor. Also, freshman Ella Hodges was gorgeous on beam, scoring a 9.9! Gagliardi personally impressed me the most, combining exquisite difficulty and fun in her floor routine. Check out this moving story about Claire and her journey to Ohio State below.
All Heart ♥️

Days after she took her first breath, @ohiostatewgym sophomore Claire Gagliardi needed open heart surgery. Today, Claire thrives in a sport that she loves and her physical heart loves even more.

➕ https://t.co/rAWWxg1DuH#GoBucks | The People. pic.twitter.com/hYOXjilmbR

— Ohio State Buckeyes (@OhioStAthletics) February 11, 2020
Also, hats off the the Ohio State women's gymnastics team for notching the highest GPA in the OSU athletic department. Nice work, ladies!
Rutgers vs. Michigan State: Spartans invade and conquer
Erin Mclachlan's 9.9 on beam was absolutely beautiful. Despite a rough competition on the other events, the Scarlet Knights put together a beautiful beam rotation, totaling a 49.1 and tons of room for improvement. This beam team is a force to be reckoned with.
Rutgers' leotards this weekend were BEAUTIFUL! Check out their tweet below on the Scarlet Knight pride design, capped off by my favorite part, the swords on the back.
Can we just take a second to ???? #LeoWatch #LeoDebut #RutgersPride ?⚔️ @collegegymnews_ @collegegymfans pic.twitter.com/1QogUq6vkh

— Rutgers Gymnastics (@RUGymnastics) February 8, 2020
Lea Mitchell came out on top once again with her fourth (!!) all-around title this season for MSU. She helped the team soar to a victory over its in-conference rival with a 9.9 floor routine that stole the show.
? .@leasimone__ shines on floor once again! Mitchell collects a 9.900 on floor exercise, her THIRD score of 9.900 or higher this season! ?

The Spartans finish floor with a team score of 49.050!#GoGreen ? pic.twitter.com/W1XxGqaMkN

— MSU Gymnastics (@MSUgymnastics) February 8, 2020
The Spartans have a big test this weekend at home against Illinois for their alumni night meet. I think this will be a really exciting meet, as both teams are on the rise and have scored similarly this season.
Upcoming meets streamed on FloGymnastics
Friday February 14
Penn State vs Ohio State (Women's) 6pm EST
Michigan vs Iowa (Women's) 7pm EST
Western Michigan vs Illinois (Women's) 8pm EST
Saturday February 15
William & Mary vs Penn State (Men's) 4pm EST
Minnesota, Army vs Nebraska (Men's) 5pm EST
Sunday February 16
Rutgers vs Maryland (Women's) 1pm EST