2020 Elevate the Stage Toledo
Two Michigan Alums Fondly Remember Elevate The Stage Experience
Two Michigan Alums Fondly Remember Elevate The Stage Experience
Olivia Karas and Emma McLean share their experiences as competitors at Elevate the Stage.
Jan 31, 2020
by Olivia Karas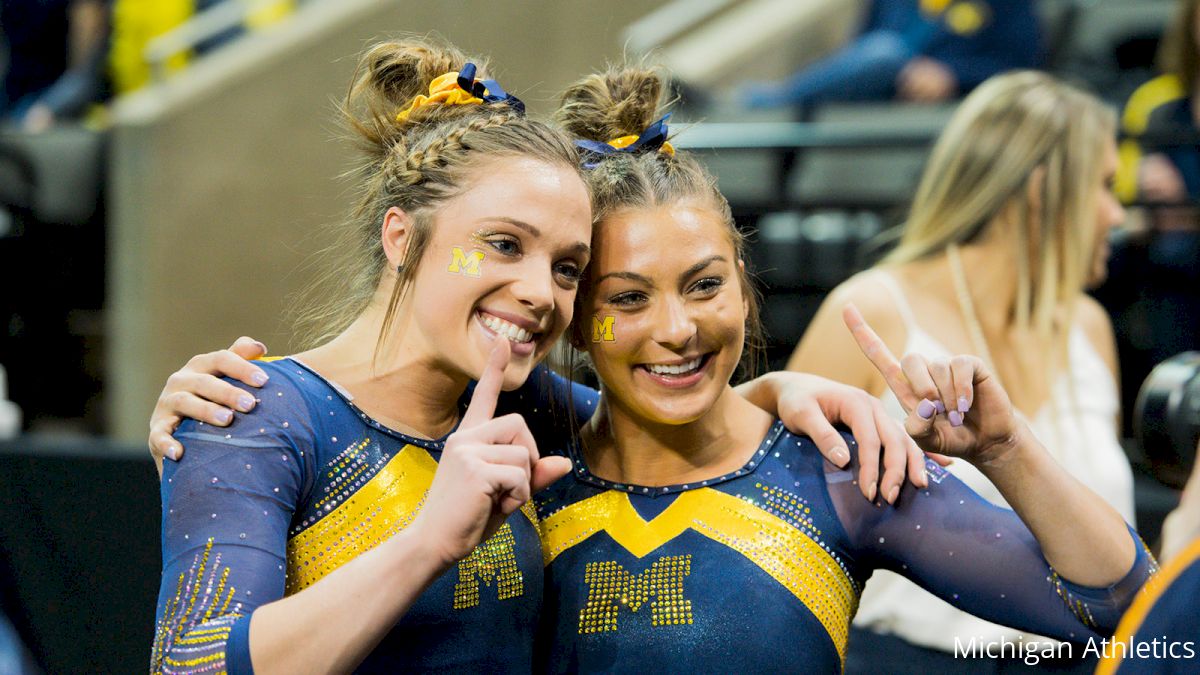 The Elevate the Stage competitions are really special and exciting series for numerous reasons. First, I'll share a personal reason why, for me, these meets hold special memories and excitement.
Without having even mentioned that I was working on an article about my Elevate the Stage experience, I was video-chatting my fellow classmate and Michigan great Emma McLean. We like to do weekly chats to catch up and stay as present in each other's lives as possible, living far away from each other for the first time in four years. For some reason, we got on the topic of last year's Elevate the Stage.
"That is like one of my all-time favorite meets!" Emma said. Without missing a beat, I agreed.
We continued on, gushing about how fun of a meet that was, the energy in the arena and the excitement of being part of the first neutral-location Big Five meet as part of the Elevate the Stage series. Plus, the opportunity to compete on podium midway through season was a gift to our bodies. I mean, I'd marry that floor if I could.
I don't feel I could adequately highlight the excitement and love for the Elevate the Stage series on my own. So, without further ado, I present to you a collab about our Elevate the Stage experience told by both Emma and me (Olivia)!
Olivia
My first time attending Elevate the Stage as a competitor was my junior year of college, before the event doubled as our regular-season conference meet Big Fives. Except this year, I wasn't competing. I was sidelined.
The 2018 Elevate the Stage meet was the first time in my Michigan experience that we got the chance to compete at a championship-esque venue on podium midseason. Normally, podium opportunities emerge near postseason, specifically for us, at Big Tens and nationals, but never in February. The thought of a podium meet midway through the year was so exciting, both for the rush of competing on a stage and for our bodies' well-being.
My dream of competing on podium midway through season quickly slipped away from me my junior year. Instead of feeling the bounce and extra oomf podium gave me, I was sitting on my scooter due to a torn Achilles, sidelined and watching my teammates compete.
This was the first time Elevate the Stage came to Toledo. The venue for the meet in 2018 was hosted in a smaller area of the Huntington Center. The idea was that in 2018, the smaller venue would be a tester for 2019 when the Big Five meet would be hosted in the main arena.
And when the 2019 Elevate the Stage meet finally rolled around, competing in that big arena felt nothing shy of a championship environment.
That meet also marked many milestones both individually for teammates of mine and team accolades for us.
We went home with the Big Ten regular season title, Natalie Wojcik got a long overdue perfect 10 on vault, and we walked away with our highest team score of the season. That meet just erupted with energy from us, the competitors, and from the fans and family in the audience.
Any opportunity to compete on podium is exciting. I remember when I was younger, I always watched elite championships and the Olympics thinking about how cool it must be to compete in a stage-like venue that podium creates. For me, competing at Elevate the Stage was one of the few times in college I was able to live out my childhood dream and compete on a stage in front of friends, family, and young girls who also dream of competing on podium. It felt very full-circle for me.
Emma
Competing on podium is a big deal. It was seen as such a big deal to us, that our head coach, Bev Plocki, would bring in a podium to put the beam on in order to prepare for nationals. So, as soon as we heard there was a chance to practice this midseason, everyone was bought in.
Like Liv said, we competed in a much smaller venue for our first year at Elevate the Stage in 2018. However, it was still great practice. When we say that competing on podium is much different than not being on podium, we mean it in a good way. The podium gives you extra "oomf" as Liv would call it and landings are softer. At this point in the season, your body starts to feel the aches and pains of competing every single weekend, so the idea of the podium giving you some extra support was a great feeling.
It was our second year at Elevate the Stage that the meet turned into Big Fives. This was also a big deal because the regular season Big Ten Championship was on the line. It was a venue that we were not yet familiar with as it was in the bigger arena for the first time. And suddenly, I looked around and realized that Big Fives had a Big Tens' atmosphere.
However, that is not the point. The point is that we had the time of our lives at this meet, which is why I consider it one of my favorites. Toledo is not very far from Ann Arbor, so we had an incredible fan base there. I remember the Michigan family section was right in front of the floor, so we were able to interact with our families and see their support while competing. Not only were most of the team families able to make it, but there were a bunch of alumni and tons of fans that made the hike from Ann Arbor.
We ended the meet on floor and I vividly remember a line of young girls lining the edge of the stands, reaching over the railing to give us high fives at the end of the meet. Personally, I love getting to interact with the girls who look up to us and see them be inspired by what we do, because that was me as a child. That is the reason that we do what we do.
This meet was incredible for a couple of reasons. First off, as a team, we soared. We took advantage of the contagious energy that filled the arena. We were so dialed in on our team and our routines that nothing else seemed to matter. Every routine was performed confidently with so much pizazz. By doing this, the results fell into place in the way we wanted them to.
But secondly, this meet was also incredible because so many others were there to experience it with us. I think our fan base could feel our infectious energy, just like we could feel theirs. Everyone was on a "gymnastics high."
The Elevate the State series is more than just a regular meet. The meet gives athletes a championship feeling midway through season to promote confidence-building on a big stage and a chance to compete neutrally, just like at the national championships.
To all of the girls getting to compete at an Elevate the Stage meet — you are SO lucky to get this opportunity. Use it to your advantage and enjoy the energy that quite literally fills the air of the arena. I promise, you will love it.
To the girls watching these meets from the stands, you too may one day compete on a podium at an Elevate the Stage meet. That is the beauty of these meets. Don't forget to cheer loud, wear your favorite team's colors, and enjoy the moment, just like we did.
Good luck and happy flipping!