2020 Big Ten Gymnastics
Big Ten Weekly Notebook: A Perfect 10 For Lexy Ramler
Big Ten Weekly Notebook: A Perfect 10 For Lexy Ramler
A recap of all that went down in Week 3 of Big Ten women's gymnastics.
Jan 23, 2020
by Olivia Karas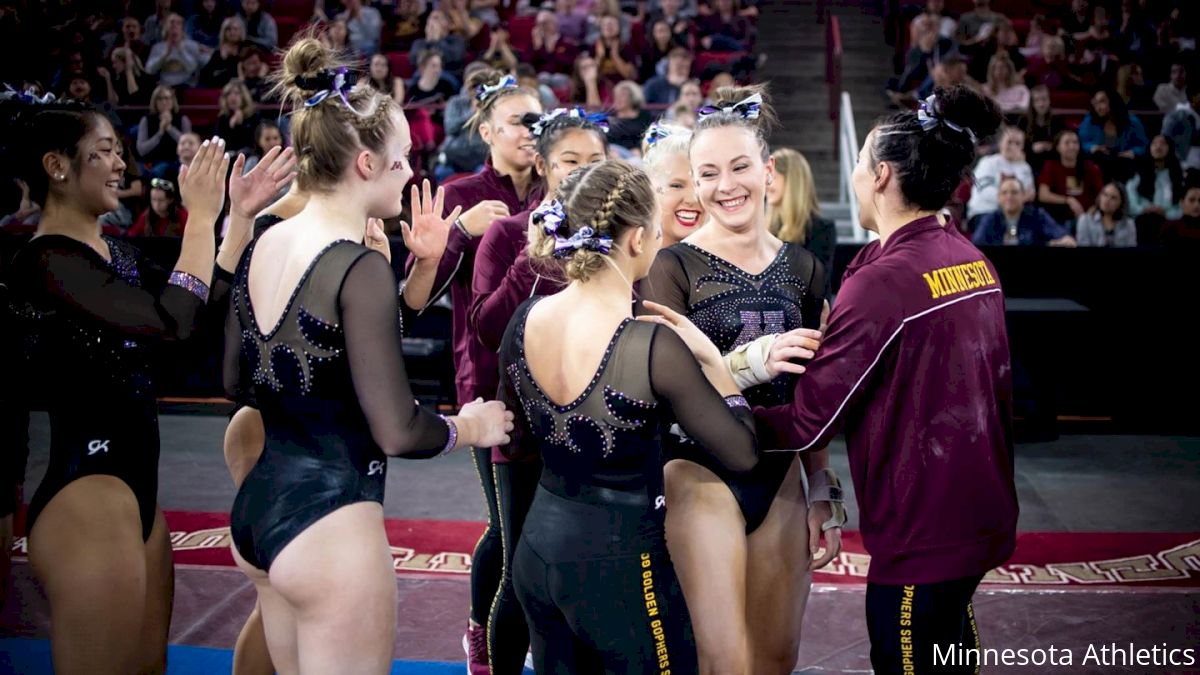 It's time for another Big Ten recap! Week 3. Let's do this.
Shayla Scott & Mia Takekawa score big for Illinois
Illinois put together a pretty good home meet for a total of 195.65 against the visiting Michigan Wolverines. Some highlights included Shayla Scott's HUGE FTY that soars into outer space and a lovely 9.875 from the freshman phenom Mia Takekawa on bars (who you may remember scored a perfect 10 on beam last week!). The Illini have started this season off extremely strong and are looking to continue this solid momentum going into their meet this weekend against the Golden Gophers of Minnesota.
Minnesota's Lexy Ramler perfect on beam
The Gophers were the shining stars this week following a well-deserved perfect 10 on beam for junior Lexy Ramler, who also earned the Big Ten Gymnast of the Week honor. Ramler's talent hasn't gone unnoticed, though, as she is the reigning silver medalist in the all around at the NCAA championships this past April. If you live under a rock and haven't seen this routine, here it is.
✨?✨@LexyRamler is simply incredible. pic.twitter.com/VFl5jM9PeE

— Minnesota Women's Gym (@GopherWGym) January 18, 2020
BUT, let's not forget that this 10 was set up by another extremely talented athlete. Tiarre Sales posted a career high 9.975 right before Ramler's 10 and garnered the Big Ten Specialist of the Week award! Talk about a one-two punch and a 49.7 total beam score for the Gophers. I mean...WHAT!?
The Gophers finished up with an impressive 196.875 away score to put them at the top of the Big Ten this week scoring wise. Super impressive start to the season for Minnesota.
Iowa mentally strong versus Maryland
A delayed start time didn't phase the Iowa Hawkeyes as they took on the Maryland Terrapins this past weekend. Due to weather, the Hawkeyes were late getting into College Park, which pushed the meet back a few hours. Luckily, us gymnasts are used to constant change, and this was no exception. The Hawkeyes put together a great meet, scoring a 195.675, a stable away score. The highlight of this meet, though, was sophomore Lauren Guerin's 9.95 on floor that radiated energy and excitement. Watch out for this one — she is on fire!
Lauren Guerin (@Laureng1515)

9️⃣.9️⃣5️⃣ pic.twitter.com/dbUgoMtYIE

— Iowa Gymnastics (@IowaGymnastics) January 20, 2020
You should be following Rutgers
The Scarlet Knights of Rutgers hosted their first home meet against Minnesota, Bowling Green, and Ursinus this past weekend. Although it is a team usually swept under the rug, I must say, I am stoked for this Rutgers team. Although posting a few scores in the 9.7 range, it is early on for the Scarlet Knights. However, a STUNNING beam routine by freshman Hannah Joyner on Saturday matched a school record on the event! If a 9.925 is the school's record on beam, I'm calling Hannah breaking that in the coming weeks. You heard it here first, folks.
?SCHOOL RECORD? Freshman Hannah Joyner posts a 9.925 on beam to match the highest score in #RUGYM history! Check out her beautiful routine and STICK! pic.twitter.com/lx0Y462dnP

— Rutgers Gymnastics (@RUGymnastics) January 18, 2020
A 194.55 final score may seem low, but these gals at Rutgers have the talent and drive to improve on that. They head to Ann Arbor this weekend to take on the Michigan Wolverines and are looking to put together a solid meet for an away score.
Speaking of Michigan...
My alma mater, the Wolverines, put together a fantastic meet this weekend on the road at the University of Illinois. Finishing with a 196.7, the Wolverines start the season with a solid road score with immense potential for growth. Freshman Sierra Brooks led the team with an all-around-winning score of 39.5 and earned the Big Ten Freshman of the Week honor. Keep an eye out for that one. She is a star!
Also notable: sophomore Abby Heiskell won her first ever collegiate title on the uneven bars! It's about time. Her form is exquisite and she swings effortlessly, making for a stellar performer on the event. Not to mention she was the FIRST performer on bars in the ENTIRE meet. Clearly she set the standard high.
The Wolverines start their Big Ten rankings at 1-0 going into a home meet Friday against Rutgers.
Michigan State shines in home opener
In East Lansing, Michigan State was stellar in the Spartans' home opener, beginning their Big Ten season with a win against Ohio State. The meet was a pink meet to raise awareness for breast cancer, and it featured some beautiful pink leotards for the Spartans.
Yes that really happened!! Relive some of the excitement from last night's comeback win over Ohio State in our B1G opener!!!#GoGreen ? pic.twitter.com/BkYXNy1aAG

— MSU Gymnastics (@MSUgymnastics) January 19, 2020
The Spartans put together a great home meet, but the highlight of the night was their fantastic floor performance, capped off by the one-two punch of Ashley Hofelick and Lea Mitchell, scoring a 9.9 and 9.925, respectively. And not only did they score high, but those routines had some energy! Lea Mitchell was also crowned the all-around champion this weekend, bringing the team to 1-0 in the Big Ten.
Struggles on beam for Nebraska
The Nebraska Cornhuskers had their home opener against Penn State over the weekend. Coming off of some meets on atypical days the past couple weeks (a Monday and Thursday meet), the Cornhuskers finally landed back home to get into a usual meet routine.
Nebraska had some trouble this meet on beam. With a super talented beam team, this slipup seemed extremely unusual for them. Their talent has not gone unnoticed, though. And, let's be real, it's January. There is time to put it all together!
The Huskers shined on floor, however, posting a 9.85, two 9.875s, and two 9.9s, ultimately leading them to a win over the visiting Nittany Lions. Although I know the team will not be satisfied with a 195.15, there is a lot to be excited about regarding this Nebraska team. Specifically, keep your eye out for sophomore Addy de Jesus who won the all-around on Saturday and posted a 9.9 on vault. Her power and precision makes her one to watch this year in the Big Ten and NCAA.
Lauren Bridgens a bright spot for Penn State
The Penn State Nittany Lions don't look like they're gaining momentum by their scores, but their performances would prove otherwise. This year's squad comes in with a lot of talent on both the athlete and the coaching sides, with LSU rockstar Ashleigh Gnat joining the coaching staff. Her energy, added to that of Dallas Becerra and Sarah Shire Brown, completes the coaching dream team. With their lead, this team is gaining the right momentum as the weeks progress.
Lauren Bridgens led the team on both vault (9.85) and floor (9.925), making her one of the Penn State student-athletes of the week. Her 9.925 is a career-high on floor and her 9.85 on vault is a season-high. Really impressive work from Lauren this week.
We had a few career highs this past weekend, including this fantastic floor routine by @laurenbridgens! Join us at Rec Hall on Saturday to see more routines like this! #WeAre #ForTheRoar pic.twitter.com/OSAay62uYa

— Penn State Women's Gymnastics (@PennStateWGYM) January 22, 2020
A vault and bars title for OSU's Olivia Aepli
Ohio State headed to East Lansing last weekend to take on the Michigan State Spartans. Although ending the meet a few tenths behind MSU, the Buckeyes have a lot to be excited about. Senior standout Olivia Aepli was a shining star this weekend, winning the vault title and sharing the bars title with a 9.875 on both events. Her leadership on this team is sure to drive success and passion from the Buckeyes in the coming weeks.
Another highlight from this weekend was Claire Gagliardi's 9.9 on floor, 0.025 higher than her performance last weekend.
Although finishing behind Michigan State, the Buckeyes are building each week on their consistency, working toward peaking at the right time near postseason.
Maryland scores a season-best
Maryland shined at home against Iowa, specifically in their bars and floor rotations. The Terps put up a season-best 49.275 on both events, topped off by a massive 9.95 on bars from Audrey Barber! As if breaking a school record on bars wasn't enough for one meet, she heads over to floor and notches a B1G 9.925 there. Wow! The Terps came out on top with a 196.125, making them 1-0 in the Big Ten so far this season.
The Terps have fantastic potential and talent this year. Don't be too quick to count them out. They've got some exciting stuff going on.
Upcoming Big Ten action, live on FloGymnastics
Friday, January 24
Michigan vs. Rutgers 6:30 PM ET
Saturday, January 25
Maryland & Central Michigan @ Ohio State 4 PM ET
Illinois vs. Minnesota 7 PM ET
Sunday, January 26