2020 Big Ten Gymnastics
Lexy Ramler Ready For Another B1G Year At Minnesota
Lexy Ramler Ready For Another B1G Year At Minnesota
In just two seasons, Minnesota junior Lexy Ramler has already made incredible strides for her program.
Jan 13, 2020
by Miranda Martin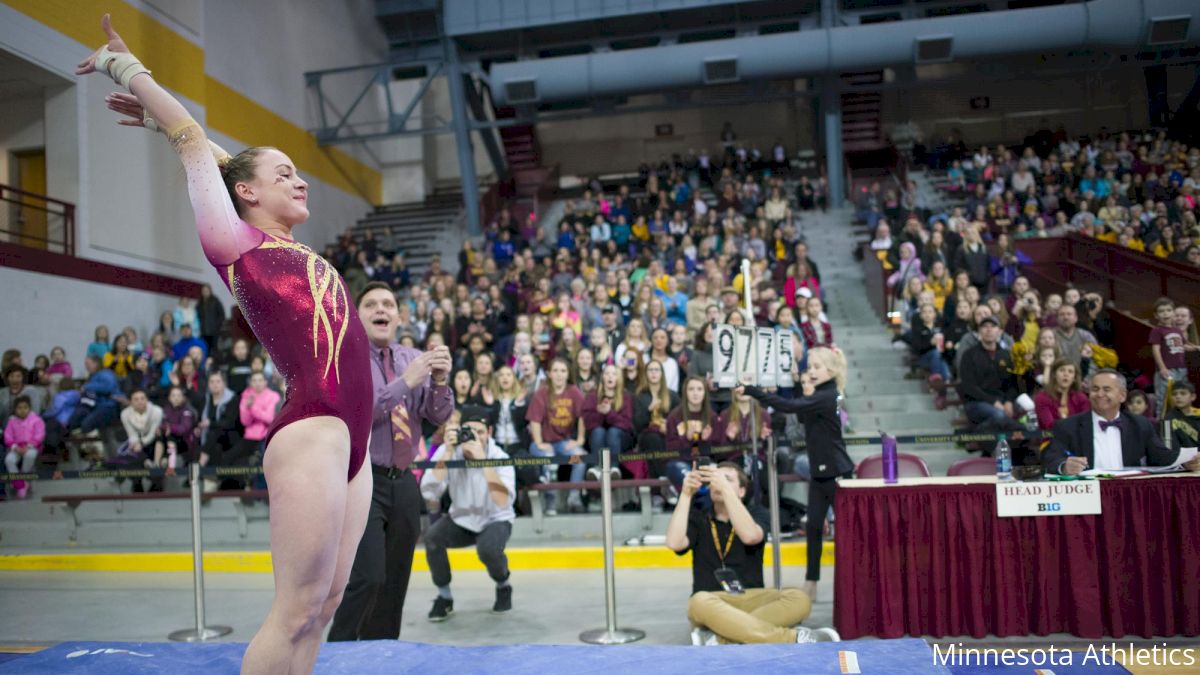 In just two seasons, Minnesota junior Lexy Ramler has already made incredible strides for her program. She is the first Gopher to be an All-American on all four events, she achieved the highest individual finish for the program since 1990, and she became highest-scoring all-around gymnast in program history. She's also achieved a lot individually winning the co-runner up spot at 2019 nationals for both all-around and bars, as well as being a Sports Minneapolis Women's Collegiate Athlete of the Year Finalist at the 2019 Minnesota Sports Awards.
In 2020, Ramler is working towards even more goals. FloGymnastics talked to the St. Michael, Minnesota, native about what she's excited for this season, how she's handling her success from last year's nationals, and what's next for the Gophers.
Watch Big Ten Women's Gymnastics on FloGymnastics. Check our event page for an up-to-date schedule of live-streamed meets.
---
FloGymnastics: FloGymnastics is streaming your upcoming home meet with Bowling Green, Ursinus, and Rutgers. What are you most excited about for this upcoming meet?
Lexy Ramler: That upcoming meet, I'm really just excited about just continuing with the team, just making memories and having fun, just being out there.
What are you looking forward to most about this season?
So, I just had a teammate join — a past teammate — Halle Remlinger, we've been teammates before, so really, this year, experiencing that together, and just being teammates again, just really getting excited to enjoy that with her, as well as just picking up from last year where we left off. We were so close last year, it just made us have a fire in our bellies to get ready for this year.
We could watch @LexyRamler on the uneven bars all day everyday!? pic.twitter.com/uAPnBCJT8E

— Minnesota Women's Gym (@GopherWGym) January 5, 2020
What are some of your goals as an individual competitor this season?
This season I definitely really want to get that perfect score. I've been working for it for a few years, and that would definitely be a huge goal to accomplish this year, but then also really just helping and encouraging my teammates as much as I can so we can be at nationals together and experience that incredible experience.
After getting three 10s from individual judges on beam last season, and reaching all the way up to a 9.975 score, so I can see why the perfect 10 is a goal for this year! What are some of your goals as a team this season?
We really just want to go after those Big Ten titles and earn that spot at nationals. We've been working really hard this season, we just want to see that come true.
How did it feel to compete at NCAA Nationals last season, finishing as co-runner up in the all-around with a 39.6625?
I still get kind of speechless about it, it's kind of hard to describe, but I definitely try to reminisce about it often, so it kind of feels real. It was overall just really incredible and unbelievable, and a humbling experience, and just, I really hold it dear to my heart. I'm really proud of how I was able to represent my home state, and just go out there and do my thing. It definitely gives me experience in my back pocket.
You're setting so many new records for Minnesota — how does it feel to be taking this team to new heights?
Absolutely unreal. A few incredible gymnasts have come before me, and some of them I've had the honor of meeting, and to be able to stand with them is honestly just really cool, and I'm really grateful to the foundation that they've created for us to follow.
What was your favorite moment from last season?
Last season, regionals I would say is definitely the highlight. That's something that I will never forget. The environment was absolutely just electric, you could feel the pressure on your skin, really we went out there as a team and just fought every single event. It was such a close meet, and to be there and to experience one of those deciding routines at the end, it was pretty cool, and just absolutely unforgettable.
What is the best part about competing for Minnesota?
There's so many good things — I guess just all of our supporters and just seeing them in the crowd, wearing the Maroon and Gold, it gives you that pride to compete. I really enjoy representing all this program stands for with our values as well as how we're led by our coaches and teammates. Mostly I just actually love Minnesota. Being able to compete for my home state, there's just so much pride, and I look forward to wearing the M and bleeding Maroon and Gold.
What are you most excited about for the rest of your junior year, whether its school or gymnastics related?
I'm already a junior, so that's kind of shocking! But really just enjoying every single moment that I can in the gym, and these two years left, really just to cherish every single moment, especially with this team.
What is your favorite class you're taking this semester, and why?
I've just recently found my major of Entrepreneurial Management and Human Resources, so this is kind of my first semester of being into that. So I'm really excited about that, and there's a whole class where you create your own product and build a business around it, so I'm very excited about that one.
Do you have any rituals or superstitions before you compete?
I mostly I try to stay away from those, but before a meet Ona [Loper] always gives me a hug right before, and then I have handshakes with Ivy Lu, so some of that stuff that I enjoy doing.