To begin the 2020 NCAA gymnastics season, the Penn State Nittany Lions are headed to the West Coast for the California Grand Invitational and Collegiate Challenge.
Collegiate challenge sessions will stream live here on FloGymnastics.
---
Penn State Nittany Lions
2019 Record: 10-9
2019 Final Ranking: No. 24
2019 Preseason Ranking: No. 27
2020 Preseason Ranking: No. 25
Gymnasts lost: Amber Autry, Sabrina Garcia, Mason Hosek, Jessica Jones, Gianna LaGuardia
Gymnasts gained: Amy Bladon, Bella Romagnano, Cassidy Rushlow
---
Despite losing over a third of last year's roster, the Penn State Nittany Lions needn't worry too much about trying to fill the holes in their lineups. No more than two routines were lost on any event, so they should be adding depth more than replacing routines.
On vault, the Nittany Lions have two openings left by Sabrina Garcia and Gianna LaGuardia. Their vault lineup last season was solid and consistent but didn't have any standout vaults. Garcia and LaGuardia both often scored in the 9.700-9.800 range. So as long as they have two solid Yurchenko fulls (or better yet, 10.0 vaults), they will at least make up for what has been lost.
Jessie Bastardi is the lone returning gymnast who competed vault (although she wasn't consistently in the lineup), so Penn State will likely look to its freshmen. Former Canadian elite Amy Bladon has a Yurchenko 1.5, so that will almost guarantee her a lineup spot, so long as she's healthy. Bella Romagnano placed in the top 10 on vault at the 2018 Ohio state championships, and Cassidy Rushlow won vault at the 2017 Massachusetts state championships, so they should contend as well.
Only one bar routine was lost from the Class of 2019 graduating, but it was one of the Nittany Lions' best. It was the anchor routine. Garcia never scored below a 9.800 on the event last season, not only making her a reliable competitor but one whose score always contributed. Last season, she earned five scores above 9.900.
Romagnano and Rushlow have demonstrated their prowess on bars as club gymnasts with Romagnano finishing in fourth on the event at the 2018 Ohio state championships and Rushlow finishing in the top 15 at J.O. Nationals and winning the event at state last year. It's unlikely they'll be able to replicate the high scores Garcia had as a senior, but the freshmen could certainly find their way into the lineup in an earlier spot.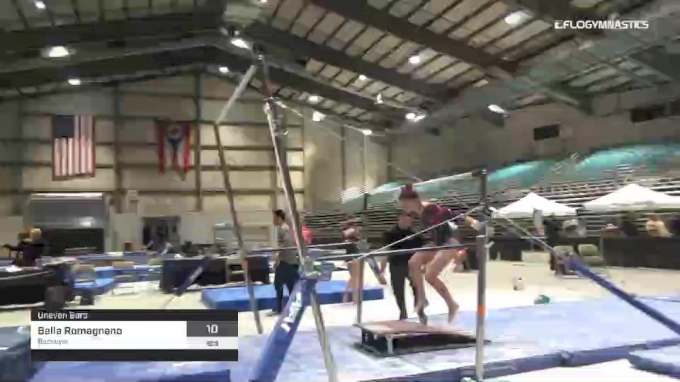 Unlock this video, live events, and more with a subscription!
Get Started
Already a subscriber? Log In
There are a few returning gymnasts who competed bars last season but not in every meet, putting them in good contention to perhaps compete the event more often this season.
Senior Erynne Allen competed on the apparatus during the first half of the season, and her scores fluctuated from 9.550 to 9.800. Junior Kourtney Chinnery made her way into the lineup toward the end of last season and was solid, although her postseason scores were lower than her 9.800-range regular season scores. Senior Kristen Politz became a lineup staple in the latter end of last season, scoring in the mid-9.700 to mid 9.800 range, Junior Ava Verdeflor competed bars through mid March, but her scores ranged from 9.625 to 9.850.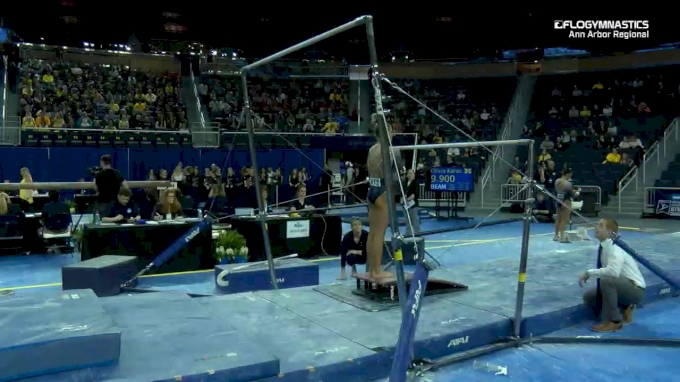 Unlock this video, live events, and more with a subscription!
Get Started
Already a subscriber? Log In
These returning gymnasts have all proven they can contribute good bar routines for their team. It's simply a matter of consistency.
Beam was an up-and-down event for Penn State last season with team scores fluctuating throughout the season. It lost one of its most solid beam workers upon the graduation of Mason Hosek. Fortunately for Penn State, sophomore Dymiana Cox should be returning from injury and has excelled on beam as a J.O. gymnast. Cox finished in the top 15 on the event at 2018 J.O. Nationals and was the silver medalist at the 2018 Region 7 Championships and the 2018 Pennsylvania state championships.
As for freshmen, Rushlow is the reigning Massachusetts state champion on beam and won silver at the 2019 Region 6 Championships. In terms of returning gymnasts who can contend for the open beam spot, Verdeflor competed beam in the second half of the 2019 season. She often competed in place of Garcia in the leadoff position and proved she could hit a solid routine to start the make-or-break event for the Nittany Lions.
Unlock this video, live events, and more with a subscription!
Get Started
Already a subscriber? Log In
Penn State lost two of its most important floor routines: the leadoff and the anchor. Hosek often competed first in the floor lineup while Garcia competed last. Whether Penn State will rearrange those who were already in the lineup or find a new anchor and leadoff, it needs at least two more floor routines.
Cox scored well on floor as a club gymnast, finishing in the top 10 at 2018 J.O. Nationals and winning bronze at the 2018 Region 6 Championships and 2018 Pennsylvania state championships. Her tumbling is powerful, her dance skills are precise, and she appears to compete floor with ease.
Unlock this video, live events, and more with a subscription!
Get Started
Already a subscriber? Log In
Rushlow was excellent on floor in her final season of J.O. and won gold on the apparatus at six straight meets, which was most of her 2019 season. She came in fourth at the Massachusetts state championships, won the gold at the Region 6 Championships, and was in the top 20 at J.O. Nationals.
Returning gymnasts in contention include Allen, who competed floor twice and earned a 9.800 at Big Ten Championships despite not competing in the event for months and senior Tess McCracken, who cracked into the lineup a few times in 2019 but was inconsistent. However, McCracken has shown she's capable of a 9.850 floor routine. Regardless, it appears Penn State should have no trouble on floor and is adding depth on the event.
Leading the Nittany Lions and likely to appear in all lineups is junior Lauren Bridgens. She competed in all meets last season except for one and has scored a 9.900+ on every event but floor, where her career high is a 9.875. Her best event is bars as she earned a perfect 10.0 in 2018, marking the program's first perfect score on the apparatus.