Eight collegiate teams will make their season debuts on Jan. 4 at the 2020 California Grand Collegiate Challenge, co-hosted by Gold Medal Gymnastics and Coastal Gymnastics Academy.
The gymnasts will be spread out across two sessions, so make sure to tune in to both meets live on FloGymnastics. Session 1 will be a fight between fourth-ranked Denver, ASU, Auburn, and Penn State at 1 p.m. PT, while Session 2 will pit the defending champion Oklahoma Sooners against third-ranked UCLA, Cal State, and Stanford at 6:30 p.m. PT.
Some of the nation's top collegiate talent will be competing in the dual-session meet, including 10 highly anticipated freshmen who will be looking to make a name for themselves in the NCAA arena. The class includes former Olympic alternates and Nastia Liukin Cup finishers, so make sure to keep an eye on them once the competition gets started.
Amoree Lockhart – Denver
The freshman from Fort Worth, Texas, promises to make a strong impact for the Pioneers. Lockhart has been a fierce competitor since 2015, when she placed third on floor and fourth in the all-around at the Nastia Liukin Cup. She then went on to win the all-around at the 2016 J.O. Nationals, earning a spot on the J.O. national team. Most recently, she tied for third-place on beam and ninth in the all-around at the 2019 J.O. National Championships.
Lockhart is especially strong on beam and floor. This summer she trained a triple series, front aerial, and a double back dismount off beam, and on floor she trained a tuck full-in, rudi back layout step out, and a front tuck through to double tuck. With these skills and her ability to perform well in competition, Lockhart promises to shine at the upcoming Challenge.
Hannah Scharf – Arizona State
Former Canadian elite Hannah Scharf is another freshman to watch at the Challenge. She placed 10th in the all-around at 2018 Elite Canada, where she also competed on bars in event finals. Scharf went on to have a successful 2019 season, taking home the bronze for Team Ontario at the 2019 Canada Games.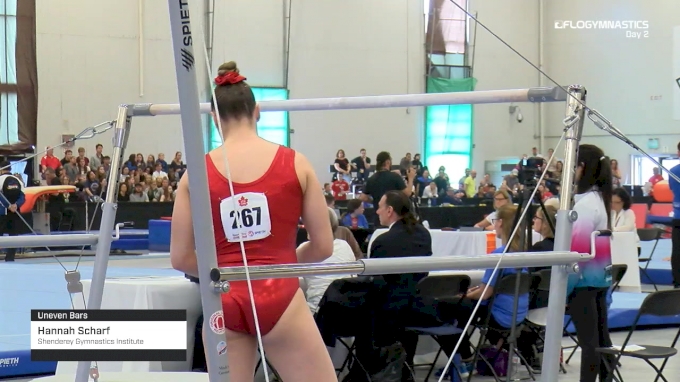 Unlock this video, live events, and more with a subscription!
Get Started
Already a subscriber? Log In
Pay particular attention to Scharf on bars where she really stands out. Scharf is capable of competing several E-value releases, including a toe-on Tkatchev piked (Church), Shaposhnikova half (Khorkina), and a piked Jaeger. With that many routine possibilities, it will just be a matter of selecting the right combination of releases to maximize her scoring potential. Scharf could really excel on the event for the Sun Devils, so make sure to catch her bar routine during the meet.
Amy Bladon – Penn State
Amy Bladon is another former Canadian elite gymnast who will make her season debut at the California Grand Challenge. She finished just behind Scharf in 12th place at 2018 Elite Canada and won the all-around at the 2017 Ontario Provincial Championships.
Bladon's specialty is the vault, where she has collected several titles over the years. Her Yurchenko 3/2 will be an asset for the Lions, who will be looking to put up as many 10.0-start value vaults as possible to keep up with some of the higher-ranked teams. If Bladon can compete a clean Yurchenko 3/2, she will be vying for a top finish on the event.
Aria Brusch – Auburn
There are three standout Auburn freshmen to watch during this session, and Brusch is one of them. The three-time U.S. Championships qualifier finished third on floor and seventh in the all-around at the 2016 U.S. Classic, outcompeting several current Olympic contenders. Brusch regularly scored above a 38 in the all-around last season, and took home the bars title with a sky-high 9.9 at the 2019 J.O. National Championships.
Unlock this video, live events, and more with a subscription!
Get Started
Already a subscriber? Log In
Brusch's routines were all up to NCAA standards last year in both difficulty and execution, meaning all she needs is a little fine-tuning and she should be extremely competitive on every event this season. Expect a clean Yurchenko full on vault, and a bar routine with some combination of a Maloney, overshoot handstand, and a double layout dismount. Brusch is also solid on beam and a powerhouse on floor; last year she competed a double pike, 3/2 punch front layout, and a double tuck.
Cassie Stevens – Auburn
Cassie Stevens excels in competition. This four-time Nastia Liukin Cup qualifier is coming off of a stellar 2019 season, where she placed first on vault and beam at the Arizona state championships with a 9.95 and 9.975, respectively. Over the years she has collected four state all-around titles and two J.O. National Championship vault titles.
Stevens' ability to perform in competition should make her an asset for Auburn this season, especially on the vault. In addition to her two national vault titles, Stevens has notched a 10.0 on this event three times in her JO career—a good sign moving into NCAA, where perfect scores are much easier to get. Expect a solid Yurchenko 3/2 from the freshman in her debut meet.
Molly Frack – Auburn
Molly Frack redshirted last year, meaning this will be her first season competing for the Tigers. A Parkettes alum and former junior elite, Frack has performed at major competitions including P&G Championships, U.S. Classic, and the American Classic, before she dropped back to level 10 in 2015. In 2016, Frack finished first on bars and second in the all-around at the Pennsylvania state championships before competing at regionals, where she placed second on floor and fourth in the all-around.
This meet will be big for Frack, who hasn't competed since 2016. If she can harness her elite experience and perform with confidence, Frack could be a key player for Auburn, with potential to make the lineup on all four events. It'll be interesting how she'll handle her return to the competition floor.
Ragan Smith – Oklahoma
We'd be remiss not to include Ragan Smith in this discussion of about incoming stars, since Smith might just be the most well-known NCAA freshman this 2020 season. The 2016 Olympic alternate has garnered dozens of accolades over her seven years competing at the elite level, four of which were spent representing Team USA at international competitions.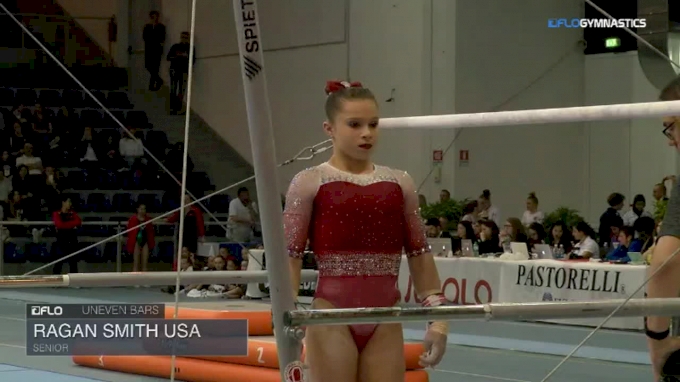 Unlock this video, live events, and more with a subscription!
Get Started
Already a subscriber? Log In
This meet represents more than Smith's NCAA debut — it will be her first time competing at the non-elite level, ever. While this may take a little adjustment, Smith is likely to follow in the footsteps of other superstar elite gymnasts who went on to dominate in the NCAA, including her teammate, senior Maggie Nichols. Smith will almost certainly be competing in the all-around, and it wouldn't be surprising if she was a top finisher at the upcoming Challenge.
Kalyany Steele – UCLA
Another promising freshman is Kalyany Steele, a former Colorado Aerials gymnast who won level 10 states in the all-around and on vault in 2016 before turning elite two months later. Steele went on to compete in the 2016 and 2017 P&G Championships and finished third in the all-around and eighth on beam at the 2017 U.S. Classic.
Steele offers a solid amount of difficulty on each event, which will help her fit in with this all-star Bruins team. She hasn't competed since 2017, so it's hard to gauge where Steele is right now in terms of fitness and skills, but she will certainly give other competitors a run for their money if her routines look anything like they did in elite.
Jade Chrobok – Stanford
Jade Chrobok is the third and perhaps most impressive former Canadian elite gymnast set to make her collegiate debut at the Challenge. Chrobok has medaled at major international competitions, including two Pan Am Championships and two Jesolo Trophy competitions. Last season she placed 12th at International Gymnix and fifth at Elite Canada.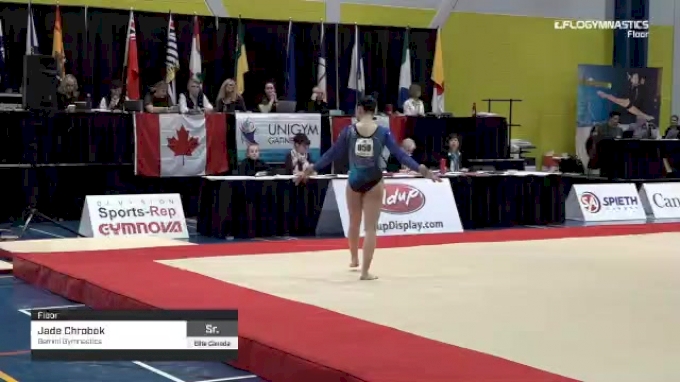 Unlock this video, live events, and more with a subscription!
Get Started
Already a subscriber? Log In
Chrobok should be a strong contender on every event. She has a little bit of everything — form, difficulty, style, experience — making her the perfect storm for NCAA competition. Hopefully Chrobok will bring some of her more unique elements to college gymnastics, like her double front dismount off bars and whip-whip-bhs-bhs double tuck on floor.
Nevaeh DeSouza – California State
Last but certainly not least, Nevaeh DeSouza, a standout level 10, should make a huge impact for the Cal State Bears. After a year of elite in 2014, DeSouza returned to J.O. competition, qualifying for the Nastia Liukin Cup in 2016 and 2017. She placed fourth in the all-around at level 10 J.O. Nationals in 2018 and tied for 10th in 2019.
DeSouza should help the Bears on all four events, but vault is where she really shines. She scored a 10.0 on her Yurchenko 3/2 last season and will be looking to repeat that performance again soon. Last season DeSouza also competed a signature skill on beam — a front aerial to scale — that would really stand out in the NCAA arena.