Italy, Tang Xijing & Angelina Melnikova Made Big Statements At 2019 Worlds
Italy, Tang Xijing & Angelina Melnikova Made Big Statements At 2019 Worlds
Team Italy, Tang Xijing, and Angelina Melnikova are among the teams and gymnasts you should keep an eye on in the leadup to the 2020 Tokyo Olympics.
Nov 6, 2019
by Sophia Scazzero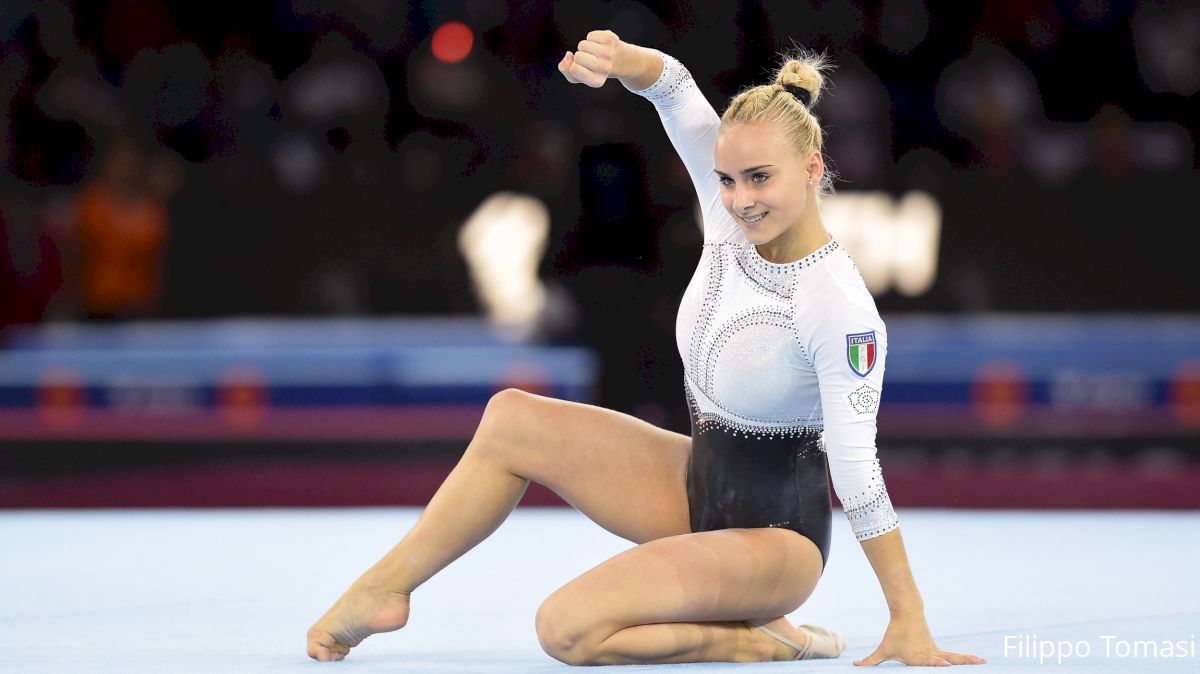 Tokyo 2020 is coming, and while the USA team is dominating the world stage and getting the hype it deserves, it's worth taking a look at the U.S.' top competitors. The 2019 World Championship held in Stuttgart, Germany, Oct. 4-13, gave us a preview of which other athletes and teams we should look out for at next year's Olympics.
The big upset of the competition was Team Italy, which took the bronze medal in the team all-around final. There were also two individual standouts besides the USA's Simone Biles, second- and third-place individual all-around finishers Tang Xijing of China and Angelina Melnikova of Russia.
Let's start with Italy. Italy placing third is WILD. The last time Italy medalled at worlds was in 1950, when it took bronze. Historically Italy has been fairly out of the picture when it comes to team medals. The sport has been dominated by the USA, Russia, and China, with 20 of the possible 21 World and Olympic medals won by those three countries in the past decade. Italy has had some inklings of becoming a contender, such as when it placed fourth as a team at worlds in 2007, but had never finished as high since.
The country mostly found success in its star gymnast Vanessa Ferrari, who won the all-around gold at worlds in 2006 and qualified for the individual all-around final at the Beijing, London, and Rio Olympics, and the floor finals in London and Rio. Despite her massive individual success, Italy as a team has never really been direct competition to the established order of USA, China, or Russia.
But all that changed this year's in Stuttgart. Italy's young roster of Desiree Carofiglio, Alice D'Amato, Asia D'Amato (yes they're twins! Everything about this is wild!), Elisa Iorio, and Giorgia Villa made history by winning Italy's first world medal in 70 years. How did Italy pull off this status-quo shakeup?
It started in 2018, when Italy had a strong showing at the City of Jesolo Trophy competition on home turf. The senior team placed third overall with a 161.33 behind USA (166.798) and China (165.201). However, despite this promising showing, Italy struggled at the 2018 worlds a few months later in Doha. The Italians failed to make the top eight teams in women's final and none of the women qualified for event finals. Only two of the gymnasts from the Jesolo roster, Lara Mori and Martina Basile, also made the worlds roster. Neither were on this year's roster.
The secret to Italy's recent success lies with their young talent, bursting onto the scene just in time for the 2019 worlds and 2020 Olympics. Italy's 2019 worlds roster was made of entirely fresh faces, most of them plucked from Italy's strong 2018 City of Jesolo juniors team. That group won team final gold in Jesolo, and in the individual all-around finals, Italian gymnasts took the second, fourth, and fifth spots. Giorgia Villa won second place with a 45.53, and Elisa Iorio and Asia D'Amato took fourth and fifth place in the all-around, respectively. Iorio, D'Amato, and Villa all made the 2019 world's roster and are a huge part of why that team was such a success.
Italy started off on the right foot with a strong rotation on floor, and the team carried that momentum with it the rest of the competition. China had a rough rotation on bars, and the Italians were able to overtake them in the last few rotations. Italy's final rotation was on beam, trailing second-place Russia by only 13.66 points with one gymnast to go, and with China behind by more than 15.00, a bronze medal for Italy looked likely. Iorio anchored the team on beam and scored a 11.933, officially securing the bronze. This is a historic medaling for Team Italy, and it should be exciting to see what this young team can do come the Olympics in 2020.
For the individual competition, it's no secret that Simone Biles broke all sorts of records at 2019 worlds. She debuted her two new skills in international competition (a triple-double on the floor exercise and a double-double off the balance beam), meaning they are now officially named after her and in the code of points. Biles also became the only woman to win five world all-around gold medals. Her total score of 58.999 blew the competition out of the water. None of this was a surprise, and while Biles continues to dominate the world of gymnastics, there are still two other spots on that podium.
The second- and third-best gymnasts in the world right now are Tang Xijing and Angelina Melnikova. While they may not have a shot at beating Biles, they are still forces to be reckoned with.
Tang Xijing was a bit of a dark horse going into this competition. She wasn't originally slated to compete in the all-around final, as she qualified third among China's gymnasts, with the final only allowing two gymnasts per country. But she was drafted last minute as a replacement for her teammate Liu Tingting, who had a rough performance in the team final, falling twice.
Tang is just 16, fresh on the elite senior competitive circuit, and she made the most of the opportunity. She scored a high 14.600 on beam, an event where she may be able to give Biles a run for her money, scoring just .033 behind Biles' score of 14.633. Her routine is stacked with gorgeous elements, such as a round-off/back layout/step-out mount and a round-off two-foot layout series. She finished the meet with a clean floor routine and an overall score of 56.899.
Tang became China's first all-around medallist in eight years, and her final score of 56.899 sets a new record for a female Chinese gymnast. Biles may have won the gold by an impressive margin, but that still makes Tang the second-best gymnast in the world right now, and that's not a small feat by any means. If the only person better than you is the actual Greatest Of All Time in your field, that's not a bad place to be.
Melnikova, 19, is more of a familiar face, as she has been a staple on the elite circuit for quite some time. She helped Russia win the team silver medal at the 2016 Olympics and is the reigning 2019 European Games all-around and uneven bars champion. Given her immense success in the past three years, it is not a surprise that she medaled this year in Stuttgart.
Melnikova had a bit of a quirky start to worlds, with her bun coming loose during her floor routine in the qualifying rounds. It doesn't seem too dramatic, but trying to perform high-level tumbling with hair whipping at your back or poking you in the eye is less than ideal. She was a pro and carried on with her routine, qualifying for the individual all-around and floor event final and placing third in both. She also performed one of her best beam routines, which finished with a beautiful round-off double-pike dismount, and scored a 14.000. She concluded the meet with an all-around score of 56.399.
All in all, worlds showed off the best of the best in the sport, and gave us a taste of what great competition is to come next summer. Let's get hyped for Tokyo 2020!