The 2019 Guimarães World Challenge Cup will run from Sept. 19 until Sept. 22. This four-day competition is set in Portugal and will stream on FloGymnastics for PRO members based in Canada during the two final days of competition.
This World Challenge Cup directly follows the 2019 Paris World Challenge Cup. The series began with three back-to-back competition weekends in May, then took a break until Aug. 30, where it has run for four back-to-back weekends now, this competition being the latest in the series.
Both men's and women's senior gymnasts will compete this weekend, although there will be no junior category. This is an FIG artistic gymnastics event that comes before the 2019 Stuttgart World Championships, a huge event in the gymnastics world this season.
Here are a few gymnasts to keep an eye out for in Guimarães.
Sophie Marois (Canada)
A member of the Canadian senior national team since 2017, Marois is competing all four events at the 2019 Guimarães World Challenge Cup and will likely perform well there. In 2018, she helped Canada take fourth as a team at World Championships and fourth as a team at the Senior Pan American Championships. At Pan Ams in 2018, she also took seventh on vault. At her last World Challenge Cup she did well, taking sixth on vault and 10th on both beam and floor in Cottbus, Germany, in 2017. Now Marois is back and will look to help Canada gain some more medals at this meet.
Ana Derek (Croatia)
Competing on beam and floor this meet, Ana Derek is coming back during this WCC series to try and win another title. She took gold on floor at Osijek and could potentially win that event again at this competition, as well as place on beam. She also snagged gold on floor at the 2018 Baku World Cup and bronze in 2017 at the Doha World Cup. Derek is best known for accidentally running over the vault table and competing the "easiest vault of all time" in the 2016 Olympics, but has regained her claim to fame from her many great performances in recent years. The 2019 Guimarães World Challenge Cup could add her latest medal to her collection if she performs well this weekend.
Paula Mejias (Puerto Rico)
Coming off of a silver on floor at the 2019 Melbourne World Cup, Mejias is competing for Puerto Rico on vault, bars, and floor this weekend. The 25-year-old gymnast has been on the top of her game so far this season, taking gold on vault at the Pan American Games and bronze all-around at the Puerto Rican Championships, where she also took silver on bars and floor. The powerful events, such as vault and floor, are her strong suit, proven as she placed gold on vault in 2016 at the Ljubljana World Challenge Cup and gold on vault and floor in 2015 at the Osijek World Cup. Having been around for so long, this gymnast knows how to calm her nerves and stay consistent, something that will help her this weekend.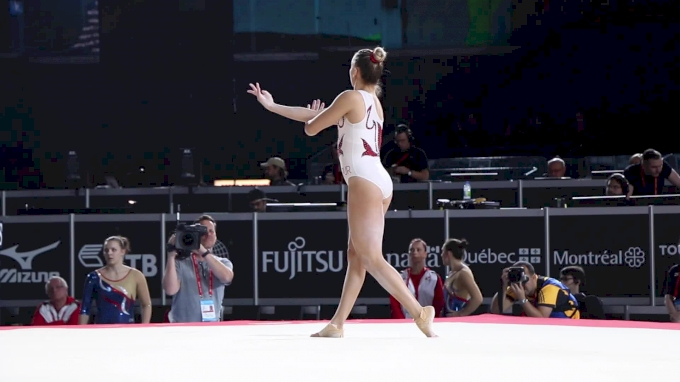 Annika Urvikko (Finland)
Finland's Urvikko is another contender for all-around this weekend, as she is competing all four events. She has had a successful season so far, taking gold on vault at the Finnish Championships and silver on vault at the European Games Test Event. She has previously placed in World Challenge cups on vault and bars and will look to secure her first all-around podium finish this weekend.
There are many strong gymnasts competing this weekend. For a full nominative roster and other event information, look here.