2019 Cluj Napoca World Challenge Cup - Rhythmic
USA A Strong Contender At Cluj Napoca Rhythmic World Challenge Cup
USA A Strong Contender At Cluj Napoca Rhythmic World Challenge Cup
Located in the city of Cluj Napoca, Romania, the Cluj Napoca World Challenge Cup is coming up this weekend!
Aug 19, 2019
by Miranda Martin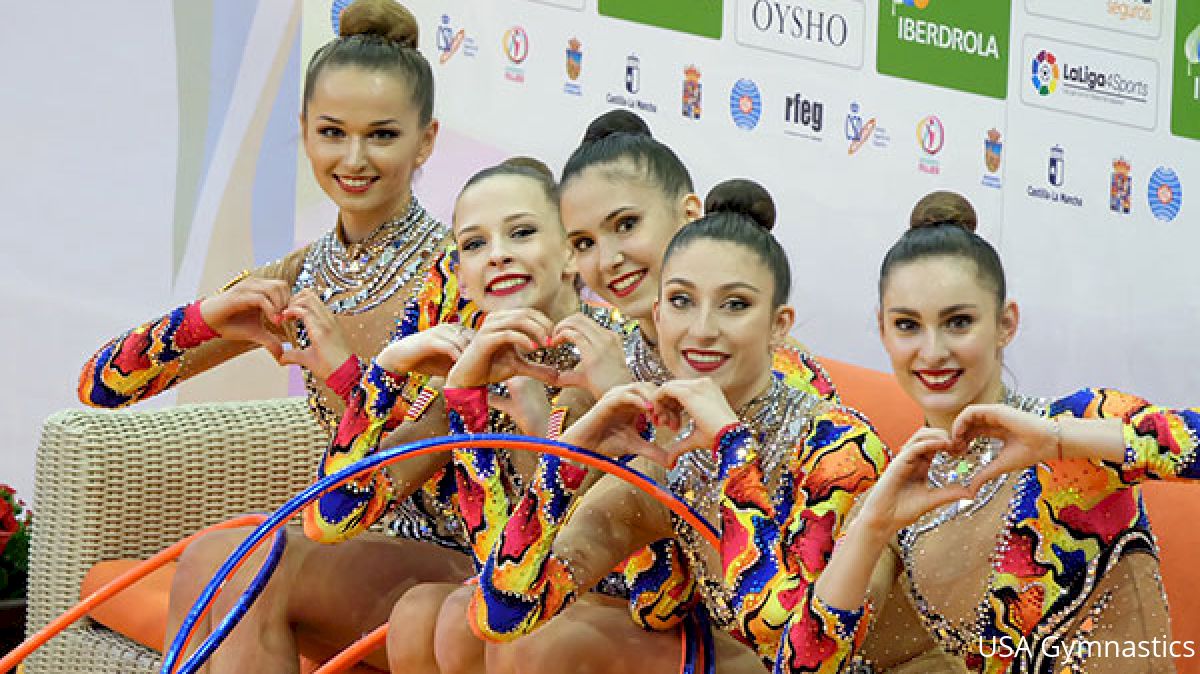 Located in the city of Cluj Napoca, Romania, the Cluj Napoca World Challenge Cup is coming up this weekend! FloGymnastics is live streaming it Aug. 23-25, and the rhythmic competition will be an elegant, beautiful sight to see.
This competition is an important one, as it comes before the World Championship Qualification at the Tokyo 2020 Olympic Games. More than 40 individuals and more than 10 groups will compete from 25 different countries, making it a huge competition for rhythmic gymnasts.
Let's take a look at some of the top countries likely to do well in this competition, both their individual and group routines.
UNITED STATES
The U.S. has greatly improved its rhythmic competitive status in recent years, taking more medals than before and showing it has gymnasts who are ready to get on the podium. The U.S. team showed this recent improvement at the Pan American Games in Lima, taking all five individual titles.
Camilla Feeley is one to watch on Team USA after winning individual clubs, silver all-around, and bronze in both hoop and ball. Evita Griskenas is also an individual star, winning four golds in all-around, ball, hoop, and ribbon. Griskenas also has made it to most of the final rounds in both of the World Cups so far, getting to four out of five finals in Bulgaria and Italy. The U.S. is sure to do well in group as well, after taking silver all-around and in 5 balls in Lima.
RUSSIA
Russia is always on top in the rhythmic gymnastics world, taking many competitions head-on and the Cluj Napoca World Challenge Cup will likely be no different. Last weekend at the Minsk World Challenge Cup, Russia dominated both the individual and group competitions. Dina Averina got four golds and one bronze, and Arina Averina got four silvers and one bronze. Dina took first all around, while her sister Arina took second place, sweeping the top of the podium.
Arina is also the reigning European champion, as she holds the 2018 European Championships individual all-around title, bringing a lot to the team. Dina also brings a lot of experience, as the two-time world and Russian all-around winner. Russia also took first in the group all-around competition in the Minsk World Challenge Cup last weekend, scoring a 59.050 over second place's 57.650.
BULGARIA
Bulgaria placed in all three group competitions at the Minsk World Cup last weekend, making them a strong contender for this upcoming weekend. This country placed first in 3 hoops and 2 clubs, second all-around, and third in 5 balls. No other team at the competition placed in all three categories, showing Bulgaria's strength as a group.
In the all-around competition, Bulgaria trailed Russia by 1.400, showing potential to improve in this upcoming competition. Bulgaria has shown its strength as a group in other competitions this year as well, winning first in 4 clubs and 3 hoops at the Pesaro, Baku, and Guadalajara World Cups and taking silver in Sofia.
ITALY
Italy's has a few strong individual contenders in the rhythmic world, including Alexandra Agiurgiuculese and Milena Baldassarri. Baldassarri just placed in the Minsk World Cup, which was especially impressive because only four individuals took all of the podium places at this competition. She placed third in ribbon, showing her skill on that event.
Agiurgiuculese is a two-time World Championships medalist, was part of the Italian bronze medal team at the 2018 World Championships, and took bronze individually for ball at the same competition. Because of her strong competitive past, she may be able to help Italy this coming weekend.