2019 U.S. Championships
High-Stakes US Championships About To Begin
High-Stakes US Championships About To Begin
U.S. Championships starts this Friday, and the elite gymnastics world is heating up for this meet.
Aug 7, 2019
by Miranda Martin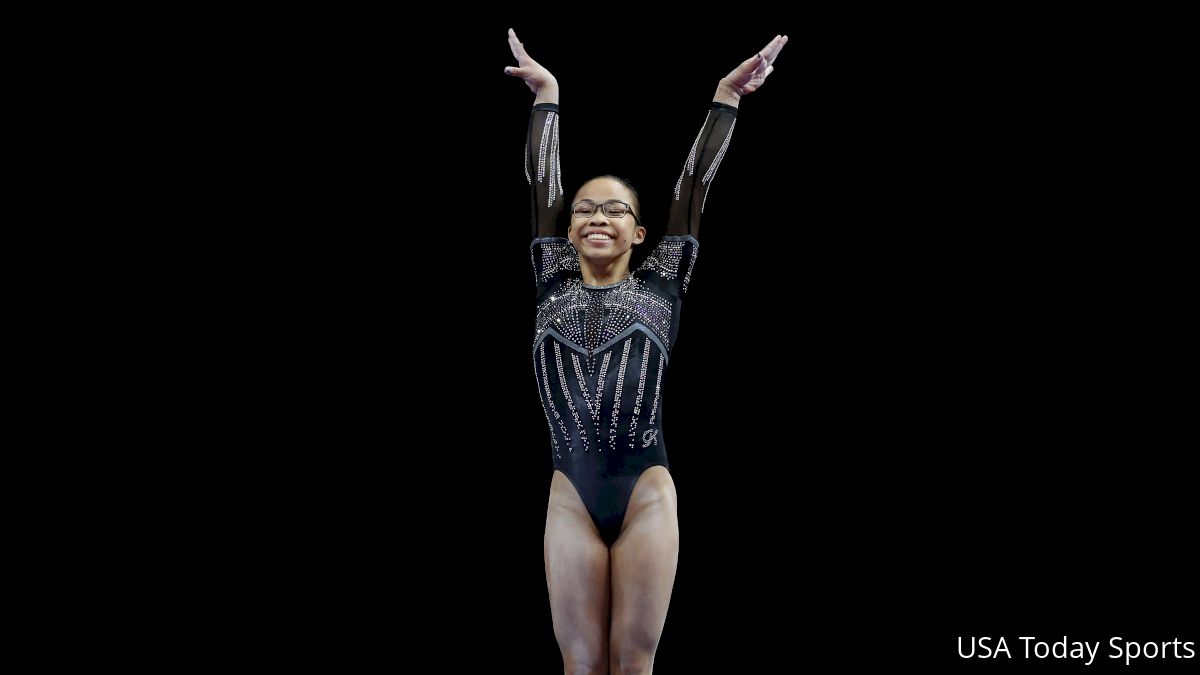 U.S. Championships starts this Friday, and the elite gymnastics world is heating up for this meet. Fresh off the U.S. Classic and Pan American Games, many of this country's elite gymnasts are amping up their routines to compete at Championships.
The U.S. Championships will take place at the Sprint Center in Kansas City, Missouri, with the men's competitions on Thursday and Saturday and the women's on Friday and Sunday. On all four days the juniors compete at 1 PM CT and the seniors compete at 6:30 PM CT.
Simone Biles is going for her sixth senior U.S. all-around title, a feat which would make her only the second woman ever to win six U.S. all-around titles, but she's not the only incredible gymnast competing this weekend. There are 17 total women competing as seniors, and 29 women in the junior division. A complete list of all the competitors can be found here.
In the senior division, all five Pan American Games team members will compete alongside Biles. This will be a tough transition for these gymnasts, as they had just one week between the two competitions, but these fierce competitors will surely still do well at Championships.
Kara Eaker, perhaps best known for being a 2018 Worlds gold medalist, had a great showing at Pan Ams. She contributed to the USA winning team gold, and individually she took first on beam, second on floor, and placed fourth all-around.
Riley McCusker has also done well in recent meets, taking second all-around at Pan Ams, as well as first on bars, third on beam, and fifth on floor in event finals. McCusker was also on the 2018 Worlds gold-medal-winning team and is no stranger to competing on a large stage with lots of pressure.
Eaker and McCusker were the stars of the Pan Am Games, but Morgan Hurd is also slated to compete well at U.S. Championships. Hurd watered down her routines slightly for both the U.S. Classic and Pan Ams. She and her coach are known for saving her body and knowing how to pace herself—after all, Hurd's ultimate goal is the 2020 Olympics. The 2017 all-around gold medalist at World Championships has been consistent for many years, someone who is known to consistently hit each meet. We will have to wait and see if Hurd competes her newest upgrades or plays it safe with watered-down routines again this meet, but either way, Hurd is likely to be a strong competitor to look out for this weekend.
Two more Pan Am Games participants, Aleah Finnegan and Leanne Wong, will also compete in the senior division at Championships. Finnegan is the 2019 Gymnix International vault champion and helped the USA win gold at Pan Ams this year, and Wong, the 2019 American Cup champion, took second on bars during event finals at Pan Ams.
Other gymnasts to watch are Sunisa Lee, Sloane Blakely, Jade Carey, Shilese Jones, Grace McCallum, MyKayla Skinner, and Jordan Chiles. Skinner just announced that she is deferring her senior season at Utah in hopes of making the Olympic team, and she is getting serious about her return to elite gymnastics until then. She was the Olympic team alternate in 2016 and is a three-time Worlds medalist. So far in her return to elite competition, retractors have criticized Skinner's form, and Championships will be a great place to show improvement in that department.
McCallum, a member of the team that won gold at Worlds last year, is known for her consistency. She just placed third in the all-around at the U.S. Classic, and she will try to get on the podium again this weekend. Sunisa Lee has exploded in 2019, winning the all-around title at the 2019 Jesolo Trophy competition. Shilese Jones, a member of the gold-medal-winning team at Jesolo, and Sloane Blakely, who won the team title at this year's Gymnix International meet, have also had success in 2019.
The juniors field at the 2019 U.S. Championships features a ton of depth and talent. Within the group of 29 gymnasts, there are quite a few who could do spectacular in this competition, however, we will just highlight a few.
Ciena Alipio has been successful so far in 2019 as a part of the USA juniors team that placed second at Jesolo. She also got second on beam, third on vault, and eighth all-around. She took first all-around and on bars and second on beam at the American Classic, and most recently took second on beam and fifth all-around at the U.S. Classic. Alipio will be a senior during the Olympic year and could potentially make the team, so she has a lot at stake in this elite season.
Two other juniors, Kayla DiCello an Olivia Greaves, will become seniors in 2020 and therefore be eligible for a spot on the Olympics roster. DiCello has performed well in 2019 so far, taking first on vault, third as a team and on beam, fourth all-around, sixth on bars, and seventh on floor at Junior World Championships, showcasing her depth as an all-around gymnast. She competed at Jesolo Trophy this year as well and contributed to the team score. Most recently, she tied for third on bars and placed seventh on vault at the U.S. Classic. Greaves competed in 2019 at the Gymnix International meet, taking first as a team, second all-around and on vault and floor, and fifth on bars and beam. She also placed first on bars, third all-around, and tied for fourth on beam at the U.S. Classic.
Three other juniors to keep an eye on are Sydney Barros, Skye Blakely, and Konnor McClain. Barros competed alongside DiCello at the Junior World Championships, helping the U.S. place third as a team and individually taking fifth all-around and on vault. She racked up the awards at the U.S. Classic as well, taking second all-around and on floor, tying for third on vault, placing third on beam, and tying for sixth on bars.
Skye Blakely is known for beautiful bars, great power in tumbling, and good form. Her top scores this season a team third at Junior Worlds, as well as fourth on bars and fifth on floor; first as a team at Gymnix, as well as first on vault and bars and third all-around; and first on floor, second on vault, and fourth all-around at the U.S. Classic.
McClain is known for her strong DTY vault and her huge improvement within the last few years. Her achievements so far this year are taking first all-around at Jesolo Trophy as well as first on vault, second as a team, third on bars and floor, and sixth on beam. She also recently took first all-around at the U.S. Classic, turning heads by placing first on vault and beam and taking fourth on floor. McClain is a junior who has the star power gymnasts need to stand out, and she will certainly capture the hearts of many this weekend in the junior competition.
The U.S. Championships aren't only important because they crown a winner as the national champion and determine the USA national teams for both juniors and seniors. This competition is also a part of the selection process for the 2019 World Championships in October, and all these competitors want to represent the USA there. Many former U.S. Championships winners have gone on to do other big things in the sport, including Jordyn Wieber, Shawn Johnson, Shannon Miller, Courtney Kupets, Nastia Liukin, Dominique Dawes, Carly Patterson, and Mary Lou Retton. It will be a tough competition this weekend, with lots at stake.