Fueled By Fruit Snacks, Kiya Johnson Wins JOs Title
Fueled By Fruit Snacks, Kiya Johnson Wins JOs Title
FloGymnastics interviewed Kiya Johnson about her experience at her senior year J.O. Nationals and her upcoming NCAA debut for LSU.
May 25, 2019
by Miranda Martin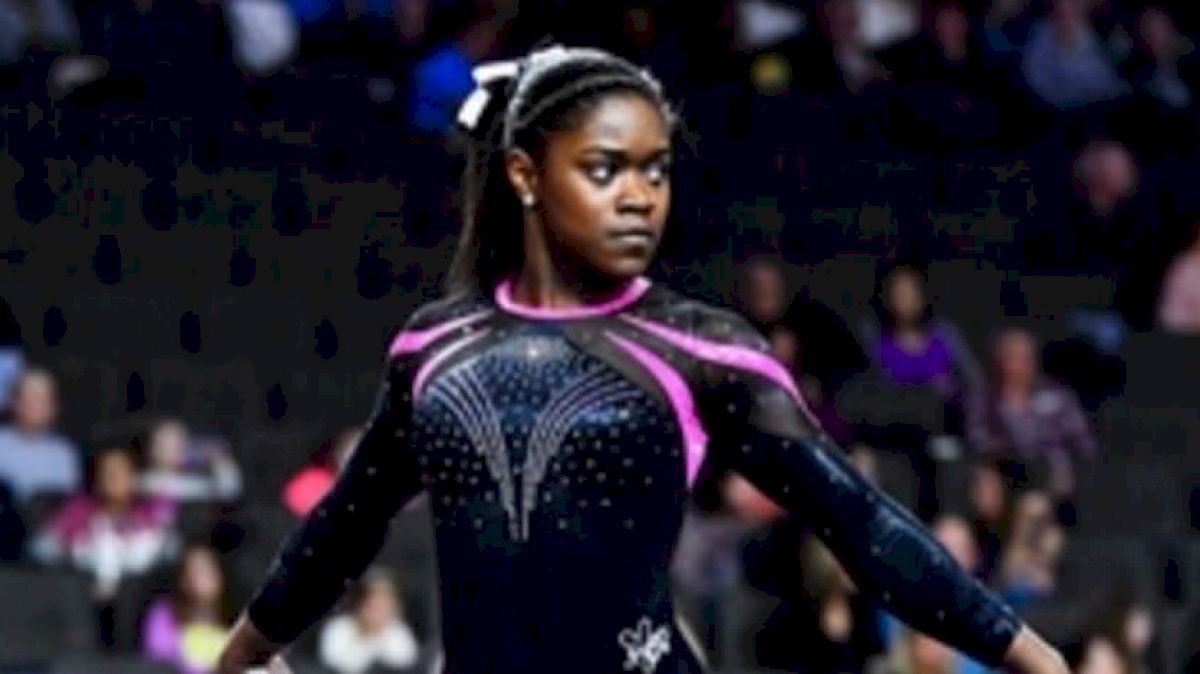 FloGymnastics interviewed some of the J.O. Nationals winners from last weekend's competition, and one of those gymnasts is Kiya Johnson. Johnson competes for Texas Dreams gymnastics and took first all-around in the Senior C category.
She combined her first-place floor score of a 9.850, first place on beam with a 9.775, second on vault with a 9.900, and bars score of 9.750 where she tied for fifth to get a 39.275 all-around, and it was enough to win her the title.
Johnson is a 2019 high school graduate, making the 2019 nationals her last club competition ever. Next year she is headed to LSU, and is excited to kick off the next phase of her gymnastics career.
FloGymnastics interviewed her about her experience at her senior year nationals, her upcoming NCAA debut, and her feelings about being done with club gymnastics.
---
FloGymnastics: What were your emotions going into nationals this weekend?
Kiya Johnson: They were kind of all over the place, honestly. I was excited to compete at my last one, but also sad, with it being my last meet with Region 3, with Kim, but overall, they were just all over the place.
Did you have any expectations or goals for the competition?
Not specifically gym-wise, I kind of just wanted to have fun and enjoy the moment with my team and my coaches.
You tied for first place at 2018 nationals. Did you feel a pressure to live up to that?
No, I just wanted to go in and have fun. I obviously wanted to do my best, but I wasn't focused on the scores or awards or anything.
Were you happy with how you performed at this meet, or were there things you would change if you could go back?
Yes, I was very happy with how I did. I had some bar warm-up routines in the practice day and before competing that were a little better than the one I competed, so if I could change anything, it would be probably bars.
How did it feel to take first not only all-around, but on beam and floor as well, especially as this is your senior season?
It felt really good. I knew I had a great meet, but I saw that everyone did as well, so whenever I found out I won, that felt great.
What is the most difficult event for you to compete, and which is your favorite to compete?
I would say bars is the most difficult for me to compete because I kind of just like to get things done, and I don't really swing so it's hard for me to get to handstand and actually show lines, so that's the hardest for me. I would say vault is the most fun.
What was your favorite memory from your senior season?
I would say the meet in Florida, I forgot what it's called... The Presidential Classic, I think is what it's called. That was the most memorable moment because it was just a fun meet with my team, everyone was having fun, no one was really stressed, it was just overall a fun meet.
Do you have any silly rituals or superstitions you do before a competition?
I always eat two fruit snacks, the Welch's Fruit Snacks before I compete.
How did it feel to take home first all-around in your age group and see your club teammate Chloe take home all-around champion in her age group?
That was awesome! I didn't actually get to stay and watch her meet, I had to fly back home. But I just think it was so cool for us to both do that, being from the same gym and both being seniors, we worked really hard to get through this season and kind of got each other through it, so I think it was awesome to see her win also.
When did you find out you had taken first in your age group, right after you hit four-for-four or not until the awards ceremony?
It wasn't until the awards ceremony because I was in Flight A, and all of Flight B still had to compete. So after we finished, I didn't know how anyone did until after.
How did your coaches react after learning that you won first all-around?
The only coach that was at awards was Kim, I'm pretty sure she was really excited. I don't know if she knew before or not, but she was very excited and happy for me.
How does it feel to be done with club gymnastics?
Honestly, I don't know if it's hit me yet! I haven't been back to gym because I've had finals all week, but I don't know. I'm going to go in and not be doing routines, that's going to be weird. But I don't officially leave to go to LSU until August, so it hasn't really hit me yet that I'm done with club.
How would you say going to Texas Dreams has shaped you as a gymnast?
It's shaped me tremendously, the coaches, not just like gymnastics but in life, the things that they teach you, the things that you learn, it's shaped me tremendously. I can't thank all of the coaches I've had, not just Kim and Chris but the ones before that, enough for shaping me into who I am today.
So you're committed to LSU next year—what are you most excited for in that new adventure?
Honestly, everything. I don't even know. I'm so excited to get down there with the team, like I said I have two more months at home, so I'm still super excited to just get down there and start training and having fun with the girls and the coaches.
Your future teammate Haleigh Bryant took second right behind you in the all-around and between the two of you, you swept all four event titles as well—how did that feel to get to compete with and against Haleigh, knowing you will be teammates in college?
It felt awesome. We've competed against each other before, last year at nationals, and she's amazing. I think that just shows the recruiting classes coming up for LSU, we all did really well at J.O.s, so hopefully we can transfer that on to our college years.
Where were you a few weeks ago when you watched LSU take second at NCAAs? How did that feel to watch?
That was awesome. I was actually at NCAAs because it was in Fort Worth, so I was there watching in person. I got to talk to the coaches and girls afterward, and that experience just got me 10 times more excited to get down there and try to do that again next year, or win hopefully one year.