2019 GymQuarters Mardi Gras Invitational
8 NCAA Teams Prepare To Compete At The GymQuarters Mardi Gras Invitational
8 NCAA Teams Prepare To Compete At The GymQuarters Mardi Gras Invitational
The GymQuarters Mardi Gras Invitational in St. Charles, Missouri, will feature eight NCAA gymnastics teams, including Iowa State, LSU, and Missouri.
Feb 11, 2019
by Miranda Martin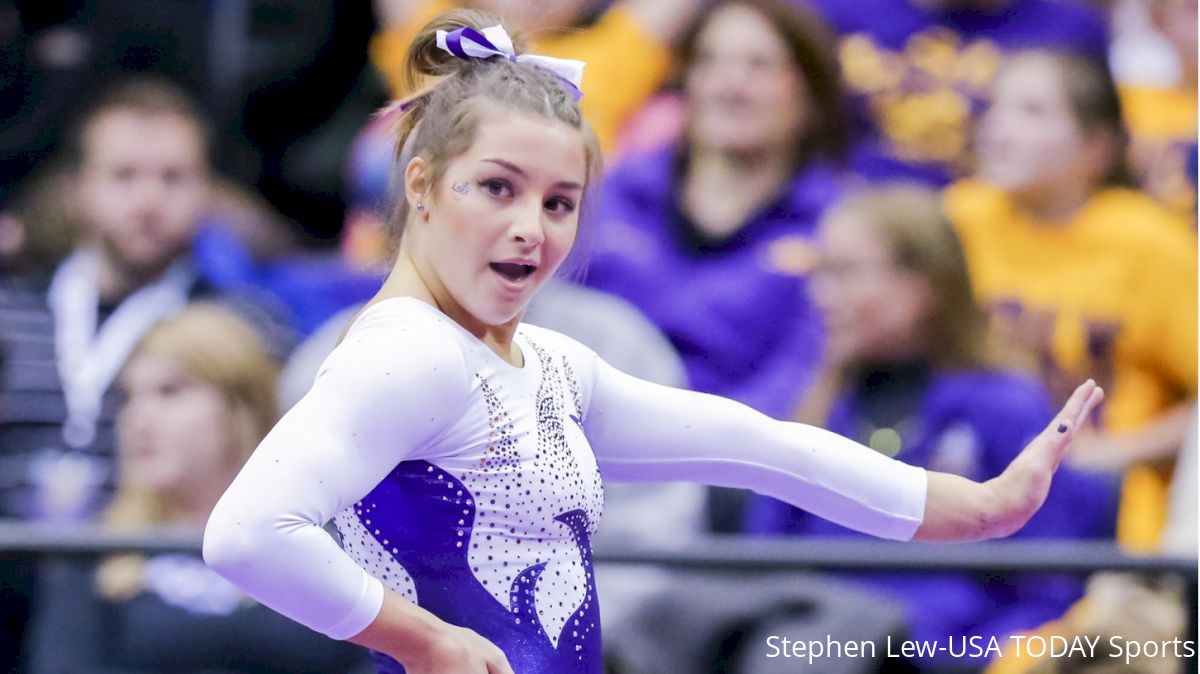 The GymQuarters Mardi Gras Invitational, taking place Feb. 15 in St. Charles, Missouri, is hosting not only a club gymnastics meet this year but also inviting some of the top NCAA teams to compete. This exciting meet has two NCAA competitions, with four teams in each.
In the matinee session, Lindenwood, Texas Women's University (TWU), Southeast Missouri State University (SEMO) and Iowa State prepare to face off. Later, in the evening session, Louisiana State University (LSU), University of Missouri (Mizzou), Stanford and Utah compete for first place and event titles.
In the evening competition, the teams are well-matched. Although there are teams favored to do better, any of the four could easily take the lead. The underdog of this competition will be Stanford, which started its season strong with a win in a quad meet against UC Davis, San Jose State and Sacramento State, then moved on to win in a three-team meet against Sacramento State and Seattle Pacific. After a strong start, however, the Cardinal lost their last three meets, leaving them with a season high score of 196.125. Although still a good score, this is the lowest season high from any team in this competition. Luckily, this score is not too far behind any others, and if they have a good day on Feb. 15, the Cardinal could still take first.
Even if Stanford doesn't win the meet, it has a good chance of at least beating Mizzou, which has a season high of 196.850. Mizzou's team score has been steadily improving this season, however, as the Tigers began with a 195.450. Improving over time is important, because it shows the possibility for further growth at this quad competition. Mizzou took first in the Arizona quad meet against Arizona State, Minnesota and Illinois-Chicago, third in the Metroplex Challenge and has had three losses so far this season.
Utah is coming into the meet with confidence and a team score of 197.375. The Utes have won all five of their meets so far, scoring above a 197 each time. Their clean record so far this season may give them the confidence they need to overcome the other teams and take home gold.
LSU, however, boasts a season-high score of 197.450, but in its five meets, LSU has won three and lost two. Losing these meets could give the Tigers the fire to come in and give the best competition they can, so fans will need to tune in to the evening competition to see how this one plays out.
The matinee session will be a competitive one, with all four teams looking to place on top and work on making improvements. Lindenwood has been successful in the start of its season, with one win, one loss and a second and fourth place at two different quad meets. The Lions' first meet was a quad against Illinois, Kentucky and Oregon State. Although they placed fourth, they were up against some competitive teams, and they scored a 192.525, the second-best opening score in program history.
Lindenwood picked it up in its second meet against Winona State, winning by more than 10 points and improving its team score by over two points. More than the wins and losses, steadily improving that team score is what will matter when the Lions enter the Mardi Gras Invitational. Although Lindenwood lost its third meet to Iowa State, it kept a team score over 194, staying consistent. The Lions' most recent competition was a quad meet against Northern Illinois, Kent State and Seattle Pacific, where they placed second to Northern Illinois.
Going into this meet with a top score of 194.550 will serve Lindenwood well, as TWU has consistently scored lower than that this season. TWU began its season by losing to the University of Kentucky with a 192.600 and lost its next meet to Arizona State with a 193.550. The Pioneers scored a low of a 190.200 at the Denver quad meet, giving hope to the other three teams in the matinee competition that they could squeak past them. However, at TWU's most recent meet, it scored a 194.300, taking first in a quad meet and gaining many points on its previous scores. TWU coaches feel that this was the first time their gymnasts truly performed to their best ability this season, and if they can keep it up going into the Mardi Gras meet, they are a serious competitor to beat.
SEMO's team is the underdog of the meet, coming in with the lowest team scores. SEMO has not yet competed against any of the three teams in the upcoming Mardi Gras competition, which will give them a fresh start and an opportunity to improve.
The last team in the matinee competition, Iowa State, has a great chance of winning big at the Mardi Gras Invitational. Although it has not won all of its competitions this season so far, Iowa State is consistently scoring over 194 and scored over 195.900 at each of its two latest competitions, even reaching a 195.975 in a win against Lindenwood. This upcoming meet will provide an opportunity for Iowa State to reach into the 196s, for Lindenwood to get a chance to redeem itself against Iowa State and for TWU and SEMO to surprise the crowd. Tune in as we show these meets live on FloGymnastics Feb. 15!
---
Miranda Martin is a freelance writer who writes about gymnastics, social justice issues, and more. You can follow her on Twitter, Instagram, or contact her through her website.