2019 Metroplex Challenge
No. 1 Oklahoma Aims To Focus 'On The Details' At Metroplex Challenge
No. 1 Oklahoma Aims To Focus 'On The Details' At Metroplex Challenge
The Oklahoma, Arkansas, Missouri, and Denver gymnastics teams are headed to Fort Worth, Texas, for the MetroPlex Challenge, Jan. 25-27, 2019.
Jan 23, 2019
by Michael Kinney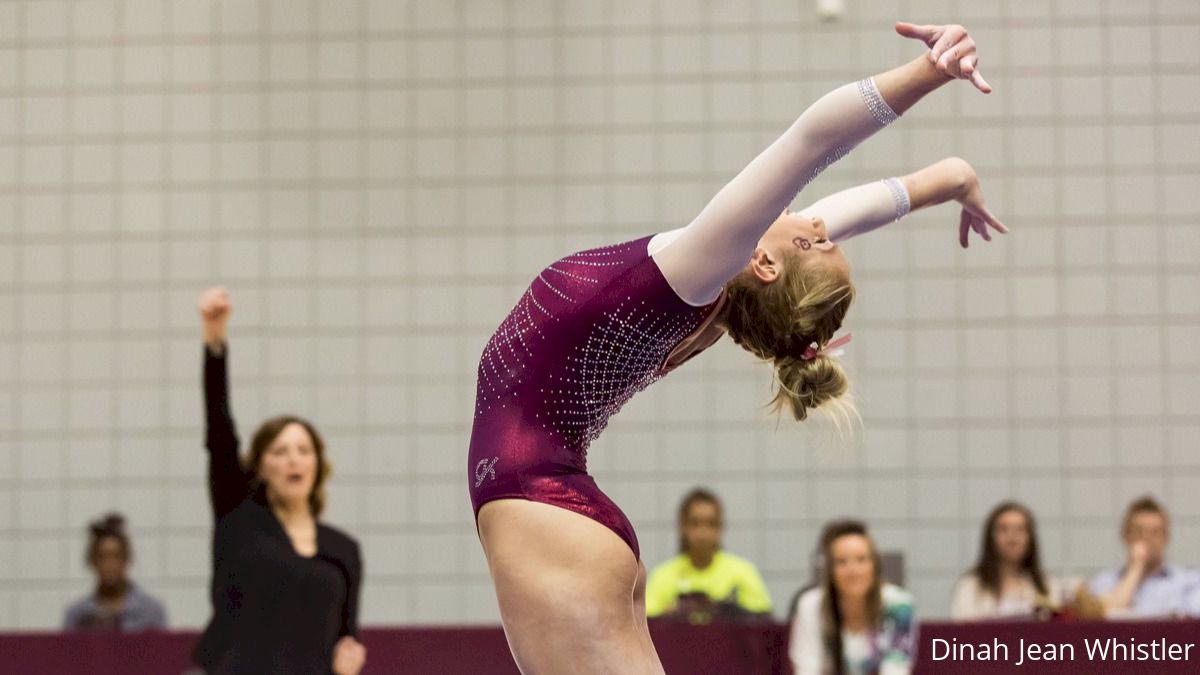 Nicole Lehrmann knows the importance of every single meet. As a senior at Oklahoma who has already been part of two national championship teams, the native of Austin, Texas, sees every outing as a chance to get better.
So when the No. 1-ranked Sooners travel to Texas Saturday for the Metroplex Challenge, Lehrmann is looking at more than just the outcome.
"Looking for us to just staying within ourselves, focusing on the details," Lehrmann said. "Not getting caught up in using the podium, and all those other, like there's more noise, all that kind of big arena, all that stuff, so not getting caught up in the little things and just focusing on what we do."
The Metroplex Challenge is set for Saturday at 7:15 p.m. CT at the Fort Worth Convention Center Arena, the same location as the upcoming 2019 NCAA Women's Gymnastics Championships.
Oklahoma heads into the meet with a 4-0 record with convincing wins over No. 12 Arkansas, No. 5 Georgia, North Carolina and Ball State.
The Sooners' average score this season is 197.625. The next closest is UCLA at 197.475 and Florida at 197.400.
"Probably what stood out the most was that a lot of our freshman girls are on the floor and they're competing and showing off their skills and counting in some good scores for our team," said sophomore Anastasia Webb. "I would probably want to see more improvement in floor and performance and landings and stuff like that."
Oklahoma will face a different crop of competition at the Metroplex Challenge. Along with Arkansas, which it has already faced, Missouri and Denver will be on hand. Tigers' coach Shannon Welker said his squad is looking forward to competing in the high-level tournament.
"It's a great opportunity," Welker said. "I'm excited to see how our team responds in that type of environment. It's really kind of a postseason environment with the podium, the set of the meet and being in a neutral site. So we're excited for that."
For the four teams competing, this will be the first time this season they will make use of the podium set up they will see in the postseason. It's one of the few times during the regular season they will get that type of practice.
"The differences are just small things like the floor can feel slightly different, the equipment can feel different," Lehrmann said. "And then it's just like being up there can just sometimes just disorient a little bit, but just as long as you stay in the zone you'll be A-Okay."
However, Welker says, the differences are subtle.
"I think we just kind of stress the landing positions, especially on the floor. I find that to the one event you can get a little bit bouncy if your chest is a little bit forward," Welker said. "Other than that, it really doesn't change a whole lot of what we're doing. We're excited to compete on the podium. Great opportunity for us to prepare for some postseason events."
Missouri (3-2) heads into the Metroplex Challenge coming off back-to-back defeats to Florida and Auburn, while Arkansas (1-2) lost to Kentucky last week. Oklahoma and Denver are a combined 10-0.
All four of the teams have faced some strong competition early in the season. The Challenge will be another weekend of intense, high-quality gymnastics.
"I think having some really good teams there, which all four of these teams are, I think that can help boost the scoring," Welker said. "It loosens up those judging panels sometimes. They are not afraid to throw those big scores out there. We look at it as an opportunity for them to help us out, quite honestly. And it's an opportunity for our kids to rise to the occasion and make it competitive all the way around."
However, for the second straight meet, the Sooners will be without the services of Maggie Nichols, who is rehabbing a lower leg injury.
Despite that, Lehrmann believes the Sooners can keep on churning out strong performances.
"We just need to step up a little bit and make sure we're good under pressure because I'm really happy with bars and beam, I thought those were great," Lehrmann said. "We need to work on our floor a little bit, get that depth in a little more and get our freshmen a little more experienced, and I think it'll all come together. I think just floor and vault we need a little bit more experience, a few more meets under our belt and I'm excited."
Missouri knows the odds of taking down the Sooners with or without Nichols are long. But Welker said his squad is looking forward to taking its shot.
"We know Oklahoma is a very, very good team and they would most likely have to make some mistakes for any of the teams to knock them off," Welker said. "But our job is to keep it competitive."
---
Michael Kinney is a freelance content provider who handles sports, news, entertainment, culture, and lifestyles. You can find him on Twitter, Instagram, and on his blog.