2019 Alamo Classic
5 Gymnasts To Watch At The 2019 Alamo Classic
5 Gymnasts To Watch At The 2019 Alamo Classic
The 2019 Alamo Classic has almost arrived. Here are five gymnasts to watch at this year's competition.
Dec 27, 2018
by Miranda Martin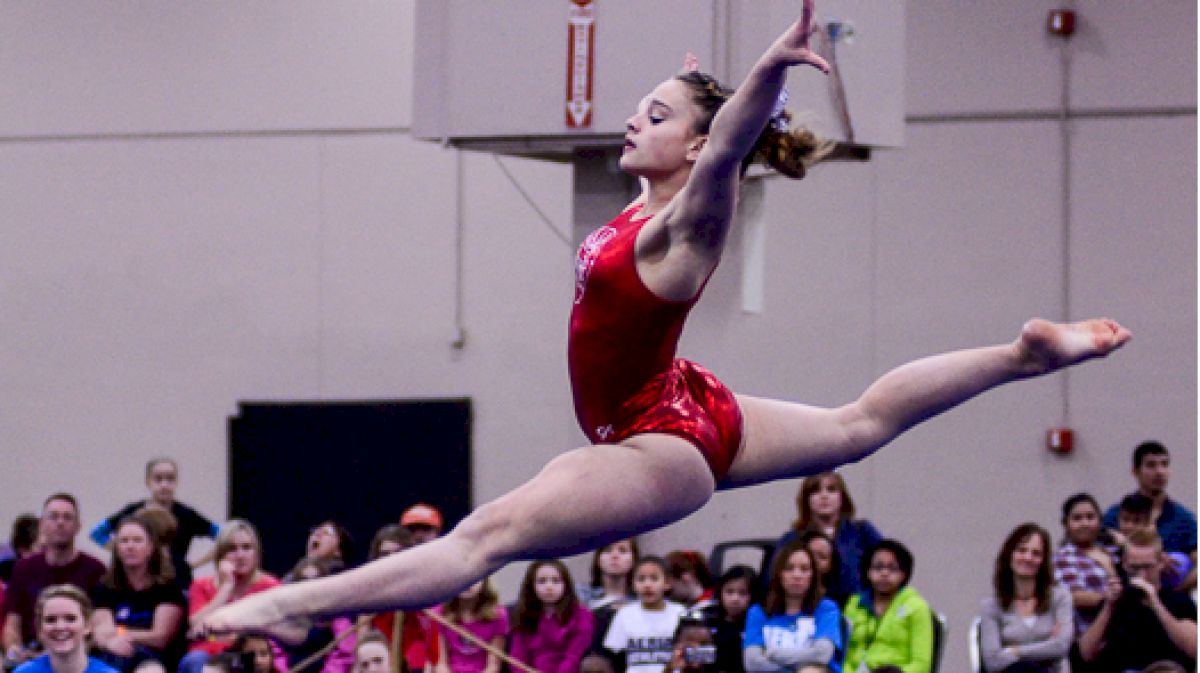 Hosted by Aerial Athletics in San Antonio, Texas, the 2019 Alamo Classic is a start to the club gymnastics meet season that gathers many talented gymnasts in a competitive arena. This year it will be the weekend of January 11-13, and gymnastics fans are counting down the days until they can see new routines and bigger upgrades from their favorite gymnasts.
Besides Aerial Athletics, other gyms such as Austin Elite, Bart Conner, Crenshaw, Cypress, Incline, J&R, Lakewood, OK City, Richardson, Top Flight, United, Capital, Champion, Crossfire, Discover, Empire, Flame, JamJev, NEG, NWK Sports, Powerhouse, Premier-CO, Silver Stars, and Southern Starz-FL will have level ten gymnasts competing.
Fans can watch level nine, ten, and open sessions live on FloGymnastics, but until then, let's take a look at five level ten gymnasts who will have big routines to watch in this competition!
1. Lilly Tubbs – Austin Elite
Born in 2004 and set to graduate high school in 2022, Tubbs is a gymnast to keep an eye on at the 2019 Alamo Classic. She finished second AA in her age category in last year's level ten competition with a 35.725. She also took first on floor and a third on vault and beam with a 9.050, 9.000, and 9.250 respectively.
The Alamo Classic was her first meet as a level ten gymnast last year, and she finished her first season as a level ten strong. She finished fourth on Beam at Texas State Championships, tenth AA at Region 3 Championships, and competed at Junior Olympic (J.O.) Nationals in Ohio.
Tubbs performing at last year's Alamo Classic.
She switched to Austin Elite Gymnastics Training Center in May of 2018. With a Tkatchev and double layout dismount on bars as well as other upgrades on their way, Tubbs will be one of the gymnasts to beat in her age category this season.
2. Allison Gard – Crenshaw
Placing right behind Tubbs in the all-around for age category A last year at the Alamo Classic, Allison Gard took third with a 34.950. She also placed first on vault and third on bars and beam, with a 9.100, 8.875, and 8.725 respectively. Gard continued her season by placing second on bars and sixth on beam at the Level 10 state championships in Texas. She then took seventh AA and fourth on bars at regionals, advancing to compete at J.O. Nationals.
Guard shows her impressive skills on vault and bars.
Allison Gard competes a Yurchenko ½ on front tuck on vault, a double front dismount on bars, and other unique skills. A level ten since the 2017 season, Gard is set to graduate in 2021 and will be an exciting competitor to watch this season, beginning with the Alamo Classic.
3. Riley Pearce, Austin Elite
Pearce took fourth AA in her age category with a 34.700 at the 2018 Alamo Classic, placing fourth on beam and floor with a 9.150 and 8.700. Last year was her first year competing level ten gymnastics, and she qualified to Region 3 Championships, where she competed and won beam. She also finished 14th AA with a score of 36.150.
Pearce performed an excellent beam routine at least year's Alamo Classic.
Pearce trains about 27 hours a week and competes a Yurchenko pike on vault, double back dismount off bars, and a round-off back full dismount on beam, and is always working on upgrades. She will graduate high school in 2023, and gymnastics fans look forward to seeing her compete this upcoming season.
4. Sherry Wang – Austin Elite
Graduating high school in 2020, Wang has been a level ten since 2015, and her expertise shows when she is on the mat. At the Alamo Classic in 2018, Wang placed first on vault and floor, with a 9.475 and 9.675 respectively.
Wang is the defending floor champion.
She continued her 2018 season taking first on floor, second on bars, and third on vault at the Heart of Texas meet. She then competed in the Charity Choice Invitational, taking first on AA, vault, and floor, as well as second on beam. She took second AA with a 38.200 and a second on vault, bars, beam, and floor with a 9.450, 9.500, 9.600, and 9.650 respectively at the Metroplex Challenge. She placed first on bars and beam at the Texas Shootout meat, then competed at State. Wang competes a Yurchenko full vault, giant ½ + Jaeger and full-out dismount on bars, back layout 3/2 dismount on beam, and a roundoff + back handspring + back layout 5/2 on floor.
5. Lauren McKeown – Crenshaw
McKeown, a future gymnast at Brown University after finishing her senior season in 2019, will compete at the 2019 Alamo Classic and is certainly a gymnast to keep an eye on. Last year she placed seventh AA in her age group, category C, with a 33.225 and took sixth on bars with an 8.375. She continued her season placing first AA in her age group at the Simone Biles Invitational, then competing at the Level 10 State Championships in Texas. At state she placed third AA with a 36.725, third on floor with a 9.350 and fifth on bars and beam. She qualified for the Region 3 Championships and took fourth AA, placing in the top seven gymnasts and qualifying for J.O. Nationals.
McKeown will compete in the Ivy League for her collegiate career.
McKeown competes a handspring front vault, Tkatchev + kip cast handstand + overshoot and a double layout dismount on bars, a back handspring gainer back layout full dismount on beam, and a double pike on floor.
With only a few weeks left to go until the 2019 Alamo Classic, fans can't wait to see what these five gymnasts and their competitors show on the competition floor this season! Don't forget to catch the action live on FloGymnastics!
---
Miranda Martin is a freelance writer who writes about gymnastics, social justice issues, and more. You can follow her on Twitter, Instagram, or contact her through her website.