2018 Artistic Gymnastics World Championships
A Healthy Sam Mikulak Is One Of The Best Men's Gymnasts In The World
A Healthy Sam Mikulak Is One Of The Best Men's Gymnasts In The World
Sam Mikulak is healthy, focused, and hungry for gold as the U.S. prepares for the 2018 World Championships in Qatar.
Oct 24, 2018
by Michael Kinney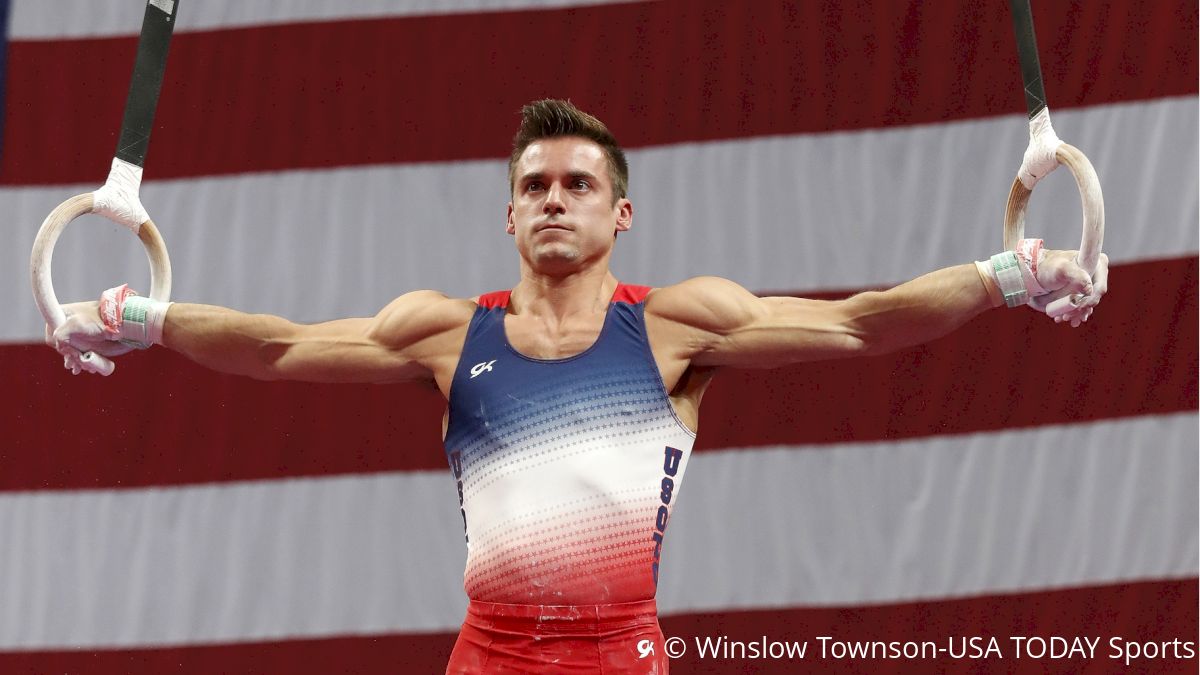 As Team USA prepares for the start of the 2018 Artistic Gymnastics World Championships in Doha, Qatar, the conventional belief is the men have fielded one of their best teams in recent memory. With every one of the men having competed at the NCAA championships, it's a star-studded lineup that knows how to compete as a team.
However, if there is one member of the five-man squad that's held in higher regard due to his experience and standing among other gymnasts it's Sam Mikulak.
"Sam's one of the best gymnasts in the world," Colin Van Wicklen said. "And could be the best American gymnast of all time."
The University of Michigan alum heads into the World Championships as the unquestioned leader of a team looking to bring back gold for the first time since 2015. He knows he will have an integral part in setting the tone for the team throughout the week.
"I think the atmosphere is going to be what sets us apart from a great day versus a decent day or even a bad day," Mikulak said. "Because when we all come together and we all get into that college atmosphere that we all grew up in and got confident in, we're going to be able to draw attention to ourselves and put the pressure on everyone else."
Mikulak's resume almost says all there is to know about the career of the California native. He is a two-time Olympian and a five-time U.S. All-Around Champion. This week will be his fourth trip to the World Championships.
No one on team USA can match Mikulak's international experience which is why the likes Van Wicklen, Alec Yoder, Akash Modi, and Yul Moldauer, will be following his lead.
"Sam, he's one of the greatest USA gymnasts of all time," Yoder said. "I grew up idolizing him, and so the fact that I get to compete on the same floor as him is incredible, and now that we're on the same team together it's awesome."
Despite all the success Mikulak has racked up and currently having the highest all-around score in the world, he is still trying to prove a few things.
"I just think it's good to get my name out there like that and have people looking at me and not thinking that I'm going to be just outside the medal podium, to see that I have a very strong possibility to make it on the podium," Mikulak said. "So that gives me a lot of confidence, that I've been able to put scores out there and I've been able to refine my routines to a point where people can recognize that and give me a little confidence going into World Championships."
However, some have questions about Mikulak's health after dealing with a back injury at the U.S. Nationals in August. He has done his best to put those fears to rest and assure everyone he is ready for the competition.
"So the back is 100-percent fine now. Definitely gave it enough time to rest and haven't really looked back since," Mikulak said. "But physically my body feels great. I've been doing all the necessary rehab and listening to my body because number one most important part going into Worlds is staying healthy and just keeping up with the routines. So I feel confident, I feel good physically and ready to get this show on the road."
While Mikulak said his body is ready, he did make a few alterations to his routine to get himself mentally ready for the championships.
"Normally leading up to these types of competition I feel like I stress myself out a lot when it comes to outside of the gym factors, you know, dieting, sleeping, recovery, and just being so in a way obsessed with my gymnastics," Mikulak said. "And I feel like this time around it's not always on my mind like it used to. I've got outlets of coming home, having the puppy, girlfriend, and just somehow, I'm just not putting the pressure on myself like I used to. Every day I come into the gym, it's just another day of training."
When Mikulak looks at the areas he will be able to help the team the most, he saw several different areas when he could be at the biggest advantage.
"High bar will probably be the event that I can help the most on. I'm thinking pommel horse we're actually pretty strong, but I feel like I would still be able to bring a lot of good consistency to that event just because of how much of a headcase that event can be. And I think parallel bars will also be a pretty good addition," Mikulak said. "All the other events, I feel like we're all pretty well rounded and even on. So yeah, those three will definitely be my biggest contributors."
---
Michael Kinney is a freelance content provider who handles sports, news, entertainment, culture, and lifestyles. You can find him on Twitter, Instagram, and on his blog.