2018 Artistic Gymnastics World Championships
Yul Moldauer Calls 2018 World Championships 'Biggest' Event Of His Life
Yul Moldauer Calls 2018 World Championships 'Biggest' Event Of His Life
Oklahoma's Yul Moldauer calls the 2018 World Championships in Qatar the "biggest" event in his life. But what makes this worlds different than the last?
Oct 19, 2018
by Michael Kinney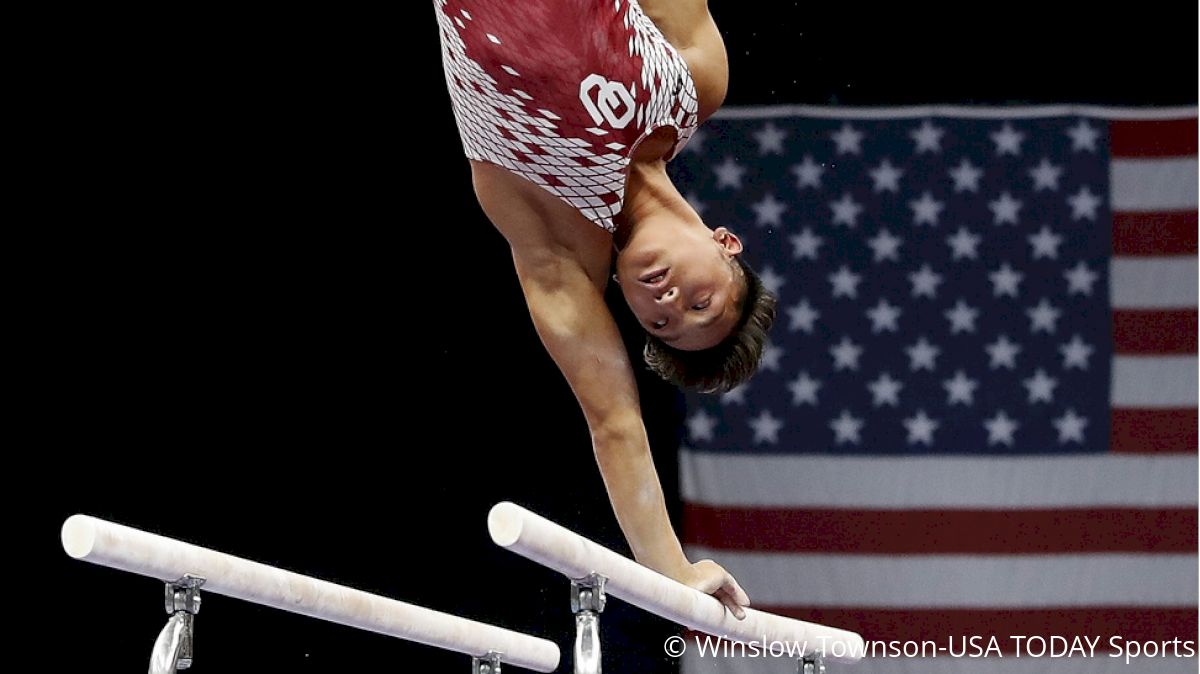 NORMAN, Oklahoma — Yul Moldauer has been part of some big events. He enters his senior year at Oklahoma with seven individual NCAA titles, which is tied for most in college gymnastics history, and three national championships. He has also medaled at the USA Championships and the World Championships.
However, the 22-year old Moldauer is set to embark on what he calls the biggest competition of his life to date. He will join four other members of the USA Men's Gymnastics team in Doha Qatar for the 2018 Artistic Gymnastics World Championships from October 25 to November 4.
"It's the biggest one. It's all about the team," Moldauer said. "I've never competed at a World Championships for the team. I did get to go to worlds last year, but that was more individual-based so this year is something new for me, but I'm excited and I feel very prepared."
Moldauer is one of three current or former Sooners on Team USA. He is joined by Colin Van Wicklen and the traveling alternate Allan Bower.
The rest of the Team USA is comprised of Sam Mikulak (University of Michigan), Akash Modi (Stanford University), and Alec Yoder (Ohio State University).
"Thankfully we have Sam Mikulak who's been in team competitions like this," Moldauer said. "But also our team is full of guys that have competed in the NCAA so we know what it's like to compete as a team. So now we just all got to come together and put in some work."
Each of the USA competitors has extensive backgrounds competing at the NCAA level, which Moldauer believes will give team USA an advantage it has had in the past at the World Championships.
"I don't want to talk bad on any other team. They're all really special, but I think with this team the fact we've all been to the NCAA, we all have (the) experience to know what it's like to hit under pressure," Moldauer said. "The NCAA teaches you so many great values when it comes to competing and we've all been there so I think that's really gonna help us."
Oklahoma coach Mark Williams, who was the head coach for Team USA at the 2014 World Championships and 2016 Olympics, is interested to see how this new team makeup will work in world competitions.
"It's been a while since every member has been a part of an NCAA program," Williams said. "And I think all the guys on this team understand what it means to compete for a team, and how you have a special role to play. And I think that's a good thing, because they've all tried to compete for NCAA championships. And that's kind of a special thing, so we hope that we're a little more consistent than we have been as a team in recent years, and at least make a run at being up on the podium at the end of the team competition."
Moldauer competed in the 2017 World Championships in Montreal, where he took the bronze on floor exercise and was seventh in the all-around.
Yet, while that was a great experience for the Colorado Springs native, Williams believes this format fits Moldauer better.
"Well, this'll be the first time he's part of an actual team event that is of significance. We've had him at the American Cup, he's been to the individual world championships last year," said Williams, who will be at the games as Moldauer and Bower's personal coach. "He was part of a team in a Portugal World Cup event, but the team World Championships and the Olympics are kind of a separate category where you're amongst the best in the world and you're also representing your country as a team to earn world championship medals
"So I think he's actually gonna thrive in that environment," Williams continued. "Last year was kind of his first chance to be in the biggest stage. But I think this'll be a little bit more than what he's used to as part of the collegiate gymnastics and Yul's always great for any team he's been on."
The World Championships also give countries their first chance to qualify for the 2020 Olympic Games. The three countries that medal in the team competition advance to the Games.
Even though Moldauer has never competed in the Olympics, he said he can't allow that prospect to get in his way at the World Championships.
"Of course it's going to be in your head but you got to take one competition at a time so we're focused on this World Championships and then when Tokyo comes we can focus on that," Moldauer said. "But I think we should just focus on one competition at a time and just build our team up and get ready for the Olympics."
Despite a possible Olympic berth on the horizon and everything else Moldauer has accomplished, he is not taking his trip to the World Championships for granted.
"I've always grown up wanting to be in this position. I always grew up watching Jonathan Horton, Jake Dalton, Steve all make the world team and compete for the U.S. and now that I'm in their shoes it's truly special to see that your dreams can come true," Moldauer said. "So many people want to be in the position that we're in right now. It's truly a blessing and it's an honor and I would not take it as a joke. This is a big job and you're representing your whole country. I love it honestly and I'm very happy I get to do it."
---
Michael Kinney is a freelance content provider who handles sports, news, entertainment, culture, and lifestyles. You can find him on Twitter, Instagram, and on his blog.