Valorie Kondos Field To Retire As UCLA Gymnastics Coach After 2019 Season
Valorie Kondos Field To Retire As UCLA Gymnastics Coach After 2019 Season
UCLA Gymnastics head coach Valorie Kondos Field announced she will retire from her position after the 2019 NCAA season.
Sep 20, 2018
by Amanda Wijangco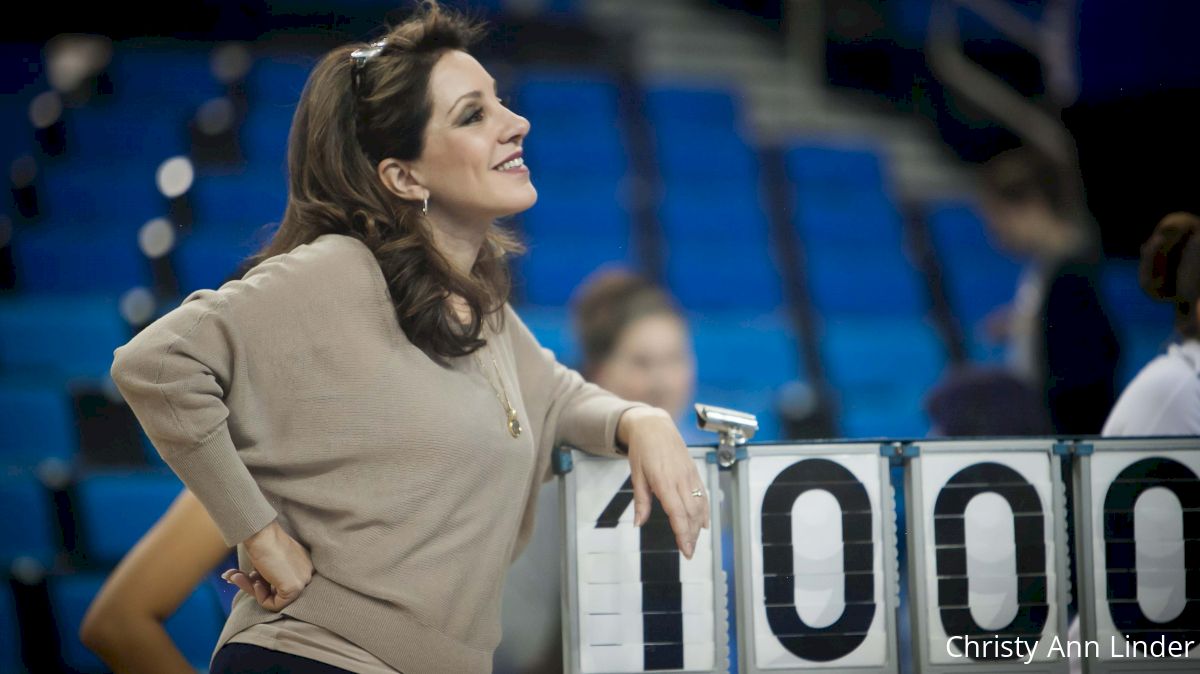 Longtime UCLA gymnastics head coach Valorie Kondos Field, better known as Miss Val, announced this morning that she will retire from her position after the 2019 NCAA season. While this is news for most, the fan-favorite coach made the decision years ago.
According to the Associated Press, Miss Val planned for 2019 to be her final season two years ago. Deciding to retire wasn't the difficult part; keeping it a secret for two years was. But it wasn't a complete secret as Kondos Field told just a select few, including then-freshman Katelyn Ohashi, as she knew she could "always back out."
I have had the immense privilege & pleasure of serving @UCLA and its athletic department for the past 36 years. I have enjoyed every moment of this journey, so it is bittersweet to announce that I will retire as the head coach of the @uclagymnastics team following the '19 season. pic.twitter.com/acLSqY5img

— Valorie Kondos Field (@OfficialMissVal) September 20, 2018
A few social media posts and a handful of interviews later, it doesn't look like she'll be backing out.
Miss Val has been involved with the UCLA Gymnastics program for 36 years, originally joining the coaching staff as a choreographer. In 1991, she became the head coach despite having no gymnastics background.
Since then, she's led the Bruins to seven national championships with their most recent coming just last season. So the timing of her retirement may seem odd, but to her, "it just feels right."
"I know that sounds weird considering we just came off a championship and our fan base is growing exponentially, but I really feel strongly about that," Kondos Field told UCLA alumna and 2008 Olympian Samantha Peszek in an interview.
"I feel like it's time for UCLA Gymnastics to have fresh blood and new leadership."
The Bruins coach already has projects in the works that she'll be able to focus more on following her retirement. Her book, Life is Short, Don't Wait to Dance, is set to release in early October. In addition, she's working on a movie, a Full Out 2 sequel to the original movie that's based on the life of her Bruin gymnast Ariana Berlin, a Broadway theatre show and a UCLA course on famed Bruins coach John Wooden.
When asked if she's accomplished everything she's wanted to in her 28 seasons leading the UCLA gymnasts, she responded with a definite "absolutely," and the national titles aren't even the biggest accomplishments on her list.
"The most important thing is really helping young women grow up and continue to grow up in this glorious sport at this university. To have had so many alumni and have the relationships that I do with them, it's more than I could have ever dreamed of."
Miss Val and UCLA Gymnastics are known for not only what they do inside the gym and on the competition floor, but off of it as well. Especially in the wake of the Larry Nassar scandal that's changing the gymnastics world, Miss Val has been to known to be an advocate for her gymnasts and girls and women of all kinds and creating not only a championship culture but a healthy culture her athletes can prosper in.
"I've always felt my role was to help each of you find your inner voice, your uniqueness that makes you really special and very different from your teammates and help you find it, fuel it, own it and be able to share things with you that maybe you wouldn't see," Kondos Field told Samantha Peszek. "To be able to do that with you and each of your teammates was such a joy for me. And a challenge. I think that's really when the coaching part becomes magical.
"I don't think I've ever worked a day in my life because I love what I do so much."
While she could have announced her retirement in the middle of or after the season, she chose to share thew news now because it brings a new significance and meaning to the moments that follow, especially with the current freshman class, with whom she will have only one year.
"It really makes every moment sweeter," Miss Val said. "It makes every moment magnified."
When asked what she'll miss most about being head coach, she said the athletes and relationships with the coaching staff. She hasn't even left yet, but her athletes and gymnastics fans alike are already showing how much they'll miss her.
such an honor to be in the presence of a legend. she has impacted my life in the best way possible and i'm eternally grateful for it? https://t.co/OgDYFvye9f

— Felicia Hano (@fish_hano) September 20, 2018
I'm already preemptively crying at @DeannaHong's video tribute for Miss Val's retirement

— Nastia Interleukin ? (@shirai_iii) September 20, 2018
Others want to know who could possibly replace her.
Let the next head coach be Wieber or let NCAA gymnastics cease to exist. There are no other options. https://t.co/Z1QU7CClxA

— Elizabeth Grimsley (@AllFlippedOut) September 20, 2018
No matter who succeeds Miss Val, her impact in and out of the gym will not be forgotten.