Tom Forster Named USA Gymnastics High-Performance Team Coordinator
Tom Forster Named USA Gymnastics High-Performance Team Coordinator
USA Gymnastics President and CEO Kerry Perry announced that Tom Forster is the new high-performance team coordinator for the U.S. women's national team.
Jun 28, 2018
by Becca Reed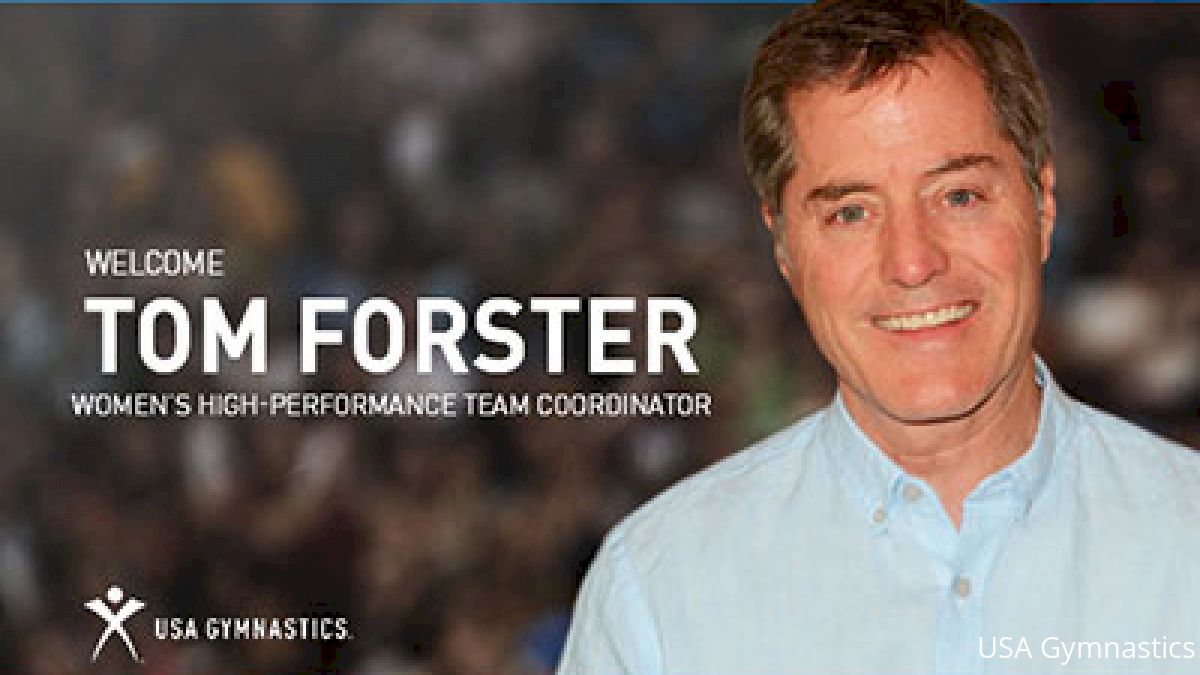 USA Gymnastics president and CEO Kerry Perry announced the hiring of Tom Forster as the new high-performance team coordinator for the women's program, effective July 1. In a press conference this afternoon, Perry and Forster spoke to his new role and vision for the program.
"I am humbled and excited to accept the position of the high-performance team coordinator for women's gymnastics," Forster said. "The responsibility of motivating and guiding our current and future elite athletes, and their coaches, is not one I take lightly. Team USA's continued success in international competition is amazing, but I think the heart and dedication shown by every athlete and coach is more impressive than the medal count."
Forster has been on the USA Gymnastics women's national staff since 2010, is the coach and owner of Aerials Gymnastics (also known as Colorado Aerials) in Colorado Springs, and became the interim elite development program director in February 2018. Forster has coached athletes at many international competitions including the World Championships ('95, '96, '01), Pan American Games ('95, '01), and the Olympic Trials ('96).

Forster's Vision and Immediate Changes

"I believe in coaching through inspiration not intimidation," Forster said. "As the coordinator, my vision is to create an inclusive and collaborative environment for the athletes, coaches, judges, and administration to grow, succeed, and move forward in a positive direction. I am committed to making every athlete and coach feel valued, heard, and supported."
In the press conference, Forster spoke to the atmosphere he hopes to create on the national team.
"The atmosphere is going to be about open communication and the athletes have to feel supported and that they have the right to speak about issues and concerns that they have," Forster said. "And they would know that by voicing that there will be no retaliation."
Forster also spoke about bringing an environment of learning to the training camps.
"The primary difference is my role has always been more of education as opposed to selection, and I think that's what I'm going to bring to the position," Forster said. "That's one of the things that makes gymnastics exciting — is that you can still learn things. Sometimes in the past it's felt like athletes don't get that opportunity and just are just stuck doing the same things over and over again. So the challenge is to get rid of that feeling and make it exciting and fun."
One change Forster looks to implement is a way for gymnasts to express concerns, and Forster said his goal is to make this available right off the bat.
"I want to create an avenue for athletes to anonymously complain about concerns or anything they have, be it about me or anything going on, so that they truly feel heard. I'll express that to them at every one of the training camps and every selection camp. That their voice matters and they have the right to speak up."
When asked how he might measure his success in the future, specifically in 2020, the year of the next Olympics, Forster said he hopes to see more athletes participating in the Olympic Trials.
"The whole purpose of the coordinator's job, and the national staff, is simply to support [the athletes] in their quest and for their dream," Forster said. "That's the goal — that's our sole purpose — is to support them, and I'm going to communicate that every opportunity I have."
Responsibilities in the Role
The high-performance team coordinator replaces the position of national team coordinator in the women's artistic program, which was previously held by Valeri Liukin from 2016 to 2018 and Martha Karolyi from 2001 to 2016.
Responsibilities in this role include developing the strategic plan and training program for all women's national team members, including conducting national team training camps to determine athlete readiness and compliance with the established training program; leading team meetings; attending and providing leadership at national and international competitions as needed; overseeing international competition assignments for athletes, coaches, and judges; coordinating scheduling and activities for the developmental program and the Talent Opportunity Program (TOPs); and working with the national coaching staff.
Perry and the Selection Process
Perry said that USA Gymnastics involved athletes and coaches in the hiring process for this position.
"Because this is such an important role for our national teams, we spoke with one former and two current national team members and three current elite coaches, who collected interview questions from national team athletes and coaches. The coaches' and athletes' questions were included in the interview process. The feedback and thoughts from the elite athletes and coaches were incorporated into the review and selection process. Following the interviews, we spoke with the elite athletes and coaches about the candidates to hear their perspectives. Based on the feedback from the coaches, athletes and interviewing panel, Tom was the obvious choice.
"Tom is well-respected and recognized throughout the community as a leader, both technically and as an incredible motivator, with a positive coaching philosophy," Perry said. "He has demonstrated his commitment to a positive environment during his years as a coach and club owner and most recently as the elite development coordinator for women's gymnastics. Through serving on the developmental program staff, Tom has worked with most of the current national team athletes and coaches. Tom's coaching philosophy mirrors our priorities of athlete safety and well-being and promoting a positive, safe and empowering environment for our athletes to train and thrive in pursuit of their gymnastics dreams.
"As we have reorganized, we're looking at what leadership, just like the case of Tom, will continue to move this organization forward," Perry said.