2018 NCAA Season
Cal's Toni-Ann Williams Finally Got Her Chance At NCAAs
Cal's Toni-Ann Williams Finally Got Her Chance At NCAAs
Toni-Ann Williams was a continent away when Cal competed at NCAAs in 2016. She was with her team in St. Louis in 2018.
May 19, 2018
by Lauren Green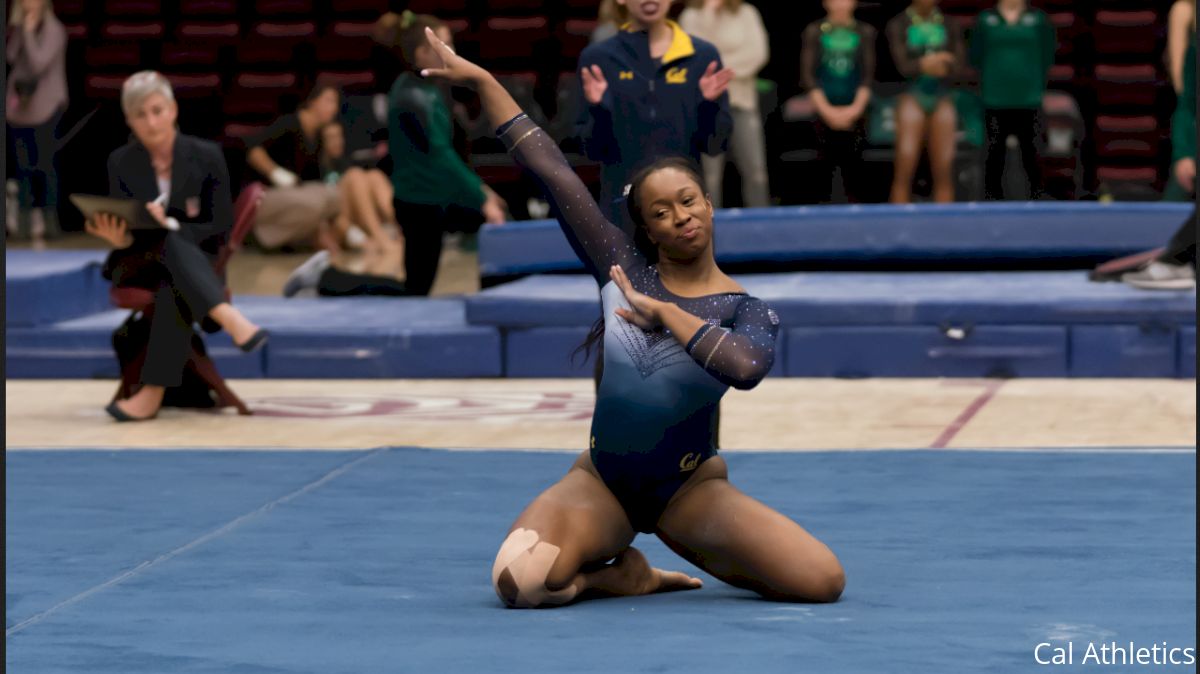 Two years ago, the Cal women's gymnastics team advanced to the NCAA championships. It was just the second time—the first in 20 years—that the Bears were competing at the NCAA championships. And while Toni-Ann Williams, then a sophomore, had helped her team move on to the season's pinnacle event, she wouldn't be competing with them.
The Olympic test event, which was the final chance for gymnasts to qualify to the 2016 Olympic Games in Rio, was the same weekend as the NCAA championships. The decision, which Williams made before the season, was a tough one. It was made even more difficult at regionals.
"The day we qualified at regionals was probably the most bittersweet moment of realizing that I actually couldn't be with the team," Williams told FloGymnastics.
After competing at the 2016 Olympics and making history as the first Jamaican gymnast to do so, Williams entered her junior season ready to lead Cal to another shot at the NCAA championships. Instead, she spent much of the 2017 season off the competition floor after an Achilles tear in training ended her season.
Coming back from the injury proved to be one of the biggest challenges that she faced entering the 2018 season.
"It was definitely something I had to be ready for not only physically, but mentally," Williams said. "It had been a long time since I had competed all-around and I wasn't sure I had the mental stamina to compete."
Toni-Ann Williams is BACK and killin' it ? with an easy 9.9 on vault. pic.twitter.com/EnFhKjI8QL

— Pac-12 Network (@Pac12Network) January 20, 2018
The redshirt junior learned a new dismount on uneven bars before the season. After competing a full-twisting double tuck for her entire collegiate and elite careers, Williams made the change to a double layout. It is a skill that she continued to perfect throughout the season.
"After I tore my Achilles and coming back, a double layout was an easier landing for me," she said. "But that's definitely been a challenge for me because it's my first time ever competing it. I'm definitely working on it every meet."
Cal traveled to Pac-12 rival Utah for regionals on April 7, confident in the team's ability to finish in the top two and advance to regionals. Cal came off a bye entering the final rotation of the competition and were less than three-tenths ahead of Auburn for the second spot advancing out of the Salt Lake City regional.
The Bears hit their first five uneven bars routines to earn a 49.025 on an apparatus where they struggled in the first five meets of the season. Cal didn't hit above a 49.0 on bars until February 10 when the Bears hosted UCLA. The slow approach was no reason for panic.
"This regular season has definitely been up and down for the team. We started off really slow in the beginning and we found our stride and we peaked at the right time," Williams said. "You don't necessarily have to start out winning or breaking records or anything like that. Sometimes it's about finding your pace and finding your groove and with this team we have a lot of talent and a lot of depth."
Entering the final rotation at regionals, Cal led Auburn by less than three-tenths. While Cal was on bars, Auburn was on balance beam. The Tigers had a chance to overtake Cal on its final routine, but a wobbly routine in the anchor spot sealed the second-place finish for Williams and her teammates.
OH MY!@CalWGym's Toni-Ann Williams nails the double layout and earns a 9️⃣.9️⃣7️⃣5️⃣ on floor. pic.twitter.com/txJKrhJlea

— Pac-12 Network (@Pac12Network) January 28, 2018
While Williams will be back for the 2019 season, advancing to the NCAA championships gave her one more meet with the class that she came in with after an emotional competition at regionals.
"We cried a little bit at regionals and I was like, 'No. No tears. We have one more round, one more fight,'" she said.
That final fight came in St. Louis at the 2018 NCAA Championships. While it was the second time for the team at nationals, it was the first time that Williams competed at NCAAs with her teammates by her side. She competed as an individual at NCAAs in 2015 during her freshman season and knew that there was plenty of potential for the future.
"When I went my freshman year, I went by myself and I absolutely knew this team had so much potential and can definitely be ranked among the best teams,'" Williams said. "It's completely amazing that we're able to go as a team. I knew our potential ever since I was a freshman and I knew that we would be able to get here. It's amazing to be able to finally be able to go as a team and knowing where we've come from and how far we've gone."
Cal finished ninth at the 2018 NCAA championships with a score of 196.500.